Reaching a New Generation with the Bible
We can no longer depend on methods that worked 20 years ago.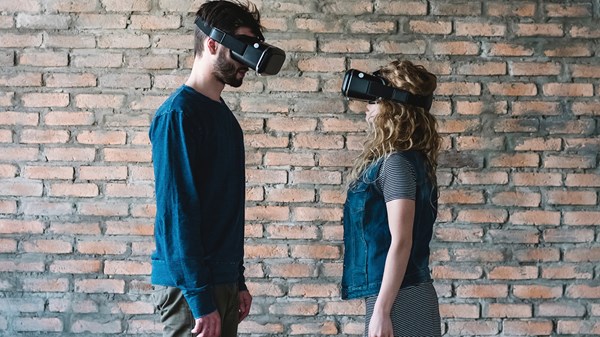 Reaching a New Generation with the Bible
The year was 1998.
"This," the camp speaker said, holding up a large black Bible, "is the Word of God. Now, say it with me: Word of God." His voice dropped an octave, and he aimed his pointer fingers like pistols at 200 middle school students sitting before him, imploring us to respond.
"The Word of God!" we shouted back, voices booming in unison.
The Bible, we were told, was a manual with answers to any question we'd ever face. Equipped with the Word of God, we had nothing to doubt or fear. And we believed him, no questions asked.
That was nearly 20 years ago, when a strategy of certainty—presenting a black-and-white gospel message knowing that an audience would undoubtedly accept it as truth—still had its place. But times, as we all know, have changed. The students who sat around that campfire have grown into adults, emerging as the generation we call Millennials.
This new generation interacts with the world very differently from previous generations, and that has spilled over into how they interact with the Bible. According to a 2016 Barna report, the Bible remains the world's most-read book, but the rise of religious skepticism has yielded numerous effects. In 2009, 45 percent of American adults read the Bible at least once a week; today that number hovers around 33 percent. The number of Americans who don't recognize any books as sacred "has doubled in six years, from 7 percent in 2011 to 14 percent in 2016." Barna blames "Millennials (22%) and Gen-Xers (18%), who are significantly more likely than Boomers (8%) and Elders (7%) to say none" of the various holy texts—including the Bible, the Koran, the Torah, and the Book of Mormon—qualifies as holy writ. Though the numbers are discouraging, it's possible for the church to change its strategies for helping the emerging generation connect with Scripture.
Faith communities are trying it all when it comes to Bible engagement, especially digital tools. Today there are Bible apps, daily reading plans, study resources, podcasts, YouTube channels, plus more digital magazines, blogs, and websites than one can count. While it's certainly true that younger generations seem to salivate toward digital formats like social media, instructing them to download yet another app may not be the answer, at least not initially.
Relationships First
Instead, engaging younger generations with the Bible starts where it always has: relationships. Even more than previous generations, Millennials desire authentic relationships and yearn for a deep sense of belonging.
Erin Lane, author of Lessons in Belonging from a Church-Going Commitment Phobe, writes of her generation: "Belonging is a lost art. It's not simply that we've chosen not to belong. It's that we've forgotten how." In her memoir, she explores belonging to a faith community in an ever-increasing age of individualism. Through belonging, Millennials not only feel known, but also fi nd themselves further drawn to the God who no longer calls them servants, but friends (John 15:15).
When Bryce Hales, pastor of Resurrection OC in Orange County, California, moved to the area to plant a church, he and his wife, Ashley, began throwing parties in an effort to build relationships. Mimicking the centrality of food in the Old and New Testaments, hospitality became a central tenant of their faith community, and they seem to be hitting the nail on the head—the church is almost exclusively made up of Millennials. Creating a sense of belonging comes first, and from that, church activities—including Bible engagement—follow.
Likewise, Sara Wolbrecht, pastor at Salt House in Kirkland, Washington, came to intimately understand the new generation's need for belonging when the Evangelical Lutheran Church of America invited her to start a church near her hometown. The denomination hoped a new church would be able to reach a neighboring young adult community that had fallen away from faith or never graced the halls of a church before. Wolbrecht quickly realized, however, that 20- and 30-somethings aren't looking for a building to walk into; they're looking for life together.
Even more than previous generations, Millennials desire authentic relationships and yearn for a deep sense of belonging.
"Good and sacred things happen when we eat together," she said to me over cappuccinos at a local bookstore. Like Resurrection OC, Salt House began eating together regularly, which eventually led to Sunday gatherings with an eclectic, multi-generational group of folks. Two years later, the leadership team still seeks to discover new forms of community, especially for those who aren't able to gather physically each week.
The church developed "Text & Txt," a small-group practice that takes place entirely over text messaging. Groups commit to reading a biblical text each day and to answering the question, "How does this speak to me?" Some groups have migrated to Facebook, where they share prayer requests and further enter into one another's lives. This group of people, who'd hardly read the Bible, came face to face with each other and the Word of God every day. Not only did they experience a sense of belonging, they also came to know the church and Scripture in a whole new way.
The Power of Story
In addition to fostering relationships to help younger generations engage the Bible, leaders must understand that Millennials desire to be part of a bigger story. According to research done by Story Collaborative, an inbound marketing group, Millennials not only want stories, they also want to feel involved in the story.
Following the lead of evangelical icon Tim Keller, many churches have begun to employ the meta-narrative concept of story found within the pages of the Bible. Jared Perry, a youth pastor at Grace Bible Church in College Station, Texas, recognizes the current precipice of religion in Southern culture. For the first time, the Bible Belt is seeing a rising generation unsatisfied by the religious culture of previous generations.
To better engage teenagers and college students, the leadership team at Grace Bible Church occasionally changes the teaching format. Instead of teaching for 35 minutes, the lesson is cut in half to allow for group discussion. Students not only engage with the biblical story, but also discover how their story intersects with Scripture's narrative. To mimic this effect with adults, the teaching team has started incorporating narrative into sermons.
"It's attractive for Millennials to have a story idea of Scripture," Perry stated, adding that Millennials appreciate "how the greater story of the Bible fits together."
Space for Questions
Finally, it must be said that younger generations desire to engage the Bible in new ways. Kurt Kroon, pastor of Cascade Church in Portland, Oregon, has learned to present the Bible differently from the tradition he was raised in. There was a time when leaders simply stated what the Bible said and everyone in the congregation believed without questioning, but that day has passed.
Saying the Bible is "without any contradictions creates horse pills to swallow and historical inaccuracies to overlook," he told me. The Bible remains the centerpiece of Cascade's theology, even if it means embracing biblical truths that don't always make sense. But, Kroon says, "You have to talk about when something goes wrong, when it's different, unexpected, and out of the norm. You have to admit how radical and weird the Bible is. This is why we read these stories at church." This creates space for parishioners to question, doubt, and wrestle with the text.
Hope for the Future
God's truth hasn't changed, and Scripture is just as important today as ever. But I wonder how we can be flexible and creative in the way we help a new generation connect with Scripture.
For starters, we can learn how to approach the text with more questions than answers. We must stop seeing the Bible as an owner's manual, but instead, as Dr. Peter Enns describes it in The Bible Tells Me So, as "a diverse story of God and how his people have connected with him over the centuries, in changing circumstances and situations."
It may also require shifting which passages we point people to early on. Dr. Josh Packard, coauthor of Church Refugees, a study of the "dones"—people who identify as Christians but no longer attend church—notes that Millennials are particularly interested in service and social justice. Perhaps highlighting these values in Scripture might draw a new generation into the Bible, showing that it is, indeed, relevant to their lives.
Although fewer in the younger generations are engaging the Bible, that doesn't mean they've stopped altogether. Bible Hub, an online Bible study resource, boasts that 33 percent of its page views and unique visitors each month come from the 18–34 age group. This works out to approximately 17 million page views and 1.7 million unique visitors per month. Likewise, Bible Gateway, which seeks to enrich and encourage individual Bible reading, found that 30 percent of its audience consists of Millennials. Further, Barna reported that 44 percent of all US adults read the Bible at least once a month, including 35 percent of Millennials and 42 percent of Gen-Xers.
As church leaders, we have the opportunity to help a new generation engage the Bible. May we be flexible enough to create a sense of belonging, emphasize narrative, and make space for questions so that every follower of Christ, Millennials included, would not only read Scripture, but also allow it to direct their lives.
Cara Meredith is a writer and speaker from Seattle, Washington. She holds a master's of theology from Fuller Seminary.

08/01/2017