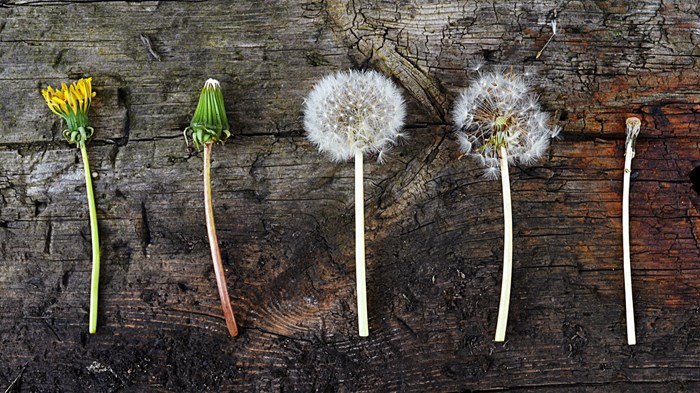 Image: Claire Streatfield / Getty
I remember the first time I touched a dead body. It was at my grandfather's funeral. You know the scene: attendants in boxy black suits, the cloying scent of flowers, tissue boxes, breath mints, dusty funeral parlor furniture. As the sad murmur of relatives droned all around, I stepped up to the coffin and quickly reached in to touch his embalmed hands, folded nicely on his belly. They felt like cold, soft leather.
That was when death was still an anomaly to me, an outlier. Now it has become familiar, a recurring pattern in recent weeks and months. For the past several years, I've served as a pastor in a suburban parish, an evangelical who made his home in a mainline church. I don't run the show, since I'm a lay pastor, but I've been there for most of the funerals. In the past few years we've had almost 40 in our parish. Those are a lot of faces I won't get to see any more on Sunday mornings. Death is no longer a stranger to me; it is a regular part of my life.
This has been one of the more difficult parts of being a pastor, seeing people who faithfully served our Lord over decades take ill and start a steep decline. These deaths don't have the shock of tragedy, of teenagers hit by cars or babies born without breath. Still, the dull ache of sorrow is there.
It wasn't always this way for me. I grew up in a thriving megachurch (by Canadian standards, anyways), and I took it for granted that slowly and surely our congregation would continue to expand. And it did, all through my teen years. As I looked out over the congregation on Sunday mornings, I could see a diverse group of people from ages 15 to 60. But children were most often annexed to their age-appropriate ministries, seniors were few and far between, and funerals were not a constant. The bulk of our congregants were in the prime of life.
Later, when I began my pastoral ministry in a congregation that skewed to those over 65, I became frustrated as our church struggled to thrive. Growth no longer just seemed to happen. And though we saw many young families drawn deeper into the life of Christ, we also lost many veteran saints. I learned to care for the very young as our nursery filled up, and I learned to walk with the aging as they lost the strength to sit in our pews.
By embracing death in our churches, we allow our creator to give meaning to our human weakness.
Though I looked longingly at congregations that seemed to expand effortlessly, I learned to love the slow work of pastoring a struggling congregation. I took in the beauty of a woman in her 80s dancing with toddlers and singing worship songs. And I remember the 70th wedding anniversary of a couple that faithfully attended worship for just as many years. These quiet miracles don't have the same luster as other "vibrant" ministries I've been a part of, but nonetheless, they witness to the patience and love of God. I came to appreciate the church as the body of Christ formed of the whole people of God, from young to old—even those heading to their graves.
Pastoring an Aging Congregation
Death does not fall outside the life of Christ's Body; it is a threshold through which we all must walk. Recognizing death as part of our common Christian life allows for a more expansive vision of God's redemption, which begins the day we are conceived and carries us into our dying.
I've come to appreciate my close experiences with death. When I look at large, booming churches or hip, thriving church plants, I wonder if their pastors experience the regular privilege of burying octogenarians. I'm glad for these growing churches, insofar as people are having encounters with Christ and his Word. I wish so many of the churches in my denomination would thrive like that. Yet I'm learning to appreciate aging congregations like my own in which the whole community of faith mourns with the death of each faithful servant.
I recently read Kate Bowler's book, Everything Happens for a Reason: And Other Lies I've Loved. Bowler was diagnosed with stage IV colon cancer at age 35. She was enjoying a vibrant career, academic success, and a wonderful home with her husband and toddler. The news of her cancer seemed to crush all of that. Life had to be put on hold for chemo, rest, and preparation for dying.
She writes in her memoir about churches in which blessings come as the direct result of fierce faith. She writes, "The prosperity gospel is a theodicy, an explanation for the problem of evil. It is an answer to the questions that take our lives apart. … The prosperity gospel looks at the world as it is and promises a solution. It guarantees that faith will always make a way." Bowler writes that she tacitly held to a tamer form of prosperity gospel logic. She expected that, if she followed Jesus, things would go pretty well because God loves her and wants her to have a good life.
I often find myself believing the same thing about my church: if we worship Jesus and do his will, he will bless us with new members and increased vitality. Stagnant membership and death in the congregation feel like punishments for lack of faith.
But God throws wrenches in the wheels of our theological systems. We get fired. We get divorced. We get sick. We die.
Our local congregations lose their liveliness. They suffer from conflicts. They struggle to raise funds. They shrink.
Christians believe that "death is swallowed up in victory" (Isa. 25:8, 1 Cor. 15:54). Our faith is built upon the fact that Christ has died, Christ is risen, and Christ will come again. But our experience of death is not always so straightforward. Our sojourn still leads to our bodies being cremated or placed in a coffin.
Helping People Reckon with Death
In many churches I've attended, death was pushed to the margins. It was treated like an interruption to God's work in the world, not as an instrument by which God draws people more fully into his own life. I'm not saying we should love death—after all, it's still "the last enemy" (1 Cor. 15:26). But part of living as disciples is learning to die well.
Ephraim Radner, professor of historical theology at Wycliffe College, writes,
"To die well" is to locate what is good somewhere outside our control—in the God who gives and receives our lives. It is also to allow that alien goodness, the goodness of God's transcendent superintendence over life and its temporal duration, to inform the very meaning of our vulnerability to illness, suffering, and death.
In other words, by embracing death in our churches, we allow our creator to give meaning to our human weakness.
Stanley Hauerwas notes in God, Medicine, and Suffering that Western culture shifted from preparing Christians to die well in the medieval period to franticly attempting to cure us from death in contemporary society. He writes, "We have no communal sense of a good death, and as a result death threatens us, since it represents our absolute loneliness." According to Hauerwas, we need to learn once again how to grapple with our mortality.
Stories like Bowler's, then, make me wonder about the kind of church we ought to be. What might it mean to be a church where people regularly come face to face with death? How can we present the gospel in a way that changes hearts, but also ministers to people whose earthly lives will never return to "normal?"
One way in which pastors can deal with death is by talking about it openly in sermons and in conversation. I remember talking with a friend who has since passed away from cancer. He told me that many of the Christians he encountered didn't want him to talk about the possibility of death. They wanted him to stay positive, focusing on things he could do to get better. He knew that he wouldn't, but he felt the pressure to stay positive for the sake of others. When I talked frankly with him about the possibility of death, he seemed to breathe easier. In naming death, he allowed the grace of God to come to him even there.
We talk about illness and aging as "battles"; to die is to lose these battles. But staying alive is a battle we all lose eventually—some quickly, some slowly—so we might as well invite God's presence into our dying. In the cross we understand our living and our dying. What better place to learn this than the church? Who better to initiate these conversations than pastors? Sure, I want my church to be dynamic, vibrant, growing; I pray to God for this. But I also want to cultivate a church where people can reckon with death, worshiping a savior who won his victory hanging from nails pinned to a wooden cross.
Cole Hartin is the assistant curate at St. Luke's Anglican Church in Saint John, New Brunswick.