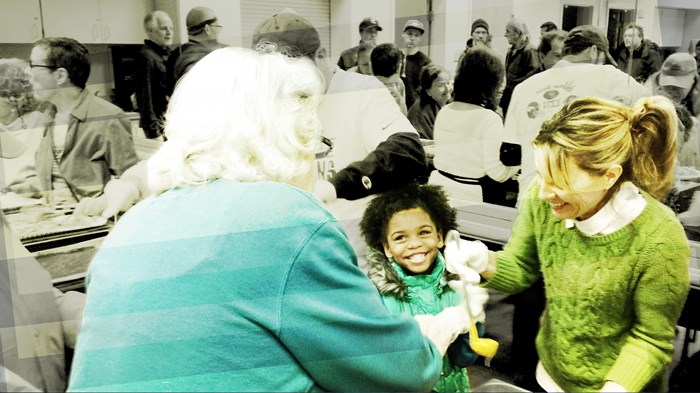 Image: Courtesy of Bitterlake Community Dinner
For the last decade, Verlon Fosner and his church have been hosting weekly dinner gatherings as the flagship of their church family life and mission. These Community Dinners have become part of a movement known as Dinner Church.
Every week they invite the neighborhood to a four-course meal. While dining together, a team leads the group through Christian liturgical elements, including worship music, live visual art, and a short message. In the midst of the homey ambiance of the meal, people learn about God and grow closer to each other.
Fosner launched Seattle's first Dinner Church in July of 2007. Since then, six other Dinner Churches have started in the area. Around the same time, two Dinner Churches formed in New York City and the Overland Park area of Washington, DC. Fosner estimates that, today, there are approximately 40 Dinner Churches operating across the nation, with more coming. Many have teamed with an organization known as Fresh Expressions—a collective of over 40 denominations committed to expressing the gospel in fresh and creative ways.
But Dinner Church began as a grassroots phenomenon and still maintains this essential character. The simplicity of the Dinner Church model makes it easy to replicate: Put on a dinner, lead a liturgy, and talk to people at the table.
The movement is not without challenges and critique. Some have questioned whether Dinner Church qualifies as a biblically legitimate form of church. Others worry Dinner Church appears only concerned with meeting people's physical needs. But Fosner ensures that Dinner Church remains committed to evangelical doctrine and retelling the stories of Christ to the community. At each gathering, the pastor shares a Gospel narrative of Jesus and gives a call to believe the Good News. Fosner has seen the largely unchurched crowds that fill Dinner Church gatherings embrace the life and stories of Christ.
Yet Fosner concedes that part of the vision of Dinner Church is a desire to see the gospel as both proclamation and social engagement. He advocates for "Jesus dinner table theology" that hearkens back to the early church—disciples and others gathered around a table to celebrate and learn together. According to Fosner, Dinner Church pays serious attention to the sociological aspects of discipleship—what it means to seek holistic transformation. Dinner Church is about ministering to the whole person in tangible ways, not just ministering to the mind.
We caught up with Fosner to hear more about Dinner Church and how God has been working in and through the movement.
Tell us briefly the vision and story of Dinner Church.
As an 85-year-old church in the heart of Seattle, doing poorly month after month, we needed a new way to stay in the rescue mission. Otherwise we would have to move out of the city like so many others. This vision—a restoration of an ancient way of doing church that resonated with cosmopolitan Seattle—came at a time when we really needed it. When we first began Dinner Church, we were surprised how quickly it started to fill up with sinners and strangers and seculars—people whose lives, quite frankly, were not going all that well, though we would never see that in a Sunday morning gathering.
Where do you see biblical impetus for this way of doing church?
Dinner Church is about restoring the Jesus dinner table theology that was practiced during the apostolic era of the early church. It's tough to find a mention in the Bible of Christians gathering without a table and food involved. Many of us haven't taken into account how different it is to talk about Christ around a table as opposed to a traditional teaching environment. They assumed Christ would be there in the room. They had a sense of divine presence every time they gathered.
Why is a good meal so attractive to people?
It's the best metaphor for the gospel we've found. We put out quality, abundant food because we'd rather show the gospel than have to just explain it. People walk through the line and see more food than they can possibly eat—all the colors and carved meats—and they realize Jesus paid for this. They're not being billed for it. Then we build on this imagery throughout the evening. The food provides a critical, immediate sense of abundance of generosity and divine care for people.
How does Dinner Church seek to meet people's physical and spiritual needs?
We start with care of the body and human relationships. When we sit down together—rich and poor, sinners and saints—we realize we have at least one thing in common: We are all eaters. An immediate bond forms when we eat together.
We don't just serve food. We invite people to our dinner table, and then we all eat together. This is a family thing, so there's no us-them distinction. That foundation is necessary when you're dealing with people who don't have a church background. When you have dinner with somebody week after week, it won't be long before the conversation changes from life to limitations, and then to some form of spirituality. When the conversation reaches that level, we're finally free to talk about Jesus.
For three years, a guy with an alcohol problem came to our dinner gatherings. The conversation was always surface level with him. Suddenly, a couple weeks ago, he walked in and said, "I want you to sit by me because I want to talk about Christianity tonight."
Let's talk about the logistics of Dinner Church. What does a typical gathering look like?
We host the dinners for about two hours, one evening a week. At 5:00 p.m., people begin to show up. The tables are set, worship musicians play some beautiful hymns and other songs, and artists perform visual art that connects with that evening's message theme. Some people receive the meal, others mill around inviting people to sit with them, and there are tons of conversations, both in the serving line and at the tables. At 5:30 p.m., a second wave of people come from their day jobs, and around this time we do a brief message on a story of Jesus that ends with a generous prayer to match the generous meal and a generous Savior. The servers then receive their food and sit with others at the tables. From then until the end of the dinner, people engage in one-on-one conversations, discipleship, counseling, and prayer.
I was intrigued by the "carved meats" you mentioned earlier. What other menu items do you serve at Dinner Church?
Our entrees include sliced pork chop, brisket, and prime rib. We serve sides of potatoes, gravy, and various salads. My personal favorite is the raspberry vinaigrette salad with candied walnuts and slivered almonds. We always provide some kind of a dessert as well. Our dinners are either cooked on site or hot-boxed in from a central location. We also do our dinner gatherings during seasonal celebrations. We've created a handbook with 13 menus, complete with instructions for larger groups. All meals are relatively inexpensive, and a novice cook can prepare them.
What is the average attendance?
There are seven Dinner Church locations throughout the city of Seattle that cover almost every night of the week. They average about 150 people, with the smallest gathering running 60, and the largest hitting almost 300 at times.
I have to ask, how do you fund Dinner Church?
The cost for a Dinner Church with an average attendance of 150 people is about $1,600 a month ($1,200 for food and $400 for site rental). Our pastors are bi-vocational and receive up to $1,000 a month from their parent churches, though some receive nothing. Other than part-time pay from a parent church for personnel, the greatest form of funding comes from the ancient theology of "the tithe into poverty" from Deuteronomy. It only takes a small core team who are tithing into poverty to fully fund a dinner church. Then by putting an offering bucket at the buffet table, we start to involve each person coming to Christ into the tithe. That's the big plan.
Beyond that, we repurposed our church campus into a community center with a preschool and autism school. The rents generated there pay for many of our Dinner Church pastors at $1,000 a month. We are also looking to maximize the income from that property by building low-income apartments in our huge parking lot, which will produce enough income to open all 27 proposed Dinner Church sites in Seattle. It is amazing how much one declining church campus can produce if the group is comfortable re-tasking it for church planting.
What do you enjoy most about Dinner Church?
I love watching Jesus moving, working, and healing—that sense of Christ's presence among people you wouldn't see in a traditional church. Also, I love preaching the simple stories of Christ to a room full of sinners. And I love how much joy flows into the hearts of the Christ followers and Samaritans who show up to serve.
Derek Hiebert is the director of Seattle Teaching Site of Western Seminary.
A version of this article originally appeared in CT Pastors' Guide to New Church Models, which offers an overview of the model-rich landscape of church ministry. It can be found at BuildingChurchLeaders.com.