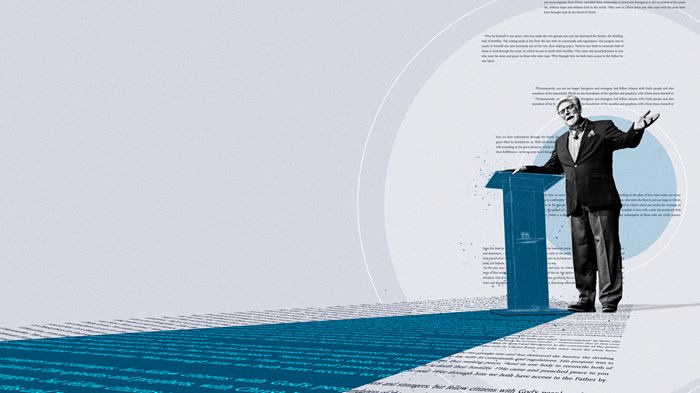 Image: Illustration by Rick Szuecs / Source image: York Creative / Lightstock
By any account the past six months have been the hardest time in my life. The challenges of keeping a university safe and open amid a pandemic has meant reinventing much of what we do in teaching, research, housing, dining, student life, and athletics. In this time of unprecedented professional stress, I have been thrown back on the deepest resources I can grasp. Among them is the rich tradition of preaching that has been my portion—in my youth, in my studies as a religious historian, and in my week-to-week experience in church.
Though never a preacher, I have lived a life in sermons. My father, James "Buck" Hatch, was an exceptional minister and teacher who set a very high standard for communicating from the pulpit and lectern. His gift was not eloquence per se but a rare ability of speaking in ways that actually changed outlooks and lives. Almost two decades after his death, I still get notes from people whose lives were powerfully transformed by his spoken word.
These days my interest in sermons concerns their diminished power. This is true particularly, and ironically, among evangelicals, for whom sermons carry great weight as a means of grace. Deeply committed to biblical authority, evangelicals put extraordinary faith in what Eugene Peterson called "the extraordinary truth-releasing, God-witnessing, culture-challenging realities" in the Bible as it is forthrightly proclaimed. Expounding God's Word is an awesome responsibility. The great preacher Charles Spurgeon noted that it was nothing less than to "open the door and let the lion out."
Sermons have relinquished their roar. Though at times eloquent and erudite, they're more often routine and predictable. They fail to stir the imagination, challenge the will, and make hearts "strangely warmed," as John Wesley once said. I covet sermons that amaze people in seeing anew the mighty acts of God on their behalf, ones about hope and joy that actually inspire real hope and joy. We need more sermons to reveal ordinary life as part of a larger story, a profound and majestic drama that invites hearers to become actors in all God is doing. How might this happen? I offer four modest suggestions applicable to almost any kind of sermon.
Powerful preaching peels away the film of familiarity.
Sermons should assume that however pious those in the pews, we see only in part and need our eyes reopened to the wonder of God. Too much evangelical preaching assumes we basically understand how the world works and require but a few moralistic reminders to adjust our pilgrimage back onto a straight path. Mostly we run on automatic pilot, comfortably covered in a film of familiarity that fails to challenge us with the profound truths of Scripture. As suggested in words of poet Malcolm Guite:
How hard to hear the things I think I know,
To peel aside the thin familiar film

That wraps and seals your secret just below:

An undiscovered good, a hidden realm.
Preaching the gospel entails turning the water of the humdrum and uninspiring into wine infused with the grandeur of God. To use a musical metaphor, preaching transposes minor key experiences into major key majesty. We are too often tone deaf to the beauty, holiness, and mystery of God's kingdom. A skillful linguist or musician opens mind and heart to detect the reality that resides beneath surfaces. The apostle Paul prays for the church that their eyes of their understanding would be enlightened to understand their hope, their calling, and the fullness of their bountiful inheritance (Eph. 1:18–19).
Great sermons know eternity enters our live in the present. Christian pilgrims need our imaginations renewed. The reality of God is not yesterday or tomorrow; it is today amid our everyday routines when we can encounter God. In Christ we can trust when we cannot see, believe when do not feel, hope when the future looks grim, and pray when the heavens seem locked.
Powerful preaching unlocks the transformative power of the Bible.
Evangelicals possess an unswerving allegiance to the Bible. We believe that the Word is sharper than a two-edged sword (Heb. 4:12) and does not return void (Isa. 55:11). By heart we know the stories of Adam and Eve, Noah and the Flood, Moses and the Ten Commandments, David and Goliath, Nicodemus and new birth, the Good Samaritan, Christ feeding the five thousand, Paul's Damascus Road conversion.
But such biblical saturation has a downside. By its very repetition, the Bible can feel worn out and remote. Frederick Buchner makes this point strikingly:
When a minister reads out of the Bible, I am sure that at least nine times out of ten the people who happen to be listening at all hear not what is really being read but only what they expect to hear read. And I think that what most people expect to hear read from the Bible is an edifying story, an uplifting thought, a moral lesson—something elevating, obvious, and boring. … His stories are like photographs that have been exposed to the light so long they have faded almost beyond recognition. They are like family anecdotes so ancient and time-honored we groan at their approach.
Preachers must reveal Scripture's surprising and life-giving power. They should knock people off guard, unsettle their preconceptions, and draw them into fresh realities about God and his world—a world at once much bleaker and much grander than we could ever imagine.
Biblical preaching should transport hearers from one world to another. Franz Kafka once said that if a book "does not wake us, as with a fist hammering on our skull, why then do we read it?" How much more so with Holy Writ, the exposition of which should always astound, convict, surprise, inspire, and engage. Like an artist, the preacher doesn't so much say what we never knew but brings into sharp relief what is latent, forgotten, or overlooked. A message should leave the hearer with a certain "Wow! Now I understand."
"The real reason why so few men believe in God," Thomas Merton wrote, "is that they have ceased to believe that even God can love them." Too much evangelical preaching falls into the trap of giving moralistic advice to those who feel spiritually inadequate. A little more striving, a little more prayer, a little more devotion—and one might rekindle the flame and get back on the pilgrim's path.
Gracious preaching, by contrast, conveys that God's love floods our lives even when we don't feel it. We learn how to love by being loved; we learn to act graciously by experiencing grace. Sermons should allow grace to wash over the hearer. They should leave one refreshed and comforted that God has acted, and is acting, so wonderfully on their behalf. "Isn't all of this just too good to be true?"
Powerful preachers know the road to the human heart.
Most of us don't walk into church on some high spiritual plane. We are often distracted, caught up in the struggles of daily life. We do not stop long enough to consider our spiritual needs. Skillful ministers grasp where people live and speak to their deepest longings, fears, anxieties, and temptations. They diagnose and treat the soul.
By identifying and lifting trying personal realities to the surface, the preacher gains immediate access to the very core of a person and opens their heart to God's gracious Word. Too many sermons idealize some far-away, stained-glass saints who seem to live blameless lives and do great things for God. By focusing on these ideal types, whether biblical characters or other heroic Christians, a minister generates even more guilt among those worried about not measuring up.
Ministers who understand common feelings of dismay and unworthiness can communicate grace and comfort in their sermons, not mere exhortations to work harder and dream bigger. "You think religion is a matter of knowing things and doing things," Eugene Peterson preached. "It is not. It is a matter of letting God do something for you: letting him love you, letting him save you, letting him bless you, letting him command you."
Powerful preaching begins with the preacher transformed.
One of the startling memories of my childhood was when my father, preaching a sermon on the spiritual life, stopped suddenly and awkwardly dismissed the congregation. He felt convicted of having not assimilated, made real, the truths he addressed. He displayed ruthless honesty with himself and with the congregation. My mother was duly shocked and embarrassed but recalled the sermons that followed were some of the most powerful she could remember.
My father firmly believed the Holy Spirit would never make effectual for a congregation what not come alive to the preacher. Only if the eyes of the preacher's heart were enlightened did he or she have any hope that the same might happen to others.
Evangelical tradition is fueled by the quest for a living faith that begins from the pulpit. "Light yourself on fire with passion," John Wesley once said, "and people will come from miles around to see you burn." This makes preaching an awesome calling. More than merely understand and articulate, a preacher must experience God in fresh ways—and then allow that encounter to overflow into the lives of others. "If preachers decide to preach about hope," Frederick Buechner once said, "let them preach out of what they themselves hope for."
Through the power of the Holy Spirit, we can remain centered in a world where peers are jockeying for status and distinction, where material achievement becomes the measure of success, and where service is rendered principally for the recognition it brings. We need constant reminders to lift our eyes and behold a world more splendid than meets the eye. How does one import kingdom values extolling mourning and self-sacrifice, kindness and peacemaking? We need proclaimed, today and every day, the resplendent rainbow of God's love breaking into the grayness.
Powerful preaching is an awesome responsibility. I admire greatly those who take up the challenge week by week. A nourishing sermon changes words about God into words from God. It renews dull senses, rediscovers the vigor of the Biblical text, and reconnects hearers to the loving face of God. Nourishing sermons flow out of the lived experience of the preacher into the lived experience of the hearer, transposing ordinary life into something far grander, more mysterious and purposeful than anything we could imagine: a life truly worth living.
Nathan Hatch is president of Wake Forest University and author of The Democratization of American Christianity.