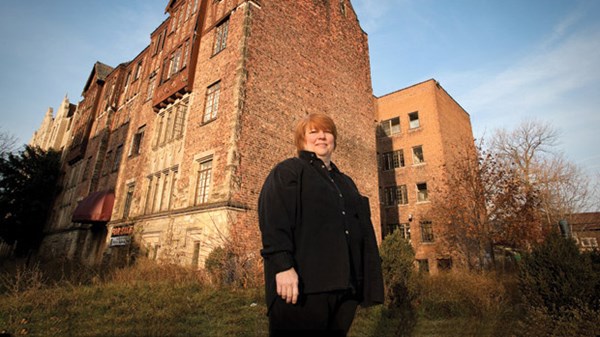 Image: Photo by Gary Gnidovic
The Top 10 This Is Our City Stories: Editor's Pick
And a bit of what our team learned along the way.
1.15.14
As a writer and editor, I fall into a category of people who are notorious procrastinators. Flooded inboxes, the glow of social media, and pleasure reading masked as "research" keep us from sitting down and crafting our mini–masterpieces. In the case of this article and this writer, so does denial: The plain fact is that I haven't wanted This Is Our City—Christianity Today's three-year project about common-good Christianity—to end.
In 2011 (with generous backing from Christianity Today, the Murdock Charitable Trust, the John Templeton Foundation, and other friends), our team embarked on a multistate journalistic adventure to find stories of Christians working in business, the arts, media, education, and law to bring comprehensive flourishing to their cities and neighbors. In three years, we found more than 200 such stories.
We learned a lot as we gathered them. First and foremost, we learned that face-to-face reigns supreme. To truly know and understand our subjects and their cities, we needed to share meals with them, to tour their churches and workplaces, to walk down the streets where they live. We needed to drive through their historic intersections and visit their favorite coffee shops (usually more than once) and look in their eyes as they told us about what they do and why they do it. We hosted listening sessions and launch celebrations in each city. In all, we convened more than 1,900 people over the course of the project, inviting them to work together for their cities' renewal.
Speaking of working together, we also learned that more and more Christian leaders are willing to do it. Pastor Christopher Brooks sees unprecedented church unity across once-fortified urban-suburban lines in Detroit. Brandon Rhodes saw churches working with police to restore a beleaguered Portland neighborhood. I saw doctors, legislators, and church leaders in Richmond coordinating to address father absence. As Ernest McNear and Lin Crowe wrote recently for us, "One of the most powerful and effective promises given to the Church is the power of agreement." While such agreement usually entails missteps, misunderstanding, and an enormous amount of humility, we nonetheless saw powerful displays of it in every city.
Finally, we learned that cities are not the only places where Christians are pursuing the common good. Even as evangelical interest in all things urban remains high, the suburbs and rural small towns also generated a wealth of stories. In this, This Is Our City might have been subtitled, "This Is Our Place." Pastor Eugene Peterson famously paraphrased John 1:14, "The Word became flesh and blood, and moved into the neighborhood." Wherever his flesh-and-blood followers live out the gospel, they do so on particular streets, with particular neighbors, in particular regions with particular histories, hurts, and hopes. We met and learned about dozens of Christians committed to this kind of enfleshed witness.
Our team members also learned a lot about each other. We learned that Christy Tennant Krispin can learn the life story of any waiter in 10 minutes. We learned that our brilliant film director Nate Clarke is a bit grumpy before he gets his pour-over coffee. We learned that Roxanne Stone can take dozens of disconnected stories and write a stellar curriculum for small groups (more on that soon!). We learned that Skye Jethani is great on film, and even better if his head has been delicately powdered. We learned that Andy Crouch has an uncanny ability to win over a room of people, as well as to speed through airport security checkpoints. My teammates learned that, no matter the food, location, or time of day, I will finish their leftovers.
Below are my picks for the top 10 articles and films produced by the team. Thank you to those of you who shared our content, attended our events, and sought comprehensive flourishing in your own cities. May this project be just one small record of what it looks like when the church pursues shalom for the glory of God.
10. "An Ichthus in a Sea of Loan Sharks," by Amy Sherman. Sherman, the author of Kingdom Calling, introduced us to Pittsburgh nonprofit Grace Period, which provides a brilliant and growing alternative to payday lending.
9. "The Moral Mattress Kings of Denver," by Chris Horst. Can the mattress industry be redeemed? Does it need to be? I loved this story of king-sized Christianity from HOPE International's Chris Horst.
8. "Yes, I'm the Mechanic," by Nathan Clarke. The least fun thing I can probably think of is working on a car. Yet Staten Island native George Zaloom shows how auto repair can glorify God and bring joy to the worker.
7. "Where Portland Church Planters Fear to Tread," by Brandon Rhodes. The story of Springwater, an intentional community in southeast Portland, is perhaps the most powerful portrait we found of Christians committed to a place for the long haul.
6. "Rethinking the $3,000 Missions Trip," by Doug Banister. Pastor Banister's poignant story of Martin, the 10-year-old boy who didn't know how to swim, "blew up," as they say, on our site. His piece tapped into larger discussions about the limits of short-term missions.
5. "Gardening to Make Beauty Out of Blight," by Nathan Clarke. I will never forget sitting in Riet Schumack's backyard, surveying her gardens, goats, and stewable rabbits. Nate captured the Detroit native's love for natural beauty, and her neighbors, so well.
4. "Faith in a Fallen Empire," by Katelyn Beaty. Pardon the authorial bias with this one, but, reporting on Detroit and the Christians who live there was moving, humbling, and made me forever defensive about jokes about the Motor City. It changed me and, hopefully, changed perceptions too.
3. "Here's to the Misfits," by Andy Crouch. In our leading report from Silicon Valley, Andy captured the entrepreneurial, risk-or-die spirit of the region, and showed how Christianity's humanizing effect translates into wearable technology.
2. "Daddy, Why Do People Steal from Us?" by Peter Chin. A pastor and father in urban D.C., Chin wrote honestly about living as a Korean in an African American community. His story about teaching his children about racial prejudice got picked up by NPR and The Today Show.
1. "Furniture Fit for the Kingdom," by Nathan Clarke. Just watch it, as I have over and over. Then you'll know.
Katelyn Beaty is managing editor of CT.
MORE FROM CHRISTIANITY TODAY