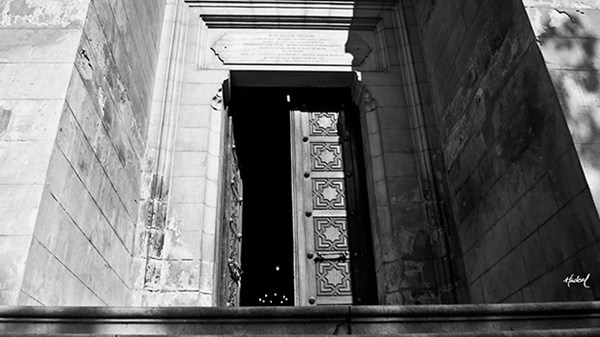 Muslim Creativity Comes to Church in Alexandria, Egypt
The Corners for Creativity cultural center marks a new Christian witness in the Islamist city.
7.19.12
Alexandria, Egypt, was once a lighthouse for Christianity, emanating from the southern shore of the Mediterranean Sea. Now it is a stronghold of the Muslim Brotherhood and the even more conservative Salafi Muslims.
So a Christian opening a cultural center for Muslim and Christian artists in Alexandria—within the walls of an Anglican church—demonstrates a stroke of boldness in a city where some 23 Coptic Christians were killed in a church bombing on New Year's Day 2011.
"For many Muslims," says Nader Wanis, founder of the Corners for Creativity cultural center, "it was the first time in their life they [had] entered a church. They were astounded we let them in; then they go and invite others."
Wanis, a poet and songwriter who owns a multimedia company, noticed the historic grounds of St. Mark's Anglican Pro-Cathedral (a parish church used as a cathedral), built in 1839 in the village of El Menshaiya, were beautiful—and underutilized.
"When I found this church four years ago, I decided to devote my life to it," said Wanis. "I felt it was so empty. There were only a few families attending, just praying."
Yet it was the Egyptian revolution ignited in January 2011 that provided both the impulse and the connections to use the church for the good of Alexandria.
"I saw demonstrations and went to the cultural center across the street and asked if we could bring in these 'screaming kids' to discuss what they wanted," said Wanis. "Every week we met together, but once the revolution turned into politics, I dropped out."
As the politics of Egypt became increasingly dominated by Islamism, Wanis's frustration developed into action. The church, he feared, was isolated from society.
"The church has been misunderstood by the Egyptian street," said Wanis. "There are rumors the church has weapons, fornication, and sorcery inside.
"As long as the church stays closed, Muslims can think whatever they want. But the cultural center is a means to open the door and let people in."
Three months ago, Wanis opened the center in cooperation with St. Mark's leaders. He did so in faith, but also with memory: In May 2011, a Salafi mob had attacked churches in the Imbaba neighborhood of Cairo upon hearing rumors that a Muslim woman was inside.
"We didn't know how society would respond, if they would burn the church," said Wanis. "With each event we judge the response but also get to know more people."
So far the response is impressive. Wanis's team leaders, all Muslims, guide more than 200 weekly participants in classes that include singing, photography, acting, drawing, writing, and the fine arts. Over 90 percent of the participants are Muslims, mostly invited by the leaders who are active in the community. Wanis has also taken steps to forge a for-credit relationship with the fine arts faculty of Alexandria University.
Wanis's gradual work, however, has not yet intersected with the Alexandrian authorities, due to the current reality in Egypt, which has yet to stabilize even with the June election of Mohamed Morsi, a former official with the Muslim Brotherhood.
"We don't know who the local government is yet," says Wanis. "Since the revolution, no one is taking responsibility for anything.
"In the past the government let churches do whatever they wanted inside the church, but if they want us to fill out documentation, we'll do it."
As Wanis described his center, a veiled Muslim woman casually entered his office at St. Mark's. An hour early for her class, she exchanged greetings, then sat on the couch with a Christian man to discuss her artwork. It has become normal, though it could have been otherwise if Wanis had followed the common Egyptian Christian pattern of ministering to their own.
"I could have had many Alexandrian Coptic artists if I wanted, but this would have scared the Muslims away," said Wanis. "Next summer I hope to invite Christians also."
Many participants are eager for this.
"I had a dream in which I looked to heaven and wondered who would share [the dream] with me," said Mohamed Abdel Aziz, team leader of the acting class. "Then I found Nader.
"Muslims and Christians are together in every career, but not deeply. It is our dream that they can say a word to the community together, and not in policy. What is needed is community."
For 14-year-old Asim Montasir, a Muslim participant in Abdel Aziz's classes, the chance to build community attracts him.
"The center works to promote peace through theater, and this is why I am here. It is not just for training in acting," he says. "For those who are closed in their own communities, we want to help open them."
His brother, 17-year-old Amr, sees it differently.
"The only problem we have is with the media, which tell Egyptians that Muslims and Christians have difficulties," he says. "We are doing this to show it is not true so that people do not get the wrong idea."
"If we clear media away, Egypt will be great, and this place is the proof," says Ahmed Magdy, coordinator of the fine arts program at the center.
"Some people at the center come from very closed families such as the Brotherhood and Salafis. I ask them how they agreed to be [in a church].
"They say, 'No, these people are just like us … they open their doors and help us, and we are thankful.'"
Magdy also found the nature of the cultural center attractive. The classes are free and open to all without up-front qualifications. Wanis has only three rules.
"Every Muslim leader who comes to the center understands I prevent three things," says Wanis. "Religious debate, political debate, and soccer debate … our job is to unite people, not divide them."
Wanis believes that Christians in Egypt have done just the opposite.
"Christian leaders say we are doing our best, but the country knows nothing about us—have we succeeded in spreading love?" he says. "We need to teach our people to communicate with Muslims.
"We need wisdom to know how to regain trust. Once we do people will start asking, discussing, and surely what is right will prevail."
At least one part of what is right is the flourishing of creative dreams. Abdel Aziz is planning a film festival from scripts devised at the center. Magdy anticipates opening a similar cultural center in Upper Egypt, where misunderstanding and rumors are even greater than in Alexandria. The Muslim team leaders, all volunteers, hope to reach out to underground musicians and increase operations to include a thousand artists.
Wanis hopes within five years to expand the fine arts component of the center into media development, and already has leaders with these skills, though little equipment.
"I would like our center to be a leader in building a parallel, independent, and clear media," he says. "There are many problems in Egypt, and the answer to all of them is education."
Bringing people together is Wanis's chief gift, he says, and Abdel Aziz expresses how Muslims have found a home in the church through the center.
"People now find they need this place. They came for different reasons, but the center has become the central point for their dreams.
"It makes me feel successful and proud. I love them."
Jayson Casper lives in Cairo and is a writer with Arab West Report, blogging regularly at A Sense of Belonging. He has written for CT several times about Christians in Egypt.
MORE FROM CHRISTIANITY TODAY