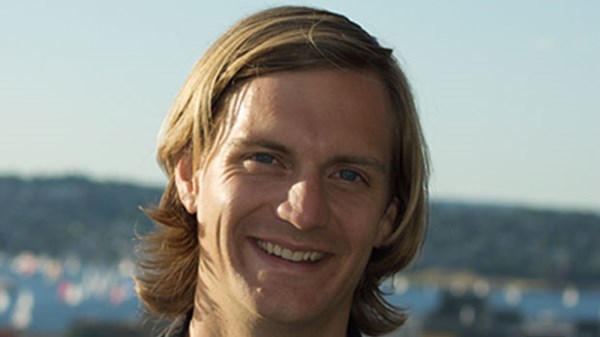 Where Christian Civic Engagement Begins
Tim Soerens believes that contributing to the shalom of his city starts with showing up.
11.21.11
On April 21, 2011, Tim Soerens stood before the 50 or so people who had shown up at the South Lake Union neighborhood community center, where Seattle mayor Mike McGinn was holding a town hall meeting. As the moderator, Soerens's job was to create a hospitable environment for discussion of issues ranging from local dog parks to a $2 billion tunnel through downtown—and to hold both the citizens and the mayor to their allotted time.
Soerens, 32, is a church planter and one of the founders of the Parish Collective, which seeks to help local churches be both "rooted in neighborhoods and linked across cities." For Soerens's church in the South Lake Union neighborhood, that meant helping to start the neighborhood's first farmers' market, hosting a weekly BBQ, and working with their neighbors in a local community garden—getting involved with existing nonprofits and initiatives whenever possible rather than starting new efforts from scratch. Many community council meetings later, he's now active in Wallingford, a neighborhood about a mile from South Lake Union, where he says he is "beginning the listening, organizing, and [finding] pathways of connection."
How does a church planter—or any Christian, for that matter—become a civic leader? According to Soerens, "You just need to show up and be consistent for a while. About 100 people run Seattle. Certainly the mayor and City Council, but from there you begin to see about the same 75 people or so at everything. This might be a slight exaggeration, but not as much as you might think." For Soerens, the link between civic engagement and the flourishing of the city is inextricable. "Democracy is a brilliant system if people show up. But if they don't, that vacuum will quickly get filled, and not always for the best."
Soerens's approach to civic influence doesn't require huge numbers or big budgets. "There is a general rule I've heard, at least in Seattle: If you can get 10 people to give 10 hours of their time for the same thing, you can pass legislation. And while that is actually a lot harder than it sounds, I think it's realistic." In fact, Soerens contends that "if you had three to five people of faith in each neighborhood of a city who were consistently involved in civic participation in their neighborhood, and they knew each other, they would have more influence to shape and bless the city than any megachurch with tens of thousands. Showing up once is not so hard; showing up for months and years is what creates the social capital for real change. But it really is just showing up, listening deeply, and seeking common-good solutions."
MORE FROM CHRISTIANITY TODAY