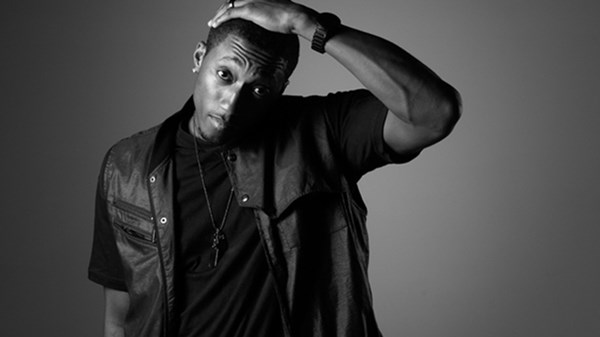 Lecrae's 'Man Up' Mission to Address Father Absence
The 32-year-old Christian rapper says biblical manhood is the key to stopping fatherlessness in Atlanta and beyond.
4.26.12
"Be the last of a dying breed, it's time that we man up." That's the last line of the new "Man Up Anthem" from Christian rap group 116 Clique. The song is just one sliver of a growing campaign launched last year by rapper Lecrae, 32, and his Reach Records in Atlanta, to get young men in hip-hop culture to "man up" into responsible husbands and fathers across the country.
Lecrae, whose outspoken faith and creative rhymes have gained the attention of John Piper and BET alike, has skyrocketing album sales for a Christian hip-hop artist, landing on Billboard's top 200 and independent album charts. But the Houston native is determined to steward his recent fame to address chronic social ills affecting communities nationwide, one man at a time.
"Everybody on staff at ReachLife [Ministries] and the artists at Reach Records realized that biblical masculinity was one of the things lacking in culture, specifically urban culture," said Lecrae in a recent phone interview with Christianity Today. The Man Up Campaign—including a film, concert series, album, and curriculum for church and small group use—was born out of this deep need for a godly model of manhood, as well as Lecrae's own story.
Father absence is a systemic problem, particularly in urban contexts, that's proven to lead to higher rates of gang violence, incarceration, and suicide. As of 2007, the national rate of children born to single mothers was 40 percent. According to the National Fatherhood Initiative, 24 million American children—one in three—live in homes without their biological fathers. The Man Up Campaign, says Lecrae, addresses father absence by telling "young African American males that you're immediately an example for other African American males in the community at large. Not only are the young men challenged and encouraged by this, but also the young ladies, because they get to see what they should be looking for and how to encourage their brothers in the direction of taking leadership and responsibility."
Man Up is hinging much of its success on a multistate concert tour that recently culminated in a two-day conference in downtown Atlanta featuring several Reformed black pastors.
"Our goal was to give scholarships to individuals and organizations that otherwise wouldn't attend an event like this. We partnered with a lot of local Atlanta-based organizations, non-Christian organizations, to give scholarships for them to attend the event free of charge," said Miguel Davilla, executive director of Reachlife Ministries and Man Up project manager. Davilla noted that Reachlife partnered with local churches as well as the Atlanta Mission, a transition house out of homelessness.
Despite Man Up 2012 being Reachlife's first conference event, the Georgia World Conference Center was filled to capacity April 13-14. Over 2,000 young men ages 13 and up showed up to hear Atlanta leaders such as John Onwuchekwa, pastor of Blueprint church plant, Leonce Crump, former NFL player and pastor of Renovation Church, and Tony Carter of East Point Church address temptation, courage, and biblical manhood.
Tony Carter, senior pastor of East Point on the south side of Atlanta, said the conference was "illustrative of their commitments and vision. Seeing 2,000 mostly young men being challenged and encouraged to man up for Christ was a blessing." Evans calls Reach Records "brothers who are using their platform to reach and teach others for Christ," indicative of the "generation of hip-hop artists who take the Word of God, the church, and the vision for God's kingdom seriously."
Building on the accomplishment of this year's conference, Reachlife just announced another in Atlanta. Unashamed 2013 will be September 13-15.
But Lecrae and Reach's reach is extending beyond Atlanta. "I've seen a larger interest in what I have to articulate from the non-Christian community," said Lecrae. Atlanta politicians are showing interest in partnering with Man Up to address local father absence. And Lecrae was recently invited to speak in Washington, D.C. "I spoke with a lot of Congress members and also to one of President Obama's leaders for his fatherhood campaign," said Lecrae, noting that campaign leaders discussed future collaboration with Man Up.
It's no small miracle that Lecrae has become a national Christian leader on this issue. Before hearing the gospel at 19, Lecrae's life bore the marks of growing up without a father. "I didn't fit in anywhere. I was just a misfit of a person," says the 32-year-old. Living with his single mom in the south side of Houston, he wrestled with his identity and worth, getting into drugs, theft, and gang activity. "I had strains with other men in my family as well, and just didn't have a lot of healthy mentoring relationships as a young man. I grew up and still didn't know what it meant to be a man."
"Because of the fatherlessness in his own life, Lecrae had a burden for the lack of fathers in the urban cultures, and for the distortion of manhood," said Davilla, a close friend of Lecrae. "Christ redeemed and gave him new life, and he is stewarding it very well."
"Now I'm a husband and a father, and I've never seen this fleshed out in the home, so I only know what I've read and what men have taught me," said Lecrae. "That's why it's crucial and important for other men to learn while they have the opportunity."
Andrew Thompson is an editorial intern at Christianity Today.
MORE FROM CHRISTIANITY TODAY