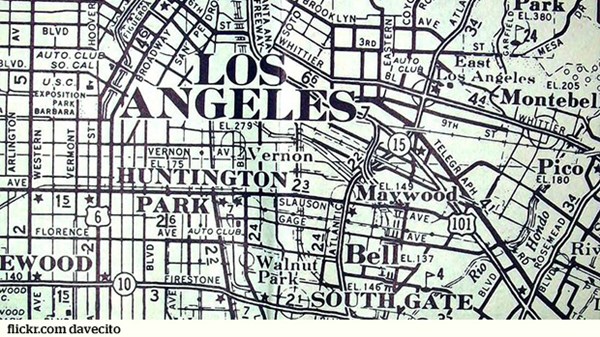 The LA Theologian
How Fred Sanders does theology in, for, of, and from the City of Angels.
5.28.13
It's the middle of winter and 75 degrees and sunny at Biola University in La Mirada, a suburb of Los Angeles. A hint of Kentucky drawl lingers on Fred Sanders's welcome of participants to a first-of-its-kind theology conference. Many attendees had recently braved the cold for national theology conferences in the Midwest. But this conference was different, and not just for the weather; the title of the conference includes a city: the Los Angeles Theology Conference. One might ask, à la Tertullian, what has Jerusalem to do with Los Angeles—at once celebrated and derided for its Hollywood glitz and beach-bum privilege—or any other city for that matter? The conference was just one example of Sanders's trailblazing work in developing a theology of place.
A theology of place is theology modified by prepositions. Fred Sanders is doing theology in, for, of, and from Los Angeles. His day job, doing theology in LA, is as associate professor of theology at Biola University, in the Torrey Honors Institute, a classical education program. But Sanders wasn't always doing theology in LA. He was born and spent the first 11 years of his life outside of LA, in the Palm Springs area. But, "I had definitely reset," said Sanders. "I was in Kentucky from the age of 11 through the end of seminary and married a Kentucky girl, and thought that was where I was from." But after seminary, Sanders commenced doctoral studies in theology at the Graduate Theological Union in Berkeley. He then took up his post at Biola and has been in the Golden State since.
The Los Angeles Theology Conference, co-organized by Fuller Seminary professor Oliver Crisp and sponsored by Zondervan, is a key component of Sanders's doing theology for LA. "A world-class city needs a world-class theology conference," said Sanders, trying not to sound too much like a mayor. Sanders and Crisp wanted to marshal the resources of area theologians and provide a hub for theological work being done in LA.
"Here's a huge city of 10 million people . . . with a number of different theological schools," Crisp said. "And I was wondering to what extent there was a conversation going on between different institutions. . . . It became clear that there didn't seem to be that sort of thing."
The conference, held this year on Biola's campus on the topic of Christology, included plenary sessions from George Hunsinger, Alan Torrance, Katherine Sonderegger, Peter Leithart, and Crisp, all of whom helped participants work through major themes on the nature of Christ. Breakout sessions provided a chance for local theologians to share their work with (and for) the LA theological community.
Another component of Sanders's doing theology for LA is his once-a-week moonlighting for the Los Angeles Bible Training School (LABTS). On Monday nights, adult lay leaders with full-time jobs gather for unaccredited, real-world biblical education. Sanders loves the model: "It's the practicality of it; you are going to take adult Christians who are in the workforce, in a variety of places, and you're going to give them knowledge and understanding of the Bible in English as well as training in. . . . personal work: how to use biblical knowledge to counsel your neighbors, evangelize your co-workers, how to lead them to Christ and disciple them."
Sanders's LABTS students will not be getting PhDs in theology; most, in fact, will never end up in full-time ministry. Nevertheless, "little by little," they will contribute to the theological vitality of a "baffling array of small, excited churches" in the greater LA area.
But if LABTS is on one end of the spectrum of practicality, Sanders's work in establishing the Theological Engagement with California Culture (TECC) project pushes Sanders's theology of place into the academic. Call it his theology of. TECC has been developed alongside theologian Jason Sexton of Ridley Hall, Cambridge. Sanders describes the project as a "theological analysis of what California is and what it means as a cultural phenomenon."
Academics have taken up California as the subject of formal study in the arenas of literature, economics, and entertainment. The TECC project aims to bring a distinctly theological voice to the interdisciplinary study of California. This venue gives Sanders the space for his own reflection, as a theologian, on the nature and force of California.
And finally, Sanders is doing theology from California. His presentation at a recent TECC workshop (whose papers will be published by Ashgate in 2014, under the title Theology and California: Theological Refractions on California's Culture) attempts to answer the question, "What does it look like to do theology—standard, doctrinal, systematic theology—from a self-consciously localized position?" Theology from a place recognizes that our location can bring out nuances in our theology.
For instance, California has embodied the Manifest Destiny, the 19th-century notion that U.S. settlers were entitled to expand west until they reached the edge of the continent—a secularized version of the doctrine of providence. A theology from California, the eschatological end of American continental expansion, might offer a unique perspective on providence. Or perhaps, Sanders offers, there is a distinctly Californian note to the doctrine of creation. California hosts a plethora of natural beauties: from the Pacific Ocean to the Sierra Nevada mountain range, Redwood forests to the Mojave Desert, these geographic features have endowed Californians with an ecological awareness that may help them speak uniquely about God's creation.
For the aspiring localist theologian, these activities reveal the posture that Sanders adopts, a posture necessary in order to avoid being affected and instead be authentic. When pressed on his motives, Sanders shrugs off any fabricated agenda. "I do a bunch of things [here] because I happen to be here." For Sanders, there is no master plan of localist theology; he did not seek out a locale that would be especially conducive to doing theology. Perhaps surprisingly, for localists of any stripe, the operative question is not one of where. The answer to "where?" is simply "here." Rather, the authentic localist says, "Here I am. What will I do here?"
Sanders's own manifest destiny took him to LA, where he "drilled down" to find out about the place. The next step requires the virtue that Sanders clearly exemplifies: the virtue of noticing. He noticed there was a need in LA for solid Bible training, and he noticed a group already doing that, so he joined on. Sanders noticed there was an abundance of theological resources in LA, but no organizing hub, so he and Crisp have forged one. He noticed there had been a lot of reflection on California in academic circles, but none in theological ones, so he and Sexton have begun to do so. As "localist" values mature in such areas as ministry, food, and economics, the theological localist can look to Fred Sanders blazing a trail just off Route 66.
MORE FROM CHRISTIANITY TODAY