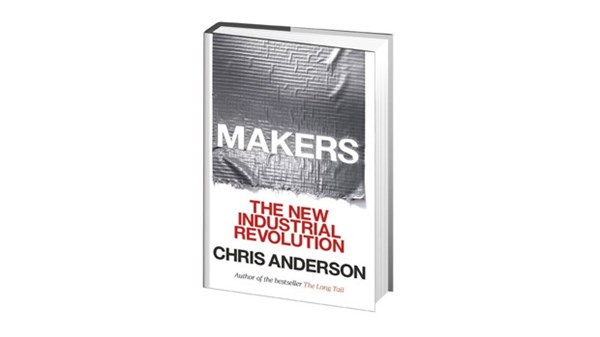 We're All Makers Now
Chris Anderson, longtime editor of Wired magazine, makes the jump from high-tech to physical objects. Why we should follow him.
5.20.13
In a storefront in Manhattan's NoHo neighborhood, a row of matte-black, LED-lit machines are tracing out the future from spools of colored filament. The machines are 3-D printing what appear to be plastic bracelets, but which could be anything you can dream up or download, as long as it's small and plastic. This is the Makerbot Store, one part temple, one part learning center. It's designed to sell people the idea that the promise of the computer and Internet revolutions lies in physical goods as much as digital ones. On the wall, an enlarged cover from Wired magazine shows Makerbot co-founder Bre Pettis. He's proudly holding the just-announced Replicator 2, under the headline, "This Machine Will Change the World."
The October 2012 cover story of Wired magazine—dedicated to tech and digital culture—was the final one written by the magazine's longtime editor Chris Anderson. On November 2, Anderson announced that he was quitting his job to pursue a longstanding business venture—or, as the press release put it, "to spend more time with his robots." His company, 3D Robotics, makes low-cost computerized autopilots for aircraft hobbyists. It grew out of Anderson's passion for weekend family projects and years of overseeing coverage of the intersections of technology, culture, and commerce.
At its surface, Anderson's move seemed like a surprising step away from a position of influence and tech-world glamour. It also seemingly ran counter to a major theme of Anderson's work at Wired: charting the ways in which the Internet has empowered a freeing disconnection of ideas from the constraints of physical reality.
But people familiar with Anderson's books—The Long Tail (2004), Free (2008), and Makers (2012)—should have anticipated his career move. It turns out all the virtualization and abstraction was simply a pathway that looped back to a world not of ideas but of physical things.
Anderson's first books brilliantly make clear the ways that the Internet has created surprising and, at first glance, nonsensical new possibilities. In The Long Tail, he looked at how online stores like Amazon and iTunes were changing models for entire industries: it no longer made much difference whether you sold one title a million times or a million titles once, since shelf space was effectively no longer a factor in what could be offered.
MORE FROM CHRISTIANITY TODAY