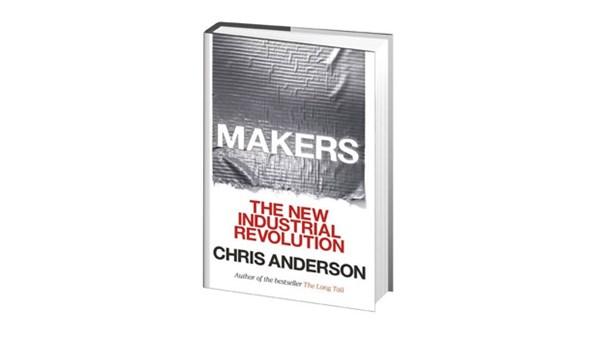 We're All Makers Now
Chris Anderson, longtime editor of Wired magazine, makes the jump from high-tech to physical objects. Why we should follow him.
5.20.13
In a storefront in Manhattan's NoHo neighborhood, a row of matte-black, LED-lit machines are tracing out the future from spools of colored filament. The machines are 3-D printing what appear to be plastic bracelets, but which could be anything you can dream up or download, as long as it's small and plastic. This is the Makerbot Store, one part temple, one part learning center. It's designed to sell people the idea that the promise of the computer and Internet revolutions lies in physical goods as much as digital ones. On the wall, an enlarged cover from Wired magazine shows Makerbot co-founder Bre Pettis. He's proudly holding the just-announced Replicator 2, under the headline, "This Machine Will Change the World."
The October 2012 cover story of Wired magazine—dedicated to tech and digital culture—was the final one written by the magazine's longtime editor Chris Anderson. On November 2, Anderson announced that he was quitting his job to pursue a longstanding business venture—or, as the press release put it, "to spend more time with his robots." His company, 3D Robotics, makes low-cost computerized autopilots for aircraft hobbyists. It grew out of Anderson's passion for weekend family projects and years of overseeing coverage of the intersections of technology, culture, and commerce.
At its surface, Anderson's move seemed like a surprising step away from a position of influence and tech-world glamour. It also seemingly ran counter to a major theme of Anderson's work at Wired: charting the ways in which the Internet has empowered a freeing disconnection of ideas from the constraints of physical reality.
But people familiar with Anderson's books—The Long Tail (2004), Free (2008), and Makers (2012)—should have anticipated his career move. It turns out all the virtualization and abstraction was simply a pathway that looped back to a world not of ideas but of physical things.
Anderson's first books brilliantly make clear the ways that the Internet has created surprising and, at first glance, nonsensical new possibilities. In The Long Tail, he looked at how online stores like Amazon and iTunes were changing models for entire industries: it no longer made much difference whether you sold one title a million times or a million titles once, since shelf space was effectively no longer a factor in what could be offered.
With Free, Anderson made a harder sell: that the same mix of computation and virtualization that gave Amazon effectively infinite shelf space could drive the prices of many valuable services (think of most of Google's offerings) down to zero. Free is a celebration of the open source movement, wherein programmers and tinkerers create, share, and refine collections of software code and device plans, liberated from the strictures of traditional approaches to copyrights and patents. Anderson's robotics company grew out of a website he set up for hobbyists to share their experiments in adapting cheap computer circuit boards to control model aircraft. Although he was giving away his plans for an improved device, Anderson found that many enthusiasts instead wanted to purchase pre-assembled kits.
Both Anderson and his customers fit broadly into the movement he describes in Makers: tech-savvy people interested in leavening consumption—arguably the dominant mode in which we participate in today's mass culture—with creation, and extending the possibilities and lessons of the online world back into physical objects.
In some ways, the people Anderson describes in Makers are nothing new; there have always been inventors, craftsmen, and tinkerers. Many of the great innovators of the computer and Internet revolutions were passionate members of hobbyist subcultures (the term "hacker" was first popularized by members of MIT's model railroad club). What is new about today's maker movement is the ways the Internet allows these hobbyists to connect, both with each other and with a new generation of manufacturers (from networked Chinese factories to 3-D printers like the Makerbot). In other words, the connections fueled by the Internet allow the quick transformation of digital plans into physical goods. Anderson sees this as a massive democratization of what economists call the "means of production." Concepts that a few years ago would have cost tens of thousands of dollars to manufacture can now be tried out for a few dollars.
In general, the maker movement favors creation over consumption and the physical over the virtual. But it's not so much an act of replacement as of integration. Fans of high-tech gadgets can use the knowledge and the taste they've acquired as consumers to design and build something new. People at home in the virtual world can harness its advantages in communication and computing power to create real stuff.
For Christians, knowing that we are made in God's image means that we are called, in large and small ways, to be creators ourselves—to be culture makers, as some might put it. Taking the maker movement's approach, of course, does not guarantee a godly outcome—think of the idol-makers derided in Isaiah 44, or of current efforts to develop downloadable instructions for a 3-D printed assault rifle. But at its best, the maker movement offers new ways to interweave the best of what modern technological culture has to offer us, and what we in our creativity and care can create for ourselves and for each other.
Nate Barksdale was editor of re:generation quarterly and Culture-Making.com. He now writes for the History Channel. Read more at NateBarksdale.com.
MORE FROM CHRISTIANITY TODAY