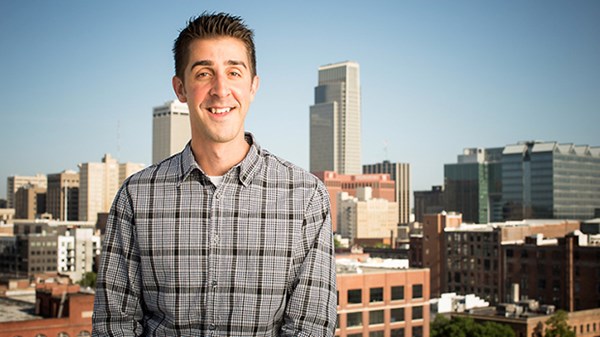 Image: Courtesy of Malone and Co.
Making Omaha (Yes, That One) a Tech Startup Hub
Jeff Slobotski believes his hometown could be known for more than cornfields.
7.17.13
Jeff Slobotski took a hard look at what his hometown, Omaha, Nebraska, had to offer. There were no mountains, no oceans, no glitzy tourism industry. But what it lacks in geography, Omaha makes up for in culture, however underground. Saddle Creek Records, a major purveyor of indie music talent, Film Streams, a nonprofit movie groups that screens indie films and hosts film-education events, and design firms like Secret Penguin, whose clients include the NFL—all of them hail from Omaha. Yet somehow they had remained secret. But as one of dozens of U.S. cities looking to stand out as a startup mecca akin to Silicon Valley, secret isn't all it's cracked up to be.
In 2008, Slobotski launched his own startup, Silicon Prairie News (SPN), a website aiming to amplify the stories of creative companies and tech entrepreneurs working in Omaha. SPN also hosts an annual conference for startups and entrepreneurs, appropriately called Big Omaha. Slobotski is a bridgebuilder, and nothing gets him more excited than introducing people to other people. And if they end up doing business together, that's icing on the cake. Slobotski travels to New York and San Francisco several times a year, hosting informal meet-ups to keep relationships alive, and help people connect. When he's not traveling, his weekly rituals include coaching startups, making inroads for investors to fund Omaha startups, and elevating the best Omaha-based companies that you've never heard of.
For example, everybody has heard of the mobile game Angry Birds. But Battle Bears, a game from Omaha-based SkyVu, has remained relatively obscure. Which is strange since it had been downloaded more than 50 million times, and the company has received $25 million in funding and has 40 employees.
"Those guys are just doing it, whether they take the flight out to Sandhill Road or not; there's no formula," Slobotski said. Sandhill Road, in Menlo Park, California, is known for its high concentration of venture capitalist firms. Every startup needs funding at some point, and Sandhill Road is as much a symbol as any of really "making it."
Slobotski regularly consults with startups to help clarify their view of what success means. "It's not horrible if you don't build the next billion dollar company but have a great place to work," he says.
In 2010, Slobotski quit his day job to go full time with SPN. Up until then, he had been coaching startups while holding a day job, supporting his wife and three sons. He felt the time had come to practice what he had been preaching, and while he could not predict the future, he had an abiding sense that God was telling him to go for it.
One Scripture passage, from the words of Jeremiah to the Jews exiled in Babylon, particularly struck Slobotski. Grappling with how to express Hebrew faith in a land with competing ideals and foreign customs, Jeremiah prophesies these words:
"But seek the welfare of the city where I have sent you into exile, and pray to the Lord on its behalf, for in its welfare you will find your welfare." (29:7).
In other words, God refuses to let his people partition out their spiritual lives from the lives of their neighbors; either everybody wins, or no one does. "The thing that drives me is, how do you create authentic community? God will work beyond what we can comprehend," Slobotski says.
Leaving a Legacy
SPN is headquartered in the Mastercraft building in North Omaha. Three city blocks long, the building was originally a furniture factory. It has been completely repurposed as a deco-themed collaborative workspace that hosts almost 40 creative companies, attorneys' offices, architectural design firms, and more. The Mastercraft is designed to help foster the serendipity that comes from bumping into just the person you needed to talk with at just the right time.
One of Slobotski's closest allies is Dusty Reynolds, director of entrepreneurship and innovation at the Greater Omaha Chamber of Commerce, who sublets an office at SPN. Reynolds moved to Mali in 2009 to launch a company that supplied sustainable employment for locals. When the Somali government disintegrated in 2012, Reynolds had to close the doors. When he came back to Omaha, the entrepreneurship position just made sense.
Now, Reynolds has one simple goal: leaving Omaha better at the end of the day than when he woke up. He explains his metric for success: "The most vibrant cities are the ones where you don't have to say the name of the state with it. The reason people have to say Nebraska [with Omaha] is others won't know where it is. When you're a vibrant city, you naturally become confident with that."
For Reynolds, no two workdays are alike. If he's not grabbing coffee with the head of a local startup, he's meeting with Gallup to discuss building a tool that will help identify entrepreneurs at an earlier age. When he's not over at SPN, you might find him planning the next installment of a speaker series called Failing Forward, meant to ameliorate the stifling fear that dogs even the pluckiest entrepreneurs.
"You have to have a chief who has the pulse of the people," says Reynolds. "Someone who says, I want to bring them together. The person that has led that effort has been Jeff."
"Are you going to be the next world-class skier in Omaha? Most likely not. But can you create the next great technology or design firm in Omaha? I want the answer to be a resounding yes." ~ Jeff Slobotski
One reason Slobotski is effective as a leader of startups is that he is asking the right questions: "How do we build legacy over currency? How do we make our cities better in ways that live beyond us?" Jeff and his wife just had their fourth child, so legacy has been on his mind more than usual lately. His dreams for the city are tied to his children, and he knows what version of Omaha he wants them to have when they come of age, one where geographic constraints are nonexistent:
"Are you going to be the next world-class skier in Omaha? Most likely not. But can you create the next great technology or design firm in Omaha? I want the answer to be a resounding yes."
Part of building a city of legacy is knowing where to find the untapped sources of human capital. Currently, Slobotski is looking to other parts of the city. This includes North Omaha, siloed away from most of Omaha's successes, oppressed by an unmerciful strain of generational poverty. Omaha borders Missouri River on the east, forcing developers west into the suburbs and leaving North Omaha bereft. Slobotski wonders how much talent is being squandered by neglecting this part of the city. To reach the area, he has teamed up with Ty Schenzel, Director of the Hope Center, a ministry to at-risk kids in North Omaha.
Schenzel realized that the kids in North Omaha don't just need job creation but employability creation—everything from a good firm handshake to resume skills.
"The way I frame it up," says Schenzel, "is that the dinner table has been removed from kids in North Omaha. Whether they can say it or not, they recognize they're not getting the skills they need in order to be employable."
In 2012, Schenzel and the Hope Center launched "The Hope Employment & Learning Academy," which aims to fill some of these gaps. A critical part of the program is field trips down to the Mastercraft building, an outing that stimulates the imaginations of the kids, some of whom have never left North Omaha.
Big Omaha
Creating spaces for people to connect is the blood-and-sweat work that fills Slobotski's schedule. If it's not the Hope Center, then it's Big Omaha, SPN's yearly conference. The conference features giants in the startup space, including Scott Harrison, founder and CEO of charity: water, and Tony Conrad, a Silicon Valley mainstay who's founded a few major tech companies like About.me and has helped fund others, most notably Wordpress and Makerbot.
Big Omaha is unique among conferences. Speakers are not sequestered in the green room. Attendees, many of whom are just launching their startup careers, rub shoulders with people who have been at it for years.
But it's not just attendees who benefit. Harrison's charity: water is successful by any measure, growing 90 percent every year for its first five years while most nonprofits shrank in that timeframe. Harrison, who spoke at Big Omaha in 2010, credits the event with making meaningful connections that he wouldn't have otherwise had. "Big Omaha created a space for me to have authentic relationships and get them deeply involved in the organization." Harrison has since been to Ethiopia twice with Wordpress founder Matt Mullenweg, and found new inspiration through Jason Fried (founder of 37 Signals) and New York Times best-selling author Gary Vaynerchuck, both of whom he met at Big Omaha.
Harrison also says he really connected with the spirit of the Midwest. "Midwesterners are incredibly generous people. Maybe not with tons of zeros, but their spirits are incredibly generous." That shoe fits Slobotski, known for his "how can I help you?" attitude that easily helps him network and make connections well.
Slobotski would like to see Omaha entrepreneurs adopt a long-haul strategy. But that is a challenge since every few months the web is abuzz with the latest app to be snapped up by Facebook for a "cool $1 billion." After all, tech-geeks are the new rock stars, and Slobotski says that "success can be defined by getting on the cover of a magazine. People are like, how do I become the next Mark Zuckerberg? But it's a misnomer that if you're not a rock-star company, you are not providing value."
Value is important to community building, but it is an often intangible component. Reynolds, during his years in Mali, experienced this when one of his employees lost his 2-year-old daughter to malaria. At the funeral, Reynolds felt helpless; not knowing the language, he couldn't offer even the simplest of condolences. All he could do was sit there. Later, he told a friend that he didn't feel like he had done anything at all.
"Don't ever underestimate the value of presence," his friend told him. "In community, presence trumps everything; presence is king." Through a constant, engaged presence, Reynolds and Slobotski are reaching out to the vast resources—people, with their talents, aspirations, and creativity—that God has put in their city. They are building Omaha person by person, content to see the results not next week but in a few decades. And God is in the work.
Bret Mavrich is a technology journalist based in Kansas City. He blogs at BretMavrich.com.
MORE FROM CHRISTIANITY TODAY