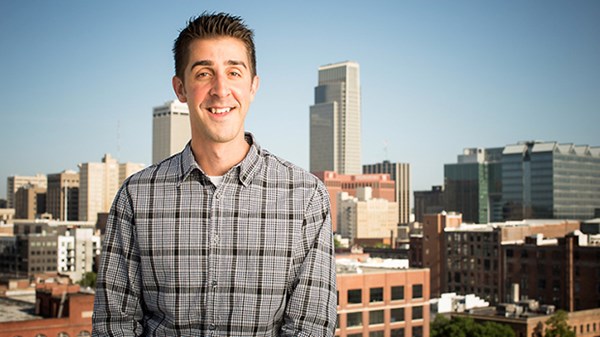 Image: Courtesy of Malone and Co.
Making Omaha (Yes, That One) a Tech Startup Hub
Jeff Slobotski believes his hometown could be known for more than cornfields.
7.17.13
Jeff Slobotski took a hard look at what his hometown, Omaha, Nebraska, had to offer. There were no mountains, no oceans, no glitzy tourism industry. But what it lacks in geography, Omaha makes up for in culture, however underground. Saddle Creek Records, a major purveyor of indie music talent, Film Streams, a nonprofit movie groups that screens indie films and hosts film-education events, and design firms like Secret Penguin, whose clients include the NFL—all of them hail from Omaha. Yet somehow they had remained secret. But as one of dozens of U.S. cities looking to stand out as a startup mecca akin to Silicon Valley, secret isn't all it's cracked up to be.
In 2008, Slobotski launched his own startup, Silicon Prairie News (SPN), a website aiming to amplify the stories of creative companies and tech entrepreneurs working in Omaha. SPN also hosts an annual conference for startups and entrepreneurs, appropriately called Big Omaha. Slobotski is a bridgebuilder, and nothing gets him more excited than introducing people to other people. And if they end up doing business together, that's icing on the cake. Slobotski travels to New York and San Francisco several times a year, hosting informal meet-ups to keep relationships alive, and help people connect. When he's not traveling, his weekly rituals include coaching startups, making inroads for investors to fund Omaha startups, and elevating the best Omaha-based companies that you've never heard of.
For example, everybody has heard of the mobile game Angry Birds. But Battle Bears, a game from Omaha-based SkyVu, has remained relatively obscure. Which is strange since it had been downloaded more than 50 million times, and the company has received $25 million in funding and has 40 employees.
"Those guys are just doing it, whether they take the flight out to Sandhill Road or not; there's no formula," Slobotski said. Sandhill Road, in Menlo Park, California, is known for its high concentration of venture capitalist firms. Every startup needs funding at some point, and Sandhill Road is as much a symbol as any of really "making it."
MORE FROM CHRISTIANITY TODAY