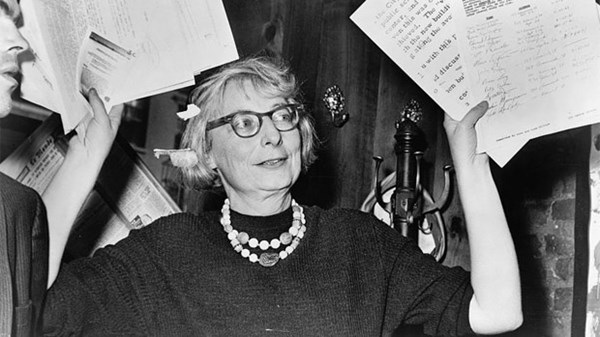 Breaking Through the Glass Sidewalk: Why Every City Needs Women Influencers
How women uniquely lead neighborhood transformation.
2.7.12
One dark night in 2003, a vivid dream woke Leymah Gbowee with a start. Leymah immediately called a meeting of the women in her small Liberian church. Together they formed the Christian Women's Peace Initiative to protest the civil war ripping apart their country. In weeks, the Initiative grew to become the Women of Liberia Mass Action for Peace, which now draws thousands of Christian and Muslim women.
From illiterate villager to government employee, they had husbands, sons, and brothers on either side of the conflict. They had children who did not have enough to eat and daughters who were rape victims. After years of living in conflict, these women were fed up. Led by the dream God gave Leymah, they came together to peacefully protest and to pray and fast for the end of the bloodshed. When the going got tough, they determined to boycott sexual relations until a ceasefire could be reached. Their husbands became motivated allies in prayer and fasting, and the pace of the peace process picked up.
Gbowee, a young mother without special leadership experience, had faith that Jesus was leading her. Due to her and the initiative's efforts, and against all odds, a peace accord was signed in the summer of 2003. Tyrant President Charles Taylor's regime was successfully dismantled, and in its place a democratic government was born. The women had literally helped save their country. Leymah Gbowee won the Nobel Peace Prize in 2011.
War zones are certainly not the only places women are bringing unprecedented change to their communities. A recent Atlantic Cities article featured trailblazer Jane Jacobs, who changed the face of contemporary urban planning in the late 20th century. Jacobs, a housewife without a college degree, was a seemingly unlikely candidate in a field dominated by men. In fact, she became influential almost by accident when she, at the last minute, was forced to fill in for her boss at a conference and won admiration for her novel perspective.
Jacobs was a keen observer of "things close to home—street, neighborhood and community," which informed her grassroots approach to urban planning. A male colleague once pronounced: "Make no little plans, for they have no magic to stir men's blood." Jane's response captured the spirit of her work: "Funny, big plans never stirred women's blood. Women have always been willing to consider little plans." The longevity of Jacobs's work demonstrates that "little plans" executed with care make a big difference.
MORE FROM CHRISTIANITY TODAY