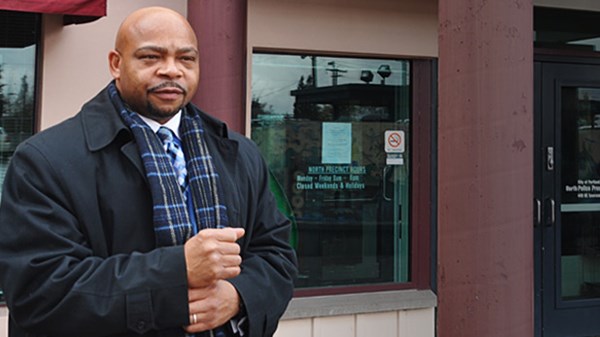 100 Men Standing against Portland's Gangs
John Canda believes the best way to curb gang violence is to ask adults—especially men—simply to show up.
11.30.11
Photo courtesy of Cornelia Seigneur.
If John Canda had to credit one person for his faith and wide-reaching impact in Portland, Oregon, he would point to Grace Collins, a German Christian woman who ran Grace Collins Memorial Center, the daycare Canda attended while growing up in the 1960s on the city's northeast side.
"Ms. Collins and her sisters would read us Scriptures," Canda, 46, recalls. "I remember sitting in Sunday school, and as the pastor shared Bible passages, I'd join in and recite with him, and people would look at me. It was all because of Ms. Collins."
Long after needing day care, after spending days swimming at Dishman Community Center, Canda and his friends would visit Ms. Collins.
"She'd have this 11½-minute Bible study for us, and her pantry was always full—chips, cookies, soda. We'd go there every summer; she'd fill the room. She was planting seeds," Canda said.
Those seeds—namely, Scripture and community—have become vital to Canda's mission in Portland for the past 22 years: to curb gang violence in the city where he grew up, and to inspire others to do the same. In that spirit, this year he formed the group Connected, a grassroots movement that practices a "Ministry of Place," meeting Friday evenings at Holladay Park near the Lloyd Center shopping district, known for gang violence.
Canda found his calling in 1989, six years after graduating from Portland's Jefferson High School. He had attended business college, then joined the Air Force, serving as a security policeman in Idaho. When he returned to Portland in 1989 with his wife, Darla Nelson Probasco-Canda—whom he has been married to for 25 years, raising 4 children together—the community he knew so well had changed. Gangs had begun to run rampant, and gentrification was hurting low-income families.
"Growing up, we didn't have to worry about gangs. Gangs were bike groups and the Hells' Angels," Canda said.
Concerned, Canda became involved in outreach to street gangs in volunteer and paid positions. He chaired the Youth Gang and Gang Violence Task Force, was the first director of the city's Office of Youth Violence Prevention in the Mayor's Office from 2006 to 2007, and served as program coordinator for Brother's and Sister's Keepers, Inc. He is currently the Oregon Youth Authority's metro region youth reentry coordinator for several Portland-area counties, is an active member of First African Methodist Episcopal Zion Church, and continues as a community organizer on this issue.
MORE FROM CHRISTIANITY TODAY