When Church Leaders Mistreat You
It takes courage and strength to replace anger with love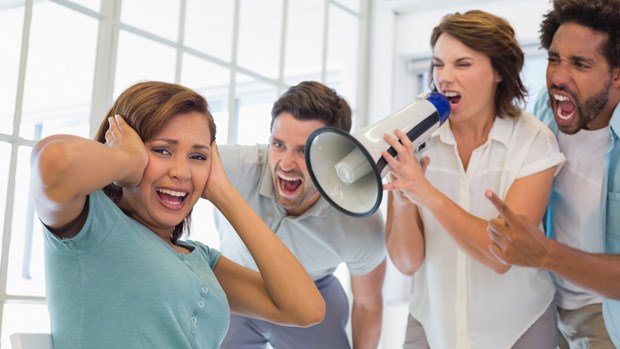 The words mistreatment and church leader shouldn't be in the same sentence, but unfortunately sometimes they are. The fact is, many people on staff, as well as members of the church, are mistreated by their leaders.
My husband and I were mistreated by our pastor, and we witnessed his mistreatment of others. In a leadership meeting one evening the senior pastor embarrassingly interrupted an associate who was sharing his excitement about an upcoming event. Another associate walked past me during a church fellowship and blurted out his frustration with the pastor. On another occasion, a different associate was sarcastically corrected during Sunday morning service by the pastor. My husband, a board member, was ignored and overlooked by the pastor on many occasions.
I cannot speak for the others who were mistreated, but in our case it was hurtful. I hurt for my husband who does his best to live a moral life yet felt he wasn't valued by someone he looked up to and respected. At first mistreatment is a shock because we expect the people in leadership to be loving and tender, as Jesus was. It's hard to be in church excited to save souls yet sidetracked by this kind of behavior. When mistreatment occurs, respect is lost and the kingdom of God suffers.
How Do We Move On?
Mistreatment by leaders can be painful, but how can we continue to live for Jesus, respect those in authority, and save souls? There are many ways we can continue to live out our calling for God after we've been hurt, and one way is to pray. Paul told us to pray about everything. No matter how hurt we are, praying should not cease. We should be praying through our pain as well as for those who hurt us. First Timothy 2:1-4 calls us to pray for our leaders. My husband continued to pray every night for our senior pastor despite how hurt he was. Mistreatment is wrong, but so is not praying for those we serve. If we pray daily for church leaders, we will see a change within the dynamic. It might be hard to pray for someone who hurt you, but this should be done anyway if you care about the kingdom of God. The more we fight against the darkness, the more power we have in God's kingdom.
Talking with the person who hurt you is also an option. In our case we never had a chance to speak directly with our pastor about our feelings, but if you're able to, set up a meeting. It could very well bridge the gap as the person may not be aware of hurting you. Our culture today is text- and email-friendly, with little room available for direct conversation. A personal talk might make the difference.
In addition, talk to a friend. My husband was on the verge of sharing his feelings with a friend from church until the Holy Spirit stopped him. A week later he made a random phone call to another friend and felt led to share what was happening with our senior pastor. My husband's spirit was lifted. This godly friend showered him with encouragement. He reminded my husband what a wonderful man of God he was. There was no gossip involved. The conversation was less about how the senior pastor had treated my husband and more about who he was in Christ! Find a trusted friend you can share your feelings with.
It's Okay to Leave
If talking does not resolve the problem, remember it's okay to leave. I'm not suggesting you abruptly begin to church hop, but instead pray for God to lead you out. Some people will not want to leave, and I know how hard this can be. We read over and over that leaving a church due to offense is wrong and many people will stay because they feel they're sinning against God. In my opinion, offense and mistreatment are different. I dealt with an offense in which I was prepared to leave a church until I realized it was a misunderstanding. Mistreatment, on the other hand, is ongoing behavior. Kicking a dog every day is more than offensive—it's mistreatment. Leaders may not physically harm you, but public scolding, harsh tones, and being ignored are hurtful and damaging—especially in the kingdom of God. And if talking does not resolve the issue, ask God to lead you to another church.
Peter wrote, "Be shepherds of God's flock that is under your care, watching over them—not because you must, but because you are willing, as God wants you to be; not pursuing dishonest gain, but eager to serve; not lording it over those entrusted to you, but being examples to the flock" (, NIV). We are under the care of church leadership, so mistreatment is not okay. We are not doing God any favors by staying in the midst of it. God would rather we value ourselves and trust his love to lead us into a healthier situation.
Whether you find a new church or stay at your current church, try to remember the good qualities of your leader. We are all capable of hurting others at times and church leaders are no different. It's easier to forgive someone who has a repentant heart, but we can ask God to help us forgive those who never acknowledge their wrongs. We never received an apology from our pastor, but we are grateful for the good he did in our lives. My husband is living his dream today because of the pastor's sermons, and I wrote my book, Breakthrough: Your Doorway to a New Destiny, because the pastor challenged us to stick with our goals. We now attend a new church but appreciate the good from our former pastor. If you ask the Holy Spirit, he will help you remember some of the good as well, and being reminded of the good will help your heart soften, even in the midst of hurt.
Love Is the Answer
I am convinced the church suffers today because of the perpetual cycle of pain in the church where there needs to be a perpetual cycle of love. When we get hurt in the church it's damaging. In his book Absolute Surrender, Andrew Murray says, "One of the reasons God cannot bless His church is the want for love. When the church is divided there is no strength." Leonard Ravenhill once said, "Eighty-five people a minute die not knowing Jesus." That was a 1959 quote, so I imagine the number is much higher today. Love is crucial.
The need for love is great; that's why we can't give up on the church or its leaders. I personally have no idea how hard it is to pastor a church, but I imagine the burden is heavy. We expect our pastors and leaders to be strong enough to withstand anything—but they cannot be. I don't condone mistreatment of any kind, but I am convinced if we love Jesus and love the church we will continue to pray for our leaders. When we're mistreated, love is the answer. Hurting people hurt people. The person who hurt you might be hurting themselves, but you can ask God to heal you—and them. It's easier to walk around with a chip on our shoulder, gossip, and live in anger. But it takes courage and strength to do what Jesus did—replace anger with love.
Walk the path of righteousness by staying true to God and his kingdom. The sad truth is mistreatment of some sort will likely happen again in church. We are flawed human beings and while it's not okay to be mistreated, we can control how we respond to it. Satan would prefer we wallow in self-pity and anger and eventually leave church altogether. However, Jesus would prefer we stand up to Satan by loving those who hurt us. Dr. Martin Luther King Jr. once said, "Love is the most durable power in the world." Jesus was mistreated as well, and it was wrong, but he responded with love. So with Christ by your side, bless your leader. Love your leader. Pray for your leader when you can't take it anymore and trust that God will see you through it. Be strong and know one day you will hear your Father in heaven say, "Well done, good and faithful servant" (, NIV).
Saleama A. Ruvalcaba is a wife, and mother of five. She is a writer, and regular contributor for Gifted for Leadership. Her book Breakthrough: Your Doorway to a New Destiny was released in May 2014. She writes leadership resources on her blog at salruv7.com.