Editors' Note
Issue 22: Martin Luther, pensive proteins, Lego churches, and Ascension
As we prepared this issue, I spent some time in Rocky Mountain National Park. I found myself exhilarated as I raced the sun on a late afternoon snowshoe hike to Emerald Lake, and euphoric as I sat alone and unperturbed at Chasm Falls, simply watching the water spill for half an hour. I felt God's pleasure as I ran and as I sat.
I noticed a similar theme in this issue: James Reston Jr. describes Luther's effort to "tremble before each letter of the Bible" as he translated the New Testament in 1522. But he trembled quickly, finishing the 27 books in a mere 10 weeks. Meanwhile, in a sequel of sorts to last issue's article on cell death, Christina M. H. Powell describes how (and why) cells pause to reflect even as they move and reproduce quickly to keep us alive.
One main reason we created The Behemoth was that we ourselves needed a place to stop and reflect on the greatness of God and the goodness of the world. I needed something to help me re-engage with my news and Twitter streams with a changed perspective on what's important. Has pausing to reflect and get my bearings caused me to slow down? Not always! Right now my world is moving faster than ever. But looking for delight in creation can as easily quicken my pace with renewed vigor as it can prompt me to rest awhile in thought and praise. We hope this magazine is doing the same for you.
—Ted Olsen, co-editor
The Behemoth is a small magazine about a big God and his big world. From the editors of Christianity Today, these articles aim to help people behold the glory of God all around them, in the worlds of science, history, theology, medicine, sociology, Bible, and personal narrative.
Get full access to The Behemoth archives on any device when you subscribe to Christianity Today.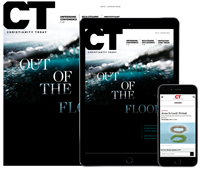 Unlock This Article for a Friend
To unlock this article for your friends, use any of the social share buttons on our site, or simply copy the link below.