Millions of hopeful words have been written in thousands of publications pleading that Christ be put back into Christmas and deploring the failure of people to observe the spirit of good will all year.
Magazines and newspapers will give a great deal of space to similar articles again this year. This is to be commended, even though the articles have accomplished little. A comparatively few sympathetic readers will nod their heads approvingly and try to put the words into practice. Some will obtain a good feeling by gathering baskets of fruit and taking them to a poor section of town, but will be too busy to sit down and talk for 30 minutes about Christ. They will talk for an hour and a half, however, telling neighbors about the joy of helping others.
Cocktail parties, even in some highest government circles and attended by some devoted church officers, will begin brightly and end blearily. The boss will beam as he drapes what he hopes others will regard as a paternal arm around the secretary he has been secretly admiring. Neighborhood parties will mushroom. A friendly kiss under the mistletoe may culminate in an indiscretion of the bedroom. Good old John will fail to make a turn on the way home and his family will spend Christmas day in a funeral parlor.
Professional bums will have a field day, as scoffers who haven't given a nickel all year to the church get their godly feeling by dropping a dollar into the cup.
Christians look at the messy scene and remark, "How awful!" They visit the church and view the manger scene. They sing a few carols. They utter pious phrases. But few take the trouble to examine their own lives in the light of what Christ would have them be.
Christians are the reason why Christ hasn't been put back into Christmas. Christians are the reason Christmas isn't practiced the year 'round. The blame can't be placed on non-Christians. They have never known the love of God through Jesus Christ.
Scores of Church leaders around the world have stated that the number one problem of Christianity is people who profess to be Christians and fail to observe Christian principles in their everyday lives.
The life of Christ provided the perfect example. He came from a heavenly home to the poverty of earth.
The stables of the Middle East aren't the pretty things they appear to be on the Christmas cards. They are dirty and smell of bad odors, with flies buzzing around the filth. Christ lived a perfect life. He went about doing good. And then he went to the cross and died in order that people might live.
Christ entered into history because he loved the world. He did good things for people because he loved the world. He died because he loved the world. Love was the center of his teachings. He said all the trappings of Christianity amounted to nothing, without love.
But the great majority of Christians today display little love. They give at Christmas, but little of the giving is sacrificial and with genuine compassion.
It wasn't the Christmas season when refugee Koreans were tramping through the snow at Seoul, with communists following closely behind. At 5 a.m., Christians of Seoul were having a prayer meeting in the shell of a building without sides or a roof. Snow blew in upon them as they huddled together on the dirt floor. Mothers put their babies inside their thin wraps for warmth. Few had coats. The pastor, at the conclusion of his message, said he was going to take an offering. To a listening American, this sounded ridiculous. These people didn't have any money. Most of them had come to the prayer meeting without breakfast. They didn't know where or when the next meal would be provided.
The pastor then explained he wasn't taking an offering of money. He asked for an offering of clothing—to be shared with the refugees who had practically nothing. One by one, members of the congregation left their places and went to the table placed near the pulpit. Mothers with their babies pressed against their skin took off pieces of outer clothing and placed them on the table. Men wearing shoes and socks gave the socks. Scarves were unwrapped from cold necks and given.
These people had spent much time in prayer. But when they finished praying they got up and did something about it, because the love of Christ was in their hearts.
Ponder the words found in James 2:15, 16: "If a brother or sister be naked, and destitute of daily food, and one of you say unto them, depart in peace, be ye warmed and filled; notwithstanding ye give them not those things which are needful to the body, what doth it profit?"
What will you give "in Jesus' name" during Christmas, or any month of the year, for unwanted children who are dying in ditches of the Far East for want of food and love? What will you give to the families of India who sleep in the streets and tie their few possessions onto the branches of trees? What will you give to the American who wants to find peace with God during a season when the spirit of love and goodwill overflows the land?
Are you the kind of Christian who offers to pray for a person in trouble? After you have prayed, are you willing to help in a material way? Maybe you are the Christian who spends so much time dissecting other Christians that you have time neither to pray nor help.
Christians, many with great reputations, have caused more people to stumble than all the world put together. All the trappings are present, but genuine love is missing.
Are you the reason Christ hasn't been put back into Christmas? Are you the reason that Christmas isn't observed throughout the year?
Advance Of Science And Decline Of Morality
No American will regret the mounting pressures for improved instruction in order to enhance scientific competence and progress. The United States has no excuse for neglecting a single scientific discovery that might contribute to the health, safety and well-being of man. But to locate the cause of inadequate American education in the neglect of scientific instruction is a tragic misunderstanding that will handicap American youth in the race against Communism.
We have nothing to fear from Russian science, only from power that is misused in the service of injustice and unrighteousness. The great peril of Communism lies, as it always has, in the rejection of truth and morality and the repudiation of God and his commandments. But on the other hand, the great weakness of American education for about a generation now has been its ambiguous stand concerning spiritual and moral realities. Communists reject these, and we neglect them. And it is inevitable that our fault will be compounded if the structure of American education continues its concentration on physical realities, while ignoring the reality of God and his creation, redemption and judgment. Fortunately, some leading institutions of science today are recognizing the need in their curriculums for moral and religious emphases and especially are they acknowledging this in view of the men of scientific distinction who are now being called to roles of national and world leadership. That some scientific centers have already seen the paucity of religious life in their sensate environments is instanced by one technological institute (recently gifted with an attractive chapel for worship services) whose highest Protestant chapel attendance out of an enrollment last year of 10,000 was some thirty, falling at times to two. President Eisenhower's recent first address on "Science and National Security" was less disappointing in its avowal of spiritual priorities than his second, and we hope that in the future he will say more. He made pointed mention, in that address, however, of what he called "the most important stones in any defense structure." These he identified with "the spiritual powers of a nation," mentioning first "its underlying religious faith."
The world crisis today is fundamentally moral and spiritual. America will never be able to show the nations how science may serve justice and truth if its educators continue to make those realities of secondary classroom concern. When totalitarianism contends that peaceful coexistence between science and religious faith is impossible, how doubly imperative is it for a professing religious democracy to prove that just and enduring peace can never become actual until faith and science are both placed within the orbit of God and his revealed will for man.
Campus Witness To Jewish Students
Jewish students in American colleges and universities comprise a group of great potential influence in the years to come. These students are an almost untouched segment so far as any Christian witness is concerned. Prior to World War II almost any Christian approach would have been met with hostility but the atmosphere now has changed considerably. Many of these students are disillusioned with Judaism because, in turning to the faith of their fathers, they have been appalled by the poverty of its outreach and message. Hungry for a spiritual experience, many are failing to find satisfaction where they had hoped.
One of the great handicaps to such work is that almost all Jews look upon the terms Gentile and Christian as synonymous. They need to know that only a minority of Gentiles are Christians and to sense the great difference between pagan and believer.
One encouraging development within Jewry today is a renewed interest in the Old Testament Scriptures. For the first time in history there now exists an Israel Bible Society that meets annually. A great contribution is possible by means of an effective movement to carry this interest over into the New Testament itself.
One of the greatest single factors in influencing Jews to Christianity is the individual's discovery that there are already thousands of Hebrew Christians.
Have something to add about this? See something we missed? Share your feedback here.
Our digital archives are a work in progress. Let us know if corrections need to be made.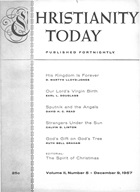 This article is from the December 9 1957 issue.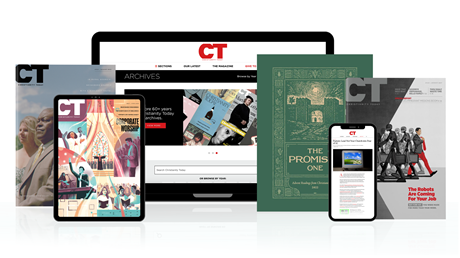 Annual & Monthly subscriptions available.
Print & Digital Issues of CT magazine
Complete access to every article on ChristianityToday.com
Unlimited access to 65+ years of CT's online archives
Member-only special issues
Subscribe
The Spirit of Christmas
The Spirit of Christmas