Four years ago this week the world learned of the slaying of five young American missionary men at the hands of lance-bearing Auca Indians in the jungles of eastern Ecuador. The job of taking the gospel to this Stone Age tribe was subsequently assumed by the widow of one of the victims and the sister of another. Now the widow, Mrs. Elisabeth Elliot, is back in the United States for a time. She agreed to help bring Christianity Today readers up-to-date on Auca developments by granting an exclusive interview which gave rise to the following account.
At an ocean-side apartment in Ventnor, New Jersey, Mrs. Elliot is readying her third book. On a table lay typewriter, notes, and a tiny, German-made tape recorder which has weathered a year in Auca jungles.
Darting about is daughter Valerie, who will be five in February. Facial features of the golden-haired youngster are strikingly similar to the handsome figure whose picture is propped up on an end table. Valerie does not remember her father. She was only 10 months old when he died.
In her current role as both missionary and writer, Mrs. Elliot in a sense perpetuates the career pattern of her distinguished father, Dr. Philip E. Howard, president and editor of The Sunday School Times. She was born in 1926 in Brussels, where the Howard family worked for five years as missionaries under the Belgian Gospel Mission. Howard subsequently moved his family to Philadelphia where he took up the editorial work with the Times.
Mrs. Elliot traces her conversion to early childhood. She made her first public confession of faith at the age of 10 during a meeting conducted by Dr. Irwin A. Moon, a science lecturer from Moody Bible Institute. Through her late teens she had planned to be a surgeon. Not until she enrolled in Wheaton (Illinois) College did the call come for foreign missionary service. And it was while at Wheaton that Betty Howard met Jim Elliot. Both were Greek majors. She was known as a no-nonsense type with marked abilities as a debater and writer for student publications. He was one of the most popular men on campus.
Jim was graduated a year after Betty and their romance blossomed anew when they met again in South America, where both had gone independently as missionaries. She, in the meantime, had taken additional linguistic study with Wycliffe Bible Translators. Both had attended Plymouth Brethren assemblies.
After a nine-month engagement, the couple were married in Quito in the civil ceremony required by law. Then, together, they set out for the forbidding Ecuadorian interior and the work among Quechua Indians.
Elliot first learned of the Aucas from David Cooper, another independent US missionary who had ventured downriver while serving as guide for a Swedish explorer some years before. The expedition had been turned back by Auca spears, though no one was injured. (Cooper, Mrs. Elliot now explains, strangely enough became the first white man ever to make friendly contact with the Aucas when several weeks ago he paid a visit to the tribe during a trip through the area.)
Mrs. Elliot has recorded the now-famous Auca martyrdoms in Through Gates of Splendor and Shadow of the Almighty, a biography of her husband. Royalties of the first book are channeled into the Auca Foundation, set up and administered by the five widows for the education of their children. At the time of the slayings Mrs. Elliot says she found comfort in such verses as Isaiah 43:2: "When thou passest through the waters, I will be with thee; and through the rivers, they shall not overflow thee."
Had she ever had any premonition of the events that were to transpire?
"I often thought I was going to lose my husband," she recalls. At their last parting, she says, she wondered if she would ever see him again. They had talked just before he left as to what she would do if he should not return.
That was in January, 1956. In the months that followed Mrs. Elliot and Miss Rachel Saint, a sister of one of those killed, continued missionary work, Mrs. Elliot with Quechuas at a site several days by trail from Auca territory. Their only link with Auca culture was Dayuma, a young woman who had fled the tribe years before to live with white missionaries. Dayuma, by then a believing Christian, helped with the language.
In November, 1957, Mrs. Elliot hurried to a neighboring settlement upon hearing that two more Auca women had left their tribe. She spent the next 10 months with them, seeking to learn the Auca tongue.
Then Dayuma and the two other Auca women—Mintaka and Minkamu—decided to return to their native tribe. They were gone for three weeks. Upon their return to the mission compound they brought along seven other Aucas, plus a tribal invitation to the missionary women!
Mrs. Elliot and Miss Saint lost no time in taking up the unprecedented bid. But Mrs. Elliot concedes that her "biggest test of faith" was in taking little Valerie along. The hazards of the jungle were only too evident and she had to face the possibility that the Aucas might choose to carry off the youngster. She says she appreciated the kind warnings of fellow Christians, but felt that "as long as this is what the Lord requires of me, than all else is irrelevant."
The trip into Aucaland took two and a half days by canoe and trail. The party arrived on the afternoon of October, 1958, Jim's birthday and the day which would have been their fifth wedding anniversary.
Mrs. Elliots' first glimpse of Aucas in their own locale came when the party reached a clearing in the jungle, There stood a welcoming party of three Aucas.
What was the reaction? Mrs. Elliot describes the reception as "friendly." She says that it seemed "like the most natural thing in the world." For the ensuing year during which Mrs. Elliot was in and out of the tribe the relationship was on the same cordial plane consistently.
Had the Aucas changed their minds about white people since the slayings? Were these the same Aucas? Why had they killed?
Mrs. Elliot learned some of the answers during her stay with the Aucas. But she also discovered additional hurdles in taking the Gospel to them.
There are apparently less than 200 Aucas in all. Mrs. Elliot met 58 of them. The rest live downriver and are enemies of the first group. Some feel they are the last people on earth and that any outsiders who come along must be mere vestiges of the human race. There are only seven men in the tribe Mrs. Elliot visited. At least some of the women are eager to intermarry with Quechuas.
The Aucas are true Indians. Their hair is black and straight and their skin the color of strong tea. They are short, strong, and healthy. They can be distinguished from Quechuas by slightly broader features. They have a dignity all their own and a marked lack of self-consciousness.
Mrs. Elliot was able to determine all the men who had taken part in the killings. She feels that the Aucas reacted so savagely because somehow they had come under the impression that the white men were about to try to destroy them.
Although they do not appear to worship a god, Aucas do have a code of ethics and are definitely able to distinguish right from wrong, according to Mrs. Elliot. The only evidence she saw of any belief in evil spirits was in a single incident involving a pig the significance of which was not clear.
Auca marriage customs seem to vary. Sometimes the prospective bridegroom goes to his beloveds parents to ask for her hand. Other times this is omitted. Occasionally members of the tribe act as matchmakers for a couple.
Why had the Aucas killed the white men and welcomed the women? Here Mrs. Elliot senses the working of the Spirit of God. It was the death of a daughter that apparently had prompted Mankamu to leave the tribe. It appeared that with the sorrow she wanted "to get away from it all." Mintaka followed. The decision to leave was virtually tantamount to a suicide pact, for Aucas have felt that Quechuas are out to destroy them.
Then, in 10 months with the Quechuas and missionaries, the two women presumably became convinced of the outsiders' peaceful intentions and returned to assure their tribespeople. Moreover, Dayuma was reunited with her mother, oldest woman in the tribe. Thus the way was paved for the entry of Mrs. Elliot and Miss Saint.
Despite the Aucas insistence that they had burned or thrown into the river everything belonging to the slain missionary men, Mrs. Elliot found clothing and cooking utensils that she recognized.
A day with the Aucas begins anywhere from 3 to 5 A.M. Someone gets up singing or talking and everyone else's sleep is ruined, inasmuch as Aucas huts are nothing more private than a thatched roof which is supported by four poles. After a breakfast of meat and manioc, the men scatter to do the days fishing and hunting. The tribespeople reassemble for another big meal at sundown, then retire to woven-palm hammocks.
The Auca homeland in the upper Amazon basin is characterized by a pleasant climate. At an altitude of some 1,500 feet, the year-round mean temperature is about 72 degrees.
Mrs. Elliot says that despite seemingly adverse sanitary conditions, neither she nor Valerie suffered any ill effects. The Aucas shared jungle fare, which Mrs. Elliot supplemented with powdered milk, fresh meat, and oatmeal dropped by planes of the Missionary Aviation Fellowship and Wycliffe Bible Translators. She also had supplies of salt, sugar, instant coffee, tea, and occasionally bread and butter.
One tribal rumor spread to the effect that there was a plot to kill the three white visitors because an Auca man had contracted a skin disease. Whether such a plot had ever actually existed was never confirmed.
Mrs. Elliot has been asked countless times whether the Auca project has as yet seen any conversions. Her reply is that several of the Aucas do repeat prayers, but that it is impossible to determine what comes from the heart.
"There are very few abstract terms in the language," she says. "And I can hardly hold up my end of the conversation about ordinary, material things."
She estimates that she can understand about 20 or 30 percent of what is said in conversations between Aucas.
Her plans for the future? "All I know about the situation is that this is the place that the Lord wants me."
Mrs. Elliot prefers to see attention of the Christian public focused on the missionary enterprise as a whole rather than on the Auca operation. She says it is only one of many such pioneer efforts around the world.
Moreover, she challenges the notion that a missionarys calling is higher than any other Christian's.
"The Lord is looking for obedience," she says, "regardless of where it is."
Have something to add about this? See something we missed? Share your feedback here.
Our digital archives are a work in progress. Let us know if corrections need to be made.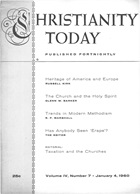 This article is from the January 4 1960 issue.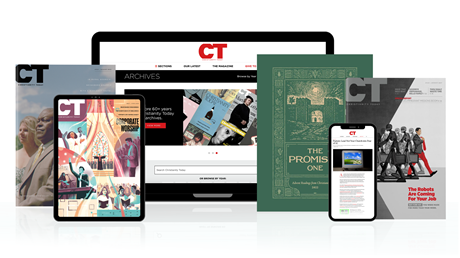 Subscribe to Christianity Today and get access to this article plus 65+ years of archives.
Home delivery of CT magazine
Complete access to articles on ChristianityToday.com
Over 120 years of magazine archives plus full access to all of CT's online archives
Subscribe Now
Operation Auca: Four Years After Martyrdoms
Operation Auca: Four Years After Martyrdoms