Sheltered Life
After a hard day spent painting a picture window in my basement shelter, I dropped in on Pastor Peterson. I wanted to end our falling out on the issue of shelter ethics.
"Come in, Eutychus," he called. "Any casualties yet in defending your cellar?" I ignored this. "I thought we might bury our differences," I began.
"And not our neighbors," he said. "Did you hear about the new book on shelter etiquette? Suppose you are entertaining when the bombs hit. Do you know the polite way to withdraw to your shelter and dismiss your guests into the fallout?" I was relieved when the doorbell rang. But Miles Underwood entered. I knew he had been active in Vernal Vistas, the cemetery association, but I hadn't heard of his new connection. It was with Conrad Helter, a construction company specializing in the conversion of swimming pools into split-level shelters.
"I've just been talking to Dr. Eugene Ivy in Deepwell Heights," said Miles. "The crypt at All Souls is magnificent. With air-conditioning it will make a fine shelter. I have suggested a promotion for expenses—a series of Cryptograms stressing the survival potential of All Souls." Peterson glanced at me. "What steps will All Souls take to secure the crypt against Presbyterians or Methodists in the event of an attack?" he asked.
Miles smiled. "There can be no panic in a community saturated with Helter Shelters. Each can survive in the church of his choice."
The pastor abruptly proposed a "Shelter Text"—Isaiah 26:20: "Come, my people, enter thou into thy chambers, and shut thy doors about thee: hide thyself as it were for a little moment, until the indignation be overpast."
He added that a shelter from wrath and destruction is a biblical figure for God's salvation. But God's shelter is a city founded on the rock, and the survivors are not cowering in caves but feasting on the mount of God. Church basements may have new appeal, but church pulpits need the old appeal. Death has new forms, but one Conqueror. Not catacombs but Christ saves his church.
EUTYCHUS
The New Birth
[The title of] Dr. Frank Stanger's article, "The Way into the Kingdom" (Oct. 13 issue) … promises more than it fulfills. Indeed, something less than the Gospel of grace is given to readers when the author is content to show the importance and necessity of the new birth (based on John 3:3), but neglects to show its sheer impossibility as a human achievement (as seen in John 3:5–12), and utterly fails to give the answer which Jesus Christ gives (as in w. 12–15).…
Like much contemporary evangelism, the new birth is construed as a condition which must be met on the part of man rather than a gift that is to be received from God. At bottom this is to put the Gospel on a reward/punishment basis and it becomes only another refined form of self-justification. This individualistic and conditional way into the Kingdom misses altogether the Pauline conception of substitution and incorporation as reflected in his letter to the Romans.
ROBERT K. MERRITT
Bethel Presbyterian Church
Wichita, Kan.
Cathedral Pinnacle
Professor Ingles has given a concise treatment of the religious significance of T. S. Eliot's poetry (Oct. 13 issue); … perhaps the fullest and clearest expression of Eliot's "Christian Elements" is found in Murder in the Cathedral.…
PETER B. STEESE
English Dept.
Pennsylvania State University
University Park, Pa.
Boy Scouts Overtaken
Although several of your readers (Eutychus, Oct. 13 issue) took issue with the first sentence in your report "Wisconsin Lutherans Break With Missouri Synod," permit me to assure you that many of us in the Missouri Synod sadly admit that you reported correctly when you stated that "Creeping liberalism within the Lutheran Church—Missouri Synod constituency was dealt a dramatic rebuke …" when the Wisconsin Synod suspended fellowship.
As I understand it, the major issue between our Missouri Synod and its sister synods is no longer Boy Scouts or army chaplains but the doctrine of Holy Scripture itself. Both the Wisconsin and Norwegian Synods have protested against a statement on the Bible recently adopted by the Concordia Seminary faculty in St. Louis. Pastors and professors in the Missouri Synod are now permitted to deny the real inerrancy of the Bible and to teach such destructive higher critical views that Moses did not write the Pentateuch.
AUGUST KORFF
New Haven, Mo.
Shortages
The statement of Robert Ericson (Eutychus, Oct. 13 issue) to the effect that belief in the virgin birth of Jesus Christ "is not absolutely essential to a positive Christian faith" is reminiscent of this story.
An inmate of an insane institution who had heard of the scarcity of food and the practice of planting gardens by the wayside was found digging at the foundation of one of the buildings. When asked his reason, he replied, "To produce food."
"If you tear out the foundation, where will you live?" asked the enquirer.
"Oh," said he, "I'll live upstairs."
PASCAL BELEW
Hoopeston, Ill.
Ericson errs.… He bewails the "attack" on Bishop Oxnam, unaware of the fact that the esteemed bishop was an A-1 "attacker" himself.…
Secondly, … when will intelligent Christians understand that no miracle will satisfy a scientist? If it did, it wouldn't be a "miracle".… You would not have a faith, but a science.… This conservative, retired 77 year-old Methodist minister is no obscurantist.…
PAUL L. GROVE
Minneapolis, Minn.
For many years it has been my great privilege to bring that wondrous message of God's love as revealed in his Word to many thousands of Africans in almost every part of the Congo.… Many willingly gave up their idols, burned their fetishes, and were delivered from their fears.
Now back in these United States one finds that there are some "Bible scholars" and "Bible teachers" who vigorously criticize this great revelation of God and cast doubt upon its authority.… Thank you, Dr. Wilbur Smith, for your splendid article "The Holy Bible, 'Verdun' of Triumphant Christianity" (Aug. 28 issue).
HARRY M. PUNT
Vincennes, Ind.
Shakespeare'S Testament
The article titled "Shakespeare and Christianity" (Sept. 25 issue), is very interesting. In regard to the question of whether William Shakespeare was a Christian, I find it difficult to understand how the author … could have overlooked one rather important piece of evidence, namely the man's personal testimony, expressed so clearly in the opening sentences of his will:
"In the name of god Amen I William Shackspeare of Stratford upon Avon in the countie of warr gent in perfect health and memorie god be praysed doe make and Ordayne this my last will & testament in manner & forme following That is to saye First I Commend my Soule into the handes of god my Creator hoping and assuredlie believing through thonlie merites of Jesus Christ my Saviour to be made partaker of lyfe everlastinge. And my bodye to the Earth whereof yt ys made.…"
S. R. LOIZEAUX
Redlands, Calif.
Not only do the works of Shakespeare contain the basis of a most comprehensive system of Christian doctrine (and this although he was born only 28 years after Tyndale was martyred for making the New Testament available in English), but the very point of his most impressive dramas is to emphasize some of the teachings of Christ which those of us who glibly accept Christianity often ignore.
HUBERT V. LITTLE
Baptist Manse
Shaftesbury, Dorset, England
I confidently look forward to meeting the Bard of Avon when the Lord calls me home where the entire host of the redeemed rejoice in the marvelous grace of our loving Lord.…
ROBERT E. MILLARD
Portland, Ore.
For Divine Deportation
In your article on "The Christian Witness in Israel" (Aug. 28 issue) you referred to the Messianic Assembly of Israel.… Brother Kofsmann was "Pentecostal" before coming to Israel. He is no longer "Pentecostal." In Israel, and especially in the Messianic Assembly, all denominational-belonging is shed. We do not wish the blight of denominationalism to disturb the harmony and unity of Jewish believers in Israel. Here we are Messianic Jews minus the identifications of "Anglican," "Baptist," "Pentecostal," "Presbyterian," and the like.…
The missionaries … seek not only to evangelize and Christianize but also de-Judaize. They place Judaism on the same level as paganism, and are not satisfied or content with a believing Jew until he eats pork or does some other thing in contravention of the Law of Moses. They are not interested in free and independent Messianic Congregations in Israel. They are a disturbing element not only in an ethnic-national way but also in a spiritual.… The state and rabbinic leaders of Israel are not the only ones wishing the missionaries to "leave us alone." Many of us Messianic Jews fervently pray that God may send them back home, and would support a state law prohibiting what Christians call "missionary work."
M. I. BEN-MAEIR
Haifa, Israel
Rejoinders To Rejoinders
I take exception to unwarranted charges such as those expressed in the letter by Edwin Vrell (Sept. 25 issue).… He cites Roberts, Allen, and Osborne as little dictators whose position is quite untenable in the light of I Corinthians. That's like judging every Baptist by Norris, every Presbyterian by McIntyre and every Methodist by Oxnam.…
He says, "Very few Pentecostals are Christians away from the mass meeting." This constitutes an unwarranted attack against tens of thousands of Spirit-filled believers who have never thought of questioning the absolute authority of the Scriptures, the Lordship of Jesus Christ, and scores of other truths assailed by churchmen today.…
DANIEL E. JOHNSON
Pleasant Valley Assembly
Wichita, Kan.
Mr. Vrell in speaking of the Holy Spirit asks, "Can you imagine, asking for a gift???" The Scripture certainly admonishes us to ask—"Ask and it shall be given you." Jesus said, "How much more shall your heavenly Father give the Holy Spirit to them that ask him?"
Mr. Vrell's sarcasm toward the Pentecostal movement causes me to wonder if he has not had some unpleasant experiences on the fringes … and is judging the entire movement accordingly.…
I am convinced that … there is a love for God, for the Lord Jesus Christ, and for the Holy Spirit that I have not seen excelled in any other movement.
TALMADGE F. MCNABB
Chaplain
Chaplain's School, U.S. Army
Ft. Slocum, N. Y.
If Pastor Huth (Eutychus, Oct. 13 issue) will consult Luther's sermon on the first Sunday after Trinity, 1522, he will readily see that the Reformer regarded prayers for the departed as an open question.
A. C. M. AHLEN
Dean and Prof. of Philosophy
Northwestern Lutheran Seminary
Minneapolis, Minn.
Summons For Undertaker
One tip of the hat to Dr. Dale Moody ("Hoax or Heresy," News, Aug. 28 issue) for his courage in standing up to the heretical doctrines of closed communion and alien immersion, both of which should have been buried with Dr. J. R. Graves.
JAMES ROHNE
Louisville, Ky.
Bow Toward Glasgow
In my article on the Church of Scotland in your July 31 issue, a number of the statistical items were formulated by Dr. John Highet of Glasgow University. I inadvertently omitted to mention this fact and would be glad of the opportunity to express now my indebtedness to one who is a leading authority in this field.
JAMES D. DOUGLAS
Cambridge, England
To Amplify A Ministry
If each of the 200,000 Protestant pastors currently active in the United States wins four others to the ministry during his lifetime, there will be 800,000 pastors in the generation to come.
Growth of population calls for some such increase in full-time religious workers. God is always calling people to his ministry. All we need do is offer whatever gifts we have to his discipline and use. We pastors lead others into the pastorate when our own commitment is deepening and growing. Our commitment grows if we are always taking some new step forward: reading the New Testament in Greek, losing weight during the middle years, wrestling through Hegel, taking a hard parish with many churches and through physical, moral, and spiritual effort bringing it out of the doldrums, reflecting daily on the perennial perplexities of theology, having a conception and experience of the "divine" which is unchanging but in flux, to mention only a few avenues of a growing pastoral commitment.…
Our ministry is sterile if we are not the means whereby at least four other persons, during our lifetime, enter upon the dramatic road of total Christian commitment.
HENRY RATLIFF
First Methodist Church
Great Barrington, Mass.
Library Ministry
Many librarians will be very co-operative in aiding the public by taking suggestions from ministers about recommended books.… It has occurred to me that the outreach of the Church of Christ could extend to placing in the public libraries … such works as Bible encyclopedias and Bible dictionaries. These could be donated at the expense of the church if the funds of the library are too limited.…
DONALD A. LAM
St. Thomas Reformed Church
St. Thomas, Virgin Islands
• Many ministers are also discovering that the local library will include CHRISTIANITY TODAY among its religious peridicals when suggested, because of the demand for it among library users.—ED.
Have something to add about this? See something we missed? Share your feedback here.
Our digital archives are a work in progress. Let us know if corrections need to be made.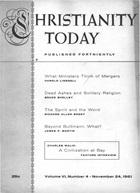 This article is from the November 24 1961 issue.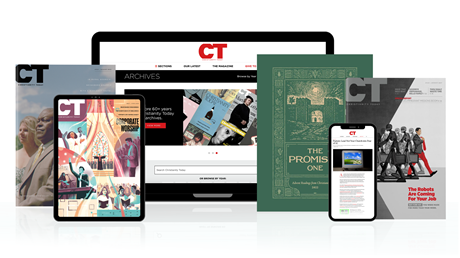 Subscribe to Christianity Today and get access to this article plus 65+ years of archives.
Home delivery of CT magazine
Complete access to articles on ChristianityToday.com
Over 120 years of magazine archives plus full access to all of CT's online archives
Subscribe Now
Eutychus and His Kin: November 24, 1961
Eutychus and His Kin: November 24, 1961