WHAT DICTATORS CANNOT DO—A poignant episode—the attempt of 32 Siberian peasants to escape from under the heel of Russia's godless rulers—struck officials here Friday as proving a truth: A dictator may do many things, but he cannot eradicate religion from the hearts of men.… The Communists, however, have made considerable progress in wiping out religion. One recent estimate was that in the past two years 2,000 of the 12,000 Russian Orthodox churches have been closed.… Cosmonaut Pavel Popovich laughingly said he failed to see God in space.… Apparently the peasants from Chernogorsk have seen visions the Red spacemen could not discern.—RAYMOND CROWLEY, AP, Washington, D. C., dateline.
LESSON FOR FREE WORLD—Superficially, there is religious freedom in Russia. Yet stories repeatedly emerge about oppression of various religious groups within the country. They are not easy to confirm. But this incident very dramatically puts the spotlight on at least one instance of people trying to practice their religious beliefs under enforced atheism. To that end, the case will serve a useful purpose in acquainting the free world of the inviolable rights it enjoys—in contrast to Communist-ruled nations.—Scripps-Howard newspapers.
THE SAME ICY WIND—From the depths of the Russian winter has emerged a tale worthy of the most misanthropic pages of Tolstoy and Chekhov.… So pathetic an episode cannot be reconciled with the talks of new, relaxed winds blowing through the vast Soviet empire. The winds are the same icy blasts of oppression that have always moaned over that tragic land.—San Francisco Examiner
GOVERMENT RESPONSE—The United States can do many things.… It can compel Nikita Khrushchev to remove his missiles and bombers from Cuba.… But it can do nothing for 32 Christian peasants who journey from Siberia to Moscow in search of American aid—nothing, that is, except hand them over to the Soviet authorities. These wretched, ignorant people apparently thought the Americans could get them out of Russia or possibly grant them asylum in the United States Embassy. Of course, it was not possible to do the first and at least not feasible to do the second. So nothing was done—just as nothing was done to assist the young East German who was shot down and left to die across the line in Berlin. But it may not be quite accurate to say that nothing was done. In Washington, a State Department spokesman issued a declaration of "deep distress." In Moscow, American Embassy spokesmen … forbade photographers to take pictures.—The Evening Star (Washington, D. C.).
GOVERMENT EXPLANATION—In Washington, this official explanation was given for refusing them refuge: The U. S. never has recognized the principle of asylum as a part of international law. Exceptions—such as the asylum given Josef Cardinal Mindszenty in the U.S. Legation in Budapest since 1956—are granted only "on humanitarian grounds" in the case of refugees whose lives are "in imminent danger from mob violence."—U.S. News & World Report.
CABLEGRAM TO KHRUSHCHEV—The National Association of Evangelicals in the United States appeals to you in behalf of the 32 evangelical believers who recently approached the United States Embassy in Moscow seeking assistance in gaining permission to leave the Soviet Union. We ask that you guarantee their safety now and grant the necessary permission to leave the Soviet Union for any country of their choice. If they wish to enter the United States we stand ready to help.—Signed by DR. ROBERT A. COOK. President, and BISHOP C. N. HOSTETTER, JR., Chairman of the NAE World Relief Commission.
HOPEFUL SIGN—… The fact that religious beliefs persist after nearly half a century of Communist rule somehow is encouraging.—The Miami News.
OMITTED HIGHTLIGHT—One of the most dramatic entries in 1963's religious diary has already been written in Moscow. No mention has been made [of it] by the Soviet press or radio.…—Religious News Service.
NOTE OF WARNING—It is even conceivable that pressure and publicity might cause Khrushchev to release the rebels. But whatever happens, it is by such human actions that the cold war's meaning, often buried in dull words, comes home. Tyranny is tyranny, whether Czarist or communist, and as long as men can breathe they will rebel against it.… It is also a warning that free men guard well their liberties not only against communism but all signs of incipient tyranny.—Wall Street Journal.
AFTER A WEEK OF SILENCE—The Soviet news agency Novosty said today that the Siberian peasants who sought refuge in the U. S. Embassy last week were religious fanatics who beat their children to make them keep the faith. Novosty charged that the "evangelical" sect members had "crippled" 30 children … many having been "under mental depression for several years in a row."—UPI, Moscow dateline.
FUTURE ALTERNATIVES—Father Georges Bissonnette, A.A., who served from 1953 to 1955 as a Catholic chaplain for foreigners in Moscow and who is now head of foreign affairs school at Assumption College … noted in an interview that the Soviet government "started a campaign of 'administrative measures' against religious activity back around September." He observed that the recent incident at the U.S. embassy could be a protest aimed at informing the outside world about this campaign.… Father Bissonnette said that the Soviets, in a July, 1958, revision of their educational system, set up boarding schools to take children "out of the unhealthy atmosphere of a home of believing parents".… The former Moscow chaplain said that the protest could "bring a halt to the current 'administrative measures' " if other protests come along. "But if it's alone," he said, "it won't have much effect." The Soviets might use the incident, he noted, as a "showcase example that the country is tolerant."—National Catholic Welfare Conference News Service; Worchester. Massachusetts, dateline.
Have something to add about this? See something we missed? Share your feedback here.
Our digital archives are a work in progress. Let us know if corrections need to be made.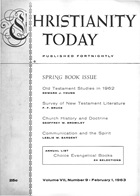 This article is from the February 1 1963 issue.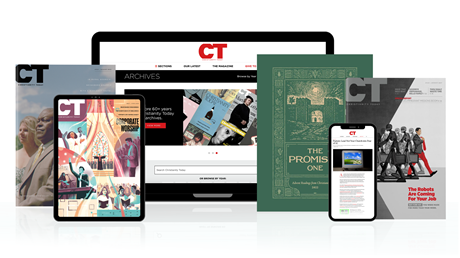 Subscribe to Christianity Today and get access to this article plus 65+ years of archives.
Home delivery of CT magazine
Complete access to articles on ChristianityToday.com
Over 120 years of magazine archives plus full access to all of CT's online archives
Subscribe Now
Those Who Believe … Help Us!
Those Who Believe … Help Us!