Man's desire for peace and his frantic search for formulas and organizations that might further world peace often lead to false hopes.
Too often the peace mentioned in our newspapers and promised by politicians is actually a cruel hoax. Furthermore, as far as many are concerned, the desire for peace is merely a wish to eliminate war so they may continue to live as they please.
The cold war has taught us that an armed truce is not peace, nor is neutrality, while peace at any price is too big a price where righteous principles are at stake. Compromise only postpones, never solves, basic issues.
The Bible makes clear that peace is not a man-willed state of affairs; rather it is a God-conferred blessing on a man's condition, often without reference to the world as such.
From the Scriptures we learn the varieties of peace that God gives and the sequence in which they come: peace with God, the peace of God, and peace with our fellow men.
That the world demands peace without the Prince of Peace is obvious. Only a minority recognize Christ as the giver of peace; and an even smaller number admit that without him there can be no real or lasting peace, either in the world or in the hearts of individuals.
Peace with God. This peace is a new dimension of living, a work of God's love and mercy in which are involved regeneration, forgiveness, Christ's imputed righteousness—all a part of his saving grace through faith on our part. Paul states it clearly in these words: "Therefore, since we are justified by faith, we have peace with God through our Lord Jesus Christ" (Rom. 5:1, RSV).
It seems pleasant to insist there is no separation from God that requires mediating work to bring about peace, but this is not true. There is both open and secret hostility on our part; and there is, for the unregenerate, God's holy hostility to sin, a hostility that demands judgment and for which he made perfect provision.
Paul further states the case: "For the mind that is set on the flesh is hostile to God; it does not submit to God's law, indeed it cannot" (Rom. 8:7); while James further defines the need for man's peace with God: "Unfaithful creatures! Do you not know that friendship with the world is enmity with God? Therefore whosoever wishes to be a friend of the world makes himself an enemy of God" (Jas. 4:4).
Peace with God is a quality he transmits to believers. We read: "He is our peace, who has made us both one, and has broken down the dividing wall of hostility, by abolishing in his flesh the law of commandments and ordinances, that he might create in himself one new man in place of the two, so making peace, and might reconcile us both to God in one body through the cross, thereby bringing the hostility to an end" (Eph. 2:14–16).
Once man has made peace with God he experiences an amazing new kind of peace: The Peace of God. This peace is an inner quality of life derived from His presence in our lives. It is a peace that the world cannot understand, a peace that the world can neither give nor take away. To his troubled disciples our Lord spoke words that continued to be fulfilled for believers in each generation: "Peace I leave with you; my peace I give to you; not as the world gives do I give to you. Let not your hearts be troubled, neither let them be afraid" (John 14:27).
Later he amplified this truth: "I have said this to you, that in me you may have peace. In the world you have tribulation; but be of good cheer, I have overcome the world" (John 16:33).
Isaiah had this same concept of the peace of God: "Thou dost keep him in perfect peace, whose mind is stayed on thee, because he trusts in thee" (Isa. 26:3).
"The effect of righteousness will be peace, and the result of righteousness, quietness and trust for ever" (Isa. 32:17)—this has been demonstrated to Christians again and again.
This peace in the midst of danger has been the comfort and stay of many who otherwise could not have stood the pressures of the moment: "In peace I will both lie down and sleep, for thou alone, O Lord, makest me dwell in safety" (Ps. 4:8).
The Apostle Paul expresses this hope for the Christians in Rome: "May the God of hope fill you with all joy and peace in believing, so that by the power of the Holy Spirit you may abound in hope" (Rom. 15:13).
In every generation there have been false prophets crying, "Peace, peace, when there is no peace," because the "peace" of which they speak has no reference to peace with God or his peace in the heart.
Peace with our Fellow Men. This peace is more than a new and right relationship with God through Christ; it is more than his peace within; it assumes a horizontal dimension, reaching out to those with whom we have daily contact. How often Christians dishonor the Lord they profess by a lack of love for others! And how important that the peace of God which passeth understanding shall operate where there is misunderstanding!
The writer of the Epistle to the Hebrews states this as a command: "Strive for peace with all men, and for the holiness without which no one will see the Lord" (Heb. 12:14). And Paul wrote the Thessalonian Christians: "Be at peace among yourselves" (1 Thess. 5:13b).
Basic to this aspect of peace is a spirit of forgiveness and love. If we are to exercise such an attitude to others, it must stem from a realization of what Christ has done for us: "For the kingdom of God does not mean food and drink but righteousness and peace and joy in the Holy Spirit; he who thus serves Christ is acceptable to God and approved by men. Let us then pursue what makes for peace and for mutual up-building" (Rom. 14:17–19).
Peace with our fellow men never means condoning evil: "But the wisdom from above is first pure, then peaceable.… And the harvest of righteousness is sown in peace by those who make peace" (Jas. 3:17, 18).
Peace among Christians is maintained by Paul's admonition: "Do not look on him as an enemy, but warn him as a brother" (2 Thess. 3:15).
It behooves all Christians to think clearly about the meaning of peace. The voices at Babel—"Come, let us build ourselves a city"—have their counterpart today: "Come, let us build a warless world"; but it will not happen that way. God scattered the people of Babel abroad, and he will bring to naught every plan for world peace that ignores the One he has sent to be the Prince of Peace. God has given us the Way: "Rejoice in the Lord always; again I say, Rejoice.… Have no anxiety about anything.… And the peace of God, which passes all understanding, will keep your hearts and your minds in Christ Jesus" (Phil. 4:4–7).
God has a formula for peace, and it is ours for the asking.
Have something to add about this? See something we missed? Share your feedback here.
Our digital archives are a work in progress. Let us know if corrections need to be made.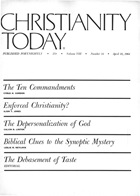 This article is from the April 10 1964 issue.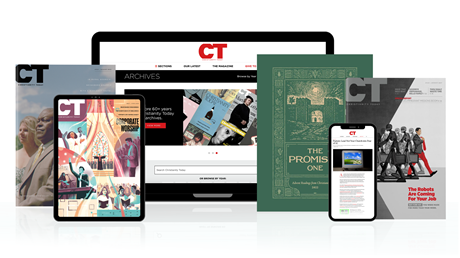 Annual & Monthly subscriptions available.
Print & Digital Issues of CT magazine
Complete access to every article on ChristianityToday.com
Unlimited access to 65+ years of CT's online archives
Member-only special issues
Subscribe
Where Is Peace?
Where Is Peace?