A call for a "highest level" meeting between American Jewish leaders and Soviet authorities on the problem of anti-Semitism in Russia was issued by some 500 representatives of twenty-four major Jewish religious and other groups that met in Washington this month.
The unprecedented meeting, if the invitation is approved by the Soviet Union, will be part of an extensive national campaign by the American Jewish Conference on Soviet Jewry to safeguard the religious and cultural life of about 3,000,000 Jews in the Soviet Union.
Concluding a two-day meeting, the conference also urged Soviet leaders to take eighteen specific steps to end anti-Semitism in that Communist nation.
The conference set into motion plans to enlist the help of all Americans in speaking out on "the fate of our brothers in the Soviet Union." It called for a National Day of Prayer in all American synagogues to dramatize the plight of Soviet Jewry, and for the use of mass media to bring to the attention of the world the conditions of Soviet Jewish life.
Republican Senator Jacob Javits of New York said he had "no objection" to serving as part of an American Jewish delegation to confer with U. S. S. R. leaders on the Jewish problem. Other representatives suggested included Supreme Court Justice Arthur Goldberg and Democratic Senator Abraham Ribicoff of Connecticut. All three spoke at the Washington meeting.
Javits, who recently returned from a European trip, said the Soviet government "is not impervious to world opinion," and could be expected to give ground in its deprivation of the Jews.
"What we need is general and universal protest—constantly reiterated," he stressed. He added that "Soviet anti-Semitism is a threat not only to Jews—though they are the first victims—but to all religious minorities in the U. S. S. R."
In a reference to the recent confiscation of matzoh by the Soviet government, Javits said:
"It is hard to believe that in this decade a major world power like the Soviet Union, with its nuclear capability and space exploration achievements, would stoop to this kind of petty but cruel and repressive official harassment of a helpless minority."
The conference's national program will include efforts to enlist the cooperation of President Johnson in communicating "America's official concern to the Soviet government," and to have the Republican and Democratic National Conventions and Congress adopt statements condemning anti-Semitism.
Among other phases in the campaign are: Urging religious bodies and "international Christian forums such as the World Council of Churches" to include discussion and action on the plight of Jews in the Soviet Union:
Enlisting the support of civic, labor, educational, religious, veterans', women's, and other groups to express their concern for the plight of the Jews;
Conducting a special drive to get statements from "prominent religious leaders, winners of honors and awards in scientific and human fields, outstanding intellectuals, and others … in behalf of Soviet Jewry."
The eighteen-point program urged on Russia includes the eradication of anti-Semitism by a "vigorous educational effort by the government and party"; permission for the "free functioning" of all synagogues and private prayer meetings; and the production and distribution of religious articles, such as Hebrew Bibles, religious texts, calendars, matzoh and kosher foods.
The Soviet Union also was asked to eliminate discrimination against Jews "in all areas of Soviet public life," end anti-Semitic campaigns in the press, and stop the "discriminatory application of the death penalty and other severe sentences imposed against Jews for 'economic crimes' against the state."
Educational Crossroads?
A group of Roman Catholic educators voted this month to raise $40,000 to answer arguments in a book challenging the value of the Roman Catholic school system in America.
The action was taken by the Primary Education Department of the National Catholic Educational Association at its sixty-first annual meeting in Atlantic City, New Jersey. The money is to come in five-dollar donations from the NCEA's 8,000 elementary school members.
Proposed by Msgr. William E. McManus, president of the department and superintendent of schools in the Chicago archdiocese, the defense plan was approved by some 5,000 members of the department.
The book in question, published several weeks ago, is Mrs. Mary Perkins Ryan's Are Parochial Schools the Answer? In it, Mrs. Ryan, a Roman Catholic, contends that the parochial school system is obsolete and hinders the preparation of the lives of pupils. She urges her church to leave the field of general education and to concentrate on the religious training of children.
A number of Catholic educators have sharply criticized Mrs. Ryan's views. Msgr. McManus said that she "writes about our children when she doesn't know anything about educating them." He declared that the $40,000 drive would "expose the book as simply the example of poor writing it really is." The money, he added, will be used to hire an author to make an intensive year's research of all phases of Catholic schools throughout the country. The author will then put together what he has found in repudiation to Mrs. Ryan's observations, he said.
"We want to prepare a definite statement," Msgr. McManus said, "of the validity of the Catholic schools as educational means for our children. Mrs. Ryan is not just challenging the quality of our education, but the very idea of having our children educated in Catholic schools.
"We want to show that we are smart, well educated people, blessed with abundant talent. The Blessed Lord is not about to abandon his Catholic schools."
At a press conference the consensus of four priests who commented on the book was that although it was thought-provoking and accurate in some parts, generally the volume was confusing, self-contradictory, irrelevant, and harmful to the cause of education.
Informed observers feel that Roman Catholic elementary and secondary education may currently be at a crossroads. Lack of adequate funds is preventing the expansion of facilities to meet growing needs. Some programs are being curtailed.
Church and State magazine, in its May issue, has urged a progressive reduction of the Catholic educational program in the elementary grades along with a commensurate expansion of the public school system.
The magazine, published by Protestants and Other Americans United for Separation of Church and State, notes that "Catholic leaders have, in fact, already embarked upon such a program. [It] will constrict the swollen classes in Catholic schools with a gradual transfer of enrollments to the public schools. The Catholic operation thus becomes manageable and also of a size which can be sustained by the voluntary gifts of Catholic members.… It has been estimated that every 1,000 students transferred from parochial schools to public schools represent a saving of $500,000 to the Catholic membership.… As this process continues and the savings increase, the necessity for public aid to Catholic schools will disappear even as the clamor for it subsides."
A Bishop'S Rationale
Episcopal Bishop James A. Pike held up a Gideon Bible borrowed from his hotel room and told a federal judges' panel in Delaware, "There are a lot of verses I don't buy at all … but it does no violence to me to read them." If he can read something he disagrees with, the bishop said, so can an agnostic teacher or student.
Pike was supporting his contention that a Delaware law requiring the Bible to be read at the start of each school day is constitutional. He was chief defense witness called by state Attorney General David Buckson (see CHRISTIANITY TODAY, March 13, 1964, p. 42).
Pike said required Bible readings are not a service because "no religious response or assent is required." For example, fundamentalist listeners may believe the words "were said by God on a Dictaphone and brought down to earth by a dove," he said; others may not.
Pike considers study of the Bible a legitimate part of cultural and literary study. The Bible's absence, he said, would leave the philosophical field open to secularism by default and would therefore represent a position farther from the Supreme Court's desire for religious neutrality.
The Delaware law also suggests recitation of the Lord's Prayer, but does not require it. Compulsory, it would be unconstitutional, the bishop said, but it "is not a sectarian prayer, not even a Christian prayer in the specific sense.… It is a summation of Jewish piety." There was nothing original, the bishop asserted, in the teachings of Jesus.
The judges' panel told lawyers in the case that they should continue their arguments on May 19.
DICK OSTLING
Silent Meditation
A bill requiring a moment of meditation in public schools won approval from the Maryland General Assembly last month, but only on the understanding that teachers may not hold or read from Bibles during the period of silence.
Maryland Attorney General Thomas B. Finan said that the part of the bill permitting a teacher to hold a Bible as she directed her students to begin a "moment of meditation" was unconstitutional. However, he held that this portion was "severable" from the bill as passed, and that the governor could sign, as constitutional, the remaining portions of the measure.
As passed by the General Assembly, the bill states:
"Principals and teachers in every public elementary and secondary school in this state may require all students at these schools to be present and participate in opening exercises on each morning of a school day and to meditate silently for approximately one moment; provided that no student or teacher shall be prohibited from reading the Holy Scripture or praying."
Prayer For A Son
A prayer composed by the late General Douglas MacArthur will live on as a spiritual legacy to his 26-year-old son, Arthur. The prayer, written when the soldier-statesman was heading outnumbered U. S. forces in the Philippines in early 1942, was said many times at morning devotions, according to his longtime military aide and biographer, Major General Courtney Whitney. Following is the text:
"Build me a son, O Lord, who will be strong enough to know when he is weak, and brave enough to face himself when he is afraid; one who will be proud and unbending in honest defeat, and humble and gentle in victory.
"Build me a son whose wishes will not take the place of deeds; a son who will know Thee—and that to know himself is the foundation stone of knowledge.
"Lead him, I pray, not in the path of ease and comfort, but under the stress and spur of difficulties and challenge. Here let him learn to stand up in the storm; here let him learn compassion for those who fail.
"Build me a son whose heart will be clear, whose goal will be high, a son who will master himself before he seeks to master other men, one who will reach into the future, yet never forget the past.
"And after all these things are his, add, I pray, enough of a sense of humor, so that he may always be serious, yet never take himself too seriously. Give him humility, so that he may always remember the simplicity of true greatness, the open mind of true wisdom, and the meekness of true strength.
"Then I, his father, will dare to whisper, 'I have not lived in vain.' "
Have something to add about this? See something we missed? Share your feedback here.
Our digital archives are a work in progress. Let us know if corrections need to be made.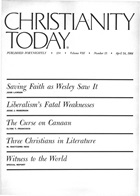 This article is from the April 24 1964 issue.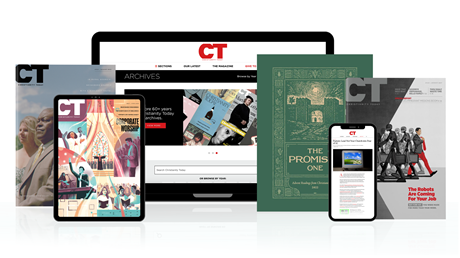 Subscribe to Christianity Today and get access to this article plus 65+ years of archives.
Home delivery of CT magazine
Complete access to articles on ChristianityToday.com
Over 120 years of magazine archives plus full access to all of CT's online archives
Subscribe Now
A Helping Hand for Soviet Jewry
A Helping Hand for Soviet Jewry