Patterns for higher education in the United States are presently undergoing radical evaluation and revision. If Christian colleges are to solve the problems of rising costs, increasing enrollments, expanding knowledge, faculty growth, and relationship to constituency, they cannot escape answering the same questions that secular institutions are facing. In fact, these questions are particularly pressing for the Christian college. Many educational leaders believe that small, church-related colleges are confronted with three possibilities: to lose their identity by being absorbed into the secular community, to suffer educational and spiritual erosion, or to accumulate impossible financial burdens within a decade.
Many Christian colleges have little or no endowment, a constituency somewhat indifferent or uninformed, and students whose fees pay on the average only 40 to 45 per cent of their general and educational costs. The millions of dollars attracted to prestige colleges and universities from government and industry often are not sought by Christian institutions or are not made available to them. Yet there is abundant evidence to show that the challenge to their existence that has confronted them throughout their history has led to prayerful and creative answers. The response of some Christian colleges has put them in the front line of advance. Tarkio, Upland, and Gordon are among those committed to the trimester calendar and to techniques of instruction and counseling fitted to the individual student so that his capacity for Christian leadership will be related to society. From colonial days to the present, Christian colleges have had a way of outliving the educational prophets who predicted their early and inevitable demise.
The urgency now leading to the modification of traditional concepts in education comes from both external and internal sources. The challenge of the Soviet Union in scientific and technological advance in the fifties set the stage for the National Defense Education Act—the most significant participation of the federal government in higher education since Abraham Lincoln signed the Morrill Act. Internally, with the changes brought about by automation and computer-accelerated research, individuals are seeing in their own education the guarantee of personal and social productivity.
In this changing scene much is expected of Christian educators. There is a Christian obligation to assess changes and to relate the educational ministry of the Church to present-day needs. Higher education cannot be neutral about religious values; it must always function within a positive or negative theological frame of reference. It seems clear that the prevalent mood of higher education is concerned about the vacuum of values in our culture. But so long as it is assumed that, to become a critical thinker, a student must be disengaged from the faith and ethics of his family and left ignorant of the free-enterprise heritage of his country, youth will be bewildered. To find integrity amid the prevailing world view and to have a sense of cultural continuity is essential to the discovery of personal identity. Evangelical education with its promise of personal fulfillment in Christ can uniquely help the student answer the question, "Who am I?"
But Christian education must do more than insist upon Bible courses as a sign of its theological validity. It must teach such courses with awareness of problems facing students today. It must also develop in its chapels, living areas, seminars, and informal activities an atmosphere of Christian fellowship and open-minded discussion conducive to understanding the biblical faith and the nature of man and society. Christian concepts must be integrated with all the academic disciplines. Thus it may be hoped that graduates will make a Christian impress upon their day by serving Jesus Christ.
Three specific challenges confront evangelical Christian educators. In the light of scientific gains, they must think through philosophical implications of the biblical presuppositions regarding God, man, and the world. They must also restate the justification for the Christian college. And they must assess the adequacy of their programs in terms of calendar, curriculum, and teaching techniques.
A 'Cosmic Cheshire Cat'
The dominant philosophical framework of higher education comes from naturalistic humanism. The conviction that man's ultimate predicament lies in his sinful nature with its alienation from God, its bent to evil, and its dependent finitude, has been replaced by the Greek idea that man's predicament stems from his ignorance of himself. Instead of a saving God in Jesus Christ reaching out for the redemption of men by the Cross, we have the messianic prescriptions of a heady and pretentious scientism. The result is a radical secularism that finds its endorsement among certain worldly intellectuals, such as Aldous Huxley, who prophesied that "the advance of natural science, logic and psychology has brought us to a stage at which God is no longer a useful hypothesis.… A faint trace of God still broods over the world like the smile of a cosmic Cheshire cat. But the growth of psychological knowledge will rule even that from the universe."
Christian education has no quarrel with science or with the scientific approach to the phenomenal world. But the critical issue is epistemological. Secular education has not faced the fact that man, if he is to be objectively seen as "a thing" or an organism, must also be known as a person. The universe of knowledge must allow for ways of knowing data other than scientific ones. A full view of truth cannot fail to consider God's revelation of himself and of his Person. The biblical revelation must be seen and affirmed as complementary to scientific knowledge. The descriptive offerings of science need the normative values of the Bible if men are to find wholeness in a broken world.
Christian educators are uniquely responsible to lay this whole (and holy) view of the world and life alongside the alternatives tacitly assumed or actively propagated in higher education. If this is to be done effectively, Christian college faculties must give themselves to the discipline of rethinking and restating the epistemology basic to their commitment to Christian higher education.
In addition to the obligation of theological and philosophical integrity, Christian higher education must meet two other demands. One is educational excellence in faculty, curricula, and student achievement; the other is the plain fact of economic reality.
For Student Self-Feeding
Characteristic of current changes in higher education is the shift of emphasis from professor to student, from forced feeding by the professor to independent study by the student. Instead of regarding the lecture as the chief means of teaching, educators now emphasize learning by whatever other techniques can be effectively used.
Robert M. Hutchins, formerly of the University of Chicago and now president of the Fund for the Republic, in addressing the Fiftieth Annual Meeting of the Association of American Colleges this year, said, "If I were a university president today, I would try to change my institution and higher education in fundamental ways" ("Reflections on the Role of Liberal Education," Liberal Education, May, 1964, p. 249).
Some Christian colleges have changed from a nine-month to a twelve-month year, from fifty-minute class periods to longer ones, from required curricula to flexible programs for accommodating the slow learner and the gifted student. They have branched out beyond the traditional classroom lecture to the use of closed-circuit television, language laboratories, programmed learning, and team teaching. Christian education need not mean the status quo in method. If methods, curricula, and calendar had not changed with changing conditions, we might still be conferring the B.A. for the completion of the "trivium" (grammar, logic, and rhetoric), or the M.A. for the "quadrivium" (arithmetic, geometry, astronomy, and music). There is a vast amount of information with which the contemporary student must become familiar and which he must integrate into his spiritual frame of reference. For this task the old patterns may well need revision.
The trimester calendar plan that some Christian colleges have adopted is simply a revision of the semester program into three periods of either fourteen or fifteen weeks. When schedules are rearranged and programs held to a maximum three-course limit, capable students can complete the work for an accredited bachelor's degree in three years. Such acceleration is important to pre-professional students, who can thus enter graduate school a year earlier. And such acceleration also hastens the day when the student can become a self-sustaining member of the adult Christian community and of society. Slower students can elect the more leisurely pace and graduate in the traditional four years.
Since the economic factor is important to the survival and effectiveness of every college, the use of a multi-million-dollar capital investment for two-thirds of a year is difficult to justify. From the standpoint of stewardship on the part of evangelical colleges, the trimester program has genuine merit. By adding a third term, the same faculty and facilities can handle approximately one-third more students than the number possible under the conventional program. Assuming that, as in Gordon's case, 57 per cent of those eligible to elect the third trimester do so, the operating budget will show an income from fees that would otherwise be impossible. Economies in time are startling if the semester and trimester plans are compared. Under the old semester program the number of days from freshman orientation to graduation is 1,363, whereas under the trimester program it is 1,073. Time for holidays and vacations under the semester system is 567 days, as against 326 under the trimester program.
For the faculty member, the trimester program should prove more remunerative. There is no reason why a Christian with the Ph.D. who is "called to teach" in a Christian college should be penalized financially to the extent that family economic concerns become an almost impossible burden. If this happens, he must either "moonlight" or yield to the temptation to turn to the secular college or university. The Committee of Fifteen for the Fund for the Advancement of Education predicted that even if all the Ph.D.'s being produced by the nation's graduate schools were to go into college teaching, "we would by 1970 need approximately 350,000 more college teachers than we shall probably train in our doctoral programs" (F. W. Strothmann, The Graduate School Today and Tomorrow, Fund for the Advancement of Education, 1957, p. 7). The Christian college must attract and retain qualified professors. Under the trimester program, it should be possible for the faculty member to be free of professional duties for a full, salaried term every third year. In the case of the younger man still in a doctoral program, this time should prove valuable both to him and to the college.
To An Organist
"Through Jesus Christ our Lord"
You wait for that—
And when those words are said
Your hands obedient fall upon the keys
And strike—for us to sing thereby—
"Amen" …
"Through Jesus Christ our Lord."
Would God our hands not only
But our heart and head
Obedient answered, when those words were said:
And every inmost hope, each thought, each word
Echoed "Through Jesus Christ our Lord"—
And when those words were uttered, then
We answered with our life,
"Amen!"
SAMUEL M. SHOEMAKER
Proponents of the traditional semester calendar argue that students need the long vacations for maturing or for earning money. According to Dr. Hungate and Dr. McGrath of Teachers' College, Columbia University, "There is little evidence to support the argument that the summer vacation results in intellectual maturity, or that there would not be greater growth in learning if formal schooling were continued during this period. Common sense suggests the reverse" (A New Trimester Three-Year Degree Program, The Institute of Higher Education, p. 7). As for student finances, it could be advantageous to complete the degree work in three years rather than four. If borrowing is necessary, repayment can be made from earnings a year sooner.
Experience at Gordon in one year of trimester operation suggests some modifications to accommodate slower students in science and modern languages. In the main, however, there are demonstrable advantages in the new program of motivating students to do independent research. The library has never seen more use. There is a greater ferment of intellectual discussion, and twice as many students are named to the dean's list. Except for baseball, the athletic program is not seriously changed. Students have been able to participate in extramural activities to a very satisfactory degree. As for the faculty, each man is given greater potential usefulness and can thus serve more students. The advantages of year-round use of facilities as well as the gains in financial stability through greater enrollment and reduction of prospective capital expense in facilities are immediately apparent.
The goal of Christian higher education—to produce dedicated and effective graduates—can be more consistently achieved if educators will overcome the natural resistance to change. America has reached greatness as "a nation under God." Christian educators have, through their insistence upon excellence to the glory of God, the opportunity of contributing to their country and to the service of their Lord a body of informed and capable Christian youth.
James Forrester is president of Gordon College, Beverly Farms, Massachusetts. A native of Scotland, he received his B.A. at Queens University, Canada, M.A. and Ph.D. at the University of Southern California. He was an Air Force chaplain in the Pacific during World War II.
Have something to add about this? See something we missed? Share your feedback here.
Our digital archives are a work in progress. Let us know if corrections need to be made.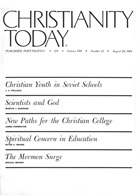 This article is from the August 28 1964 issue.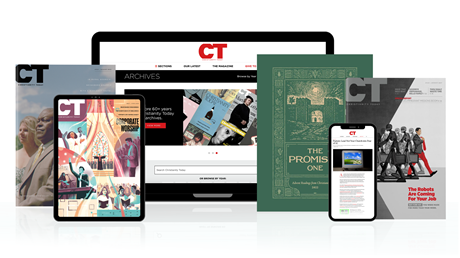 Subscribe to Christianity Today and get access to this article plus 65+ years of archives.
Home delivery of CT magazine
Complete access to articles on ChristianityToday.com
Over 120 years of magazine archives plus full access to all of CT's online archives
Subscribe Now
New Paths in Christian Higher Education
New Paths in Christian Higher Education