The eternal significance of Christmas is being largely obscured by secularization. One has but to look at the large department stores in a city like Tokyo to realize that the celebration of the coming of Christ has been starkly transformed into a gimmick for bigger business here and abroad.
Tokyo and Washington, as far as Christmas is concerned, vary only in degree. But judgment for the exploitation of Christ's coming rests far more on America because of our national heritage.
The wonder of Christmas, its eternal implications, the mystery of the Incarnation, are being lost. None of these can be appreciated until the Christ of Bethlehem becomes one's Saviour from sin and the Lord of one's life.
That Christmas has become for so many merely a pagan holiday, dedicated to the flesh and lacking in spiritual significance, is but one indication of the moral and spiritual blindness of this generation. That there was no room for Jesus in the inn was prophetic of our own generation, where, for millions, he is neither wanted nor welcomed. That he was born in a stable was prophetic of those who in every generation welcome him with humble hearts.
There was no ceremony or show on that first Christmas. There were only a guiding star, a few wise men with prophetic vision, a few shepherds who heard a message from heaven and who went, saw, and worshiped. There were others who recognized in this babe the long-promised Redeemer. All these things remind us that the supernatural significance of Christmas was revealed by the Holy Spirit then, as it is now.
One can imagine the smug complacency of those fortunate enough to have secured shelter in the inn. Their physical wants taken care of, they were oblivious that the Son of God lay close by. They were satisfied with food and entertainment, while on the plains east of the city the heavenly host sang to shepherds, those unremarkable men to whom was revealed the message of the Saviour's advent.
Was there not a prophetic note in this complacency—a warning to a sophisticated twentieth century that God still reveals himself to the humble of heart while rejecting the proud?
God's meaning of Christmas can never be understood until Christ is given priority in our hearts and lives. When the transcending significance of Christ's coming into the world breaks through by the illumination of his Spirit, Christmas is no longer just a holiday; it becomes a holy day.
The Incarnation is a mystery too deep for the human mind to comprehend; but we can believe. And when we believe, the enormity of sin and its consequences become the background for the awareness of something of God's redeeming love and mercy. Christmas can never be rightly understood apart from the blood and death on Calvary a few years later; or from the joy of the empty tomb and the wondering gaze of disciples as they looked at his retreating form in the clouds of heaven; or from the promise, "This same Jesus … shall so come in like manner as ye have seen him go into heaven."
Christmas brings to remembrance one event in God's redemptive schedule. We are told, "But when the fulness of time was come. God sent forth his Son …" (Gal. 4:4). Thus for Christians this is a season of great joy, while for others it involves nothing more lasting than excitement, pleasure, and profits in the market place.
Even the Church may share in distorting the meaning of Christmas, thereby adding to the heart-hunger and confusion of a lost and groping world. In our troubled times, uncertainties of every kind continually add to a sense of futility and need. How urgent, then, that we who bear the name of Christ interpret the meaning of Christmas to those who do not know him, to those who so desperately need the peace, joy, and hope to be found in the Saviour!
Lose the significance of Christmas and we lose the Christ of Christmas. This birth was not a trivial event in history; it was the mysterious entry of God into human flesh, Immanuel—God with us—by whom man's fellowship with God may be restored.
What a tragedy that for so many who "celebrate" Christmas, its spiritual significance is obscure! What an opportunity for Christian witness—through a spoken word, a friendly smile, an act of compassion, a helpful hand, heart-felt love for those about us. Such witnessing is at the very heart of the Christmas spirit and can glorify God.
Years after the first Christmas the aged Apostle John heard the risen Lord say: "Behold, I stand at the door, and knock: if any man hear my voice, and open the door, I will come in to him, and will sup with him, and he with me" (Rev. 3:20). He continues to stand at the door of men's hearts. This Christmas he would use us in speaking a word for the divine guest.
The writer recently had an extended conversation with one of the nation's leading munitions manufacturers who has shared in the making of some of our nation's more sophisticated weapons. He is desperately afraid. His intimate knowledge of weaponry and his worldwide contacts have brought him face to face with the possibility of world destruction by the triggering of already available bombs. Although not a Christian, he seemed acquainted with many biblical references having to do with destruction. He even quoted extensively from Daniel, our Lord's predictions, Second Peter, and the Revelation.
What has this to do with Christmas? Very much, if the true meaning of our Lord's advent is grasped. He came to bring healing to the spirit and hope to the heart.
Christmas means that a Way has been opened into God's presence—a way for forgiven sinners. Christmas means that Truth has been revealed, so that a world in spiritual ignorance can know Him and be free. Christmas means light out of darkness, sight for the blind, deliverance from the power of Satan.
Christmas means that the love of Christ can be shed abroad in our hearts and reflected in our attitudes toward others. Christmas means that we may be born into the Kingdom of God, no longer aliens and outcasts but children of the King because he has redeemed us to himself.
How the Church and individual Christians need to recapture the awesome radiance and grandeur of the meaning of Christmas! How we all need to accept humbly what God has revealed to us about the person and work of the one who was born in the Bethlehem manger!
In the meaning of Christmas, man is called to see sin in its true light. "And thou shalt call his name JESUS; for he shall save his people from their sins." This was not a figure of speech; it was God's way of telling us that only his Son could solve the problem of sin in the human heart.
"Merry Christmas" is a meaningless greeting until we have received the Christ of Christmas in our hearts. Then, and only then, the radiance of Christmas becomes real—a joy to be experienced and a glory to be reflected.
Have something to add about this? See something we missed? Share your feedback here.
Our digital archives are a work in progress. Let us know if corrections need to be made.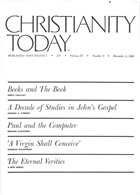 This article is from the December 4 1964 issue.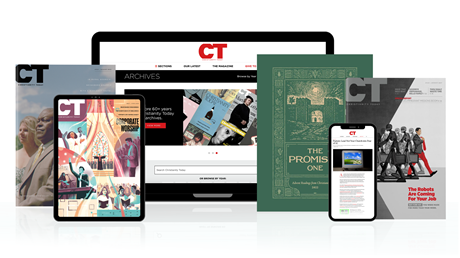 Subscribe to Christianity Today and get access to this article plus 65+ years of archives.
Home delivery of CT magazine
Complete access to articles on ChristianityToday.com
Over 120 years of magazine archives plus full access to all of CT's online archives
Subscribe Now
The Radiance of Christmas
The Radiance of Christmas