Three high school biology textbooks that had been protested by Texas religious groups because of alleged atheistic implications have been accepted for use in the state's public schools. The State Board of Education, final authority on textbook adoption, approved the texts by a 14 to 6 vote on November 9, after months of controversy and public hearings.
Critics contended that the books present human evolution as a valid assumption and ignore the biblical version of creation. The books were prepared by a federally financed committee under sponsorship of the National Science Foundation.
The disputed texts are: High School Biology, published by Rand McNally; Biological Science: An Inquiry Into Life, Harcourt, Brace and World; and Biological Science: Molecules to Man. Houghton Mifflin.
They were recommended for adoption by the State Textbook Committee on October 16 after a hearing attended by about 200 persons. Ruel Lemmons of Austin, a Church of Christ evangelist, charged that the volumes were "textbooks in complete atheistic materialism," and declared: "As for the theory of evolution, it is not only anti-God and anti-Bible, it is also unscientific." The scientific validity of the theory also was questioned by Dr. Jack Wood Sears, chairman of the science department of Harding College, Searcy. Arkansas, and Dr. Douglas Dean, biology professor at pepperdine College in Los Angeles. A legal question was injected by Vernon L. Decker, an El Paso attorney, who said adoption of the books would violate a Texas constitutional provision against state interference in religious matters. The Rev. Hulen L. Jackson, Dallas Church of Christ minister, said it was doubtful whether high school students are intellectually mature enough to receive instruction in evolutionary theory, especially from books that present evolution "to these young, impressionable minds as fact—not theory—and above criticism."
In the final hearing before the State Board of Education, the scientific basis for the books was further challenged by Dr. Thomas G. Barnes, professor of physics at Texas Western University at El Paso, and Dr. Lloyd V. Berkner, of the Dallas Graduate Research Center. Dr. James Morgan, a Southern Baptist pastor from Fort Worth, said the textbooks "downgrade faith in God." adding: "We've had enough of that in the last few years. We're playing into the hands of the Communists."
The publishers of the texts presented three witnesses. Gordon Hjalmarson, science editor for Houghton Mifflin, contended that teaching from the books need not clash with the religious beliefs of students. Don Myer, representing Harcourt, Brace and World, stated that many of the authors of the books are church leaders. He said one of the main issues was whether the rights of the majority should be abrogated by "minority groups in a position of faith." A biology teacher who participated in the textbook project, Mrs. Joyce Thompson of the University of Houston, said it "will do our high school students a grave injustice" to deprive them of the scientific material in the books.
Opposition to the textbooks began to develop early this year. In July the Texas Education Agency was besieged by letters of protest against the books. A spokesman for the agency said the letters were primarily from members of the Church of Christ.
Protestant Panorama
Five of the ten Baptist bodies eligible for membership in a proposed North American Fellowship of Baptists have voted to join. One more member is needed before the fellowship can become operational.
An official of the United Church Board of World Ministries warned last month that acute shortages of medical personnel may force closing of overseas clinics and hospitals. Pickets marched outside the American Baptist Convention building at Valley Forge Pennsylvania, last month. A strike called by the International Typographical Union followed failure to reach a contract agreement. American Baptist spokesmen says the union wants to extend its jurisdiction among employees.
Miscellany
Canada came out with its first Christmas stamps this year. The design features a family gazing at a star and is available in blue (five-cent) and red (three-cent). American Christmas stamps are available only at the five-cent level so as to attract more revenue by encouraging use of first-class mail. There are four American designs for 1964, one showing a sprig of mistletoe, one with a poinsettia bloom, another of holly, and the fourth picturing a cluster of pine cones.
The 3,500,000-member Evangelical Church of Westphalia in West Germany voted to admit women to the ministry. It was the fifteenth of the twenty-seven member churches of the Evangelical Church in Germany (EKID) to permit ordination of women.
The World Council of Churches, whose $5,000,000 program in sixty-seven countries reportedly swamped its accountants, hired the Washington, D. C., consulting firm of Klein and Saks to prescribe a computerized system for keeping tab. The changeover, now nearing completion, cost the WCC some $40,000.
An overwhelming number of Christian Herald readers who responded to a poll conducted by the magazine endorsed regular prayer and Bible reading in public schools. The 72,000 replies produced a 27-to-1 ratio in favor of such devotional exercises.
Pennants proclaiming "One Nation Under God" flew beneath the American flag on several municipal flagpoles in New Jersey last month, despite protests from members of Americans for Democratic Action and the American Civil Liberties Union. Catholic organizations initiated the pennant movement.
A new group of editors-at-large, including, for the first time, a Roman Catholic and a Jew, was announced by the Christian Century. The magazine said that Dr. Martin Luther King's "increasingly heavy schedule" made it impossible for him to continue as an editor-at-large.
Personalia
Dr. Howard W. Ferrin, president of Barrington College for nearly forty years, was named its first chancellor. Charles E. Hummel will succeed him as president.
Father Joseph H. Fichter, S. J., was named to a three-year term as Harvard University's Charles Chauncey Stillman guest professor of Roman Catholic theological studies.
The Rev. James L. Barkenquast was appointed Protestant chaplain of the English-speaking community in Moscow. Barkenquast has been editing educational materials for the Lutheran Church in America.
Dr. Wolfgang Sucker will succeed Dr. Martin Niemöller as president of the Evangelical Church of Hesse and Nassau. Niemöller, who is retiring, has held the post since 1947.
The Rev. Frederick Howard was elected president of the Fellowship of Evangelical Baptist Churches in Canada.
The Rev. and Mrs. George C. Klein, missionaries of the Christian and Missionary Alliance, were inducted into the National Order of the Equatorial Star of Gabon, representative of the Gabon republic's highest award.
They Say
"Most gambling in the United Kingdom is now a response to commercially offered opportunity and does not spring from an absolute inward impulse. Parliament intended to legalize gambling without increasing it, but the increase has been immediate and considerable."—The Rev. Gordon E. Moody, general secretary of the British Churches' Council on Gambling, in an address before the first National Consultation on Legalized Gambling.
Have something to add about this? See something we missed? Share your feedback here.
Our digital archives are a work in progress. Let us know if corrections need to be made.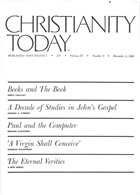 This article is from the December 4 1964 issue.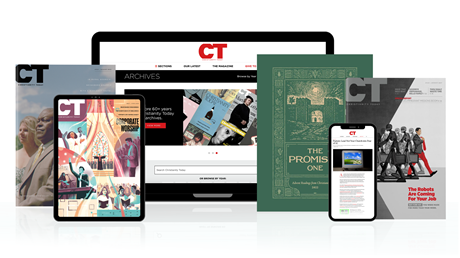 Subscribe to Christianity Today and get access to this article plus 65+ years of archives.
Home delivery of CT magazine
Complete access to articles on ChristianityToday.com
Over 120 years of magazine archives plus full access to all of CT's online archives
Subscribe Now
A Minority Is Overruled
A Minority Is Overruled