Freedom of religion and civil liberty, it is said, are like Hippocrates's twins—they weep or laugh, live or die together. For Malta's 330,000 inhabitants, this is the day of the false choice. The 122-square-mile Crown Colony (which includes the adjacent islands of Gozo and Comino) has two rulers: Britain, which has held it for 150 years, and the Roman Catholic Church, which has dominated it for centuries longer. Britain is eager to grant independence; the hierarchy is fighting bitterly to retain its traditional hold.
The fight became a holy war when Michael Gonzi, seventy-three-year-old archbishop of Malta, flung himself into the 1962 elections, deciding for the faithful that this was no simple choice from among four pro-church groups and the Labour party. "Death to Socialism!" clamored the placards; "Victory to the Roman Catholic Church!" It was pronounced a mortal sin for anyone to read, write for, print, distribute, or advertise in any pro-Labour newspaper. The Labour executives were put under an interdict and cannot receive the sacraments or be buried in consecrated ground.
The ironic truth is, however, that the Labour party is not anti-church. The British Roman Catholic Tablet admits that Labour supporters are not, as has been alleged, "infected by a pernicious materialism," that many of them had faithfully continued their family religious observances, and that no one had proved that Dom Mintoff, the Labour leader, was teaching errors of faith. (His party seeks to improve appalling social conditions and to establish a proper division of power between church and state.) The Tablet concludes that the church's present tactics can bring only "the same history of disintegration as Italian Catholicism" has experienced since Pius IX's time.
The 1962 poll to elect members for the fifty-seat legislature gave Borg Olivier's
Nationalist party twenty-five seats (42 per cent of the vote) and the Labour party sixteen seats (34 per cent), with the remaining nine seats (24 per cent) divided among three smaller parties. The church had technically won its fight, but it was ominous that in the face of harsh sanctions so many in a population one-third of which is illiterate or semi-literate should have jeopardized their eternal welfare for the sake of fundamental human rights. This brought reprisals: priests were told verbally to question penitents in the confessional about their votes and to exclude from the sacraments those who had voted Labour.
Two years have passed. In preparation for independence (originally scheduled for May 31 this year), the Nationalists drafted a constitution which, inter alia, favors the continuance of the present Roman Catholic establishment. A referendum was held last month on the somewhat vague question: "Do you want the Government's constitution or not?" Of the votes cast, 54 per cent said Yes, 46 per cent No. However, a policy of abstention and spoilt votes by the three smaller parties (who realized that through priestly influence the issue had been strangely changed into a democracy versus church battle) whittled down the Nationalist backing to a mere 41 per cent. The church's reign is passing, though it continues to stress salvation and damnation as political alternatives in the hope that Mintoff's "human freedoms" will lose luster in the perspective of eternity. No one who has visited Malta (I spent several months there) can avoid the shameful significance of cramped and squalid rural communities struggling for existence under the shadow of enormous churches.
What the Labour party resists is the church's encroachment on the privileges and liberties of the individual. It wants a constitution that would allow people to vote according to conscience, allow a person or party attacked on religious grounds to defend themselves, and give freedom in law for all religious denominations, so that parents could opt out of Catholic religious teaching for their children without the children's future career being penalized thereby, and so that non-Catholics or outlawed Catholics could be legally married by a magistrate or minister of some other church—a facility not at present freely available to Maltese.
The Labour party merely wants Mother Church to be as reasonable as she is in Britain, the United States, or Italy, but the hierarchy considers that in such lands the church has surrendered to liberalism. "If Peter has lost his purse without starving afterwards," says a prominent Maltese cleric, "that is no reason why Paul should lose his." The false choice was again apparent, and the issue further muddled, when Archbishop Gonzi insisted that any new constitution must uphold the church's claims. "Your bishop," he said, "will follow the example of many other bishops who sacrificed themselves behind the Iron Curtain." The archbishop has to work by innuendo at times, for Mintoff has threatened to sue anyone who calls him a Communist.
Despite all this, he would be sorely misled who regards Dom Mintoff merely as an enlightened champion against ecclesiastical tyranny: personal power is far from distasteful to him, and he has declared that he would accept help from the Soviet Union or its satellites if Western aid were to prove inadequate. Both Gonzi and Mintoff are right: Mintoff when he says elections should be free, Gonzi when he retorts that to limit the church's power will eventually take away its authority altogether.
Saint Paul was shipwrecked on this island and received "no little kindness" at the hands of the "barbarous people." Nineteen centuries have gone by. Where the Apostle healed the governor's father, a cathedral now stands—a fact that some might find oddly symbolic. The islanders today are just as kindly, but those now charged with delivering to them the apostolic message have allowed themselves to become diverted, to the neglect of the Divine Commission and of that apostolic humility which seeks exaltation only for Jesus Christ.
Have something to add about this? See something we missed? Share your feedback here.
Our digital archives are a work in progress. Let us know if corrections need to be made.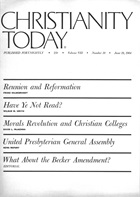 This article is from the June 19 1964 issue.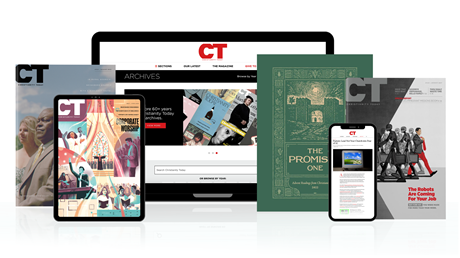 Subscribe to Christianity Today and get access to this article plus 65+ years of archives.
Home delivery of CT magazine
Complete access to articles on ChristianityToday.com
Over 120 years of magazine archives plus full access to all of CT's online archives
Subscribe Now
Current Religious Thought: June 19, 1964
Current Religious Thought: June 19, 1964