Day of Resurrection! "This is the day which the Lord hath made; we will rejoice and be glad in it." Easter is God's day, the day of his making. By raising Christ from the dead, God himself made this day of new freedom, new hope, and endless life.
Good Friday was the world's dark night of sin, the "hour of the power of darkness." It was the day that we made: Judas betrayed him, Pilate judged him, Peter denied him, his disciples forsook him, the Jews asked for his destruction and the Gentiles complied while men mocked or kept guilty silence. On Friday we had our day; in our freedom and time of opportunity we crucified him. It was the day of our folly, of our sin, the day to which we all contributed.
But God's day followed ours, and hard upon it, as light follows the darkness. Without our help, God created this day of Easter. To it we made no contribution; such help as those who loved him would tender to him was for a proper embalming. Without our help, Christ arose. For us the day of Resurrection is something to accept as a gift; nothing else is required, except that we rejoice and be glad in it.
The day itself, without a sound of any human voice, is God's public, cosmic announcement to all the universe that death has been defeated, that he who had the power of death has been destroyed. The Resurrection sounds through all the long reaches of space and history that life and death are not of equal power, and least of all that death is stronger and the last word about human existence. In making this day, God bears witness to Jesus Christ, declaring that he is the resurrection and the life, and that the final disposition of all things, including death, is determined by him. What chance has death, if it cannot hold its prey?
Where else can this be known? What other day announces that life is stronger than death? Surely none of our days, as the experiences of each day testify.
The world has many cynics, men who have seen and experienced so much of life's diseases that they have concluded that life itself is a disease. They have no hope for what a day may bring forth; they have seen too much of sin and evil, greed and corruption, hatred and violence on every level of human life. These need to know of the day that the Lord has made, in which alone men can accept life and rejoice and be glad; for this day of Resurrection announces to all that where sin abounded, grace did much more abound. Easter announces that righteousness, decency, and kindness are stronger than sin, human corruption, and violence. Only God's day proclaims this. Having done its worst, what chance has evil in the light of this day? The murdered returns to confront the murderer.
Easter, day of all the years the best. In it God justifies the sinner. To be justified means to have the right to be, the right to live. By this act of Resurrection God gives to those who made the day of Friday, the day of the murder of the Son of God, the right to forgiveness, the right to life and an authentic future, through belief on his name.
On Easter, God justified Jesus Christ, whom he had judged and declared to be worthy of death. He whom God made to be sin and thus made to be subject to death, is justified by God, for God raised him from the dead and gave him life forevermore.
On Easter, God also justified himself, showing to all the world his own righteousness, revealing that he was just and right in all his dealings with Israel, with Jesus Christ, and with us who yet stumble and stagger through the sufferings of this present time and cry, O Lord, how long? On Easter we are assured that sinners can be saved and that their salvation is just, for on this day of Resurrection God demonstrates that he can be righteous and yet justify the ungodly, that he can be "just, and the justifier of him which believeth in Jesus." This is the "mystery of godliness," the religious dimension that transcends mere morality and baffles every earthly jurist, the miracle of grace. And this is the day of grace that the Lord made when he raised Christ "for our justification."
This day is our only sure defense against all the past and all the future. Since it is God who justifies, who can condemn us and take away our right to live? And since our justification involves God's justification of himself and of all his ways with men, our justification is sure. Easter is God's day—the day that the Lord made—as it is the day of his own justification. We are summoned only to share his justification and to accept his day, and to rejoice and be glad in both.
Have something to add about this? See something we missed? Share your feedback here.
Our digital archives are a work in progress. Let us know if corrections need to be made.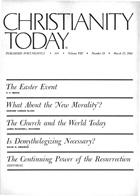 This article is from the March 27 1964 issue.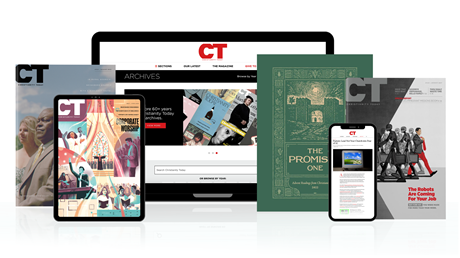 Subscribe to Christianity Today and get access to this article plus 65+ years of archives.
Home delivery of CT magazine
Complete access to articles on ChristianityToday.com
Over 120 years of magazine archives plus full access to all of CT's online archives
Subscribe Now
The Day God Made
The Day God Made