A well-publicized cartoon shows two children kneeling in a corridor of a public elementary school. Their teacher, observing that the children are using dice to gamble, says with obvious relief in her voice, "Thank goodness! I thought at first you were praying."
Perhaps the cartoon overdramatizes the situation of prayer and devotional Bible reading in the public schools as it exists a number of months after the United States Supreme Court's ruling in Abington School District vs. Schempp. However, the plain fact is that boards of education and administrators of public school systems are greatly confused about what exercise of religion and what religious instruction are allowable in the schools.
The extent of this confusion is demonstrated by these incidents. Recently a teacher remarked to his class in a public elementary school, "I believe in the Lord Jesus Christ as my Saviour. I trust him all the time." What this teacher thought of the Christian religion became obvious to most of his young pupils. In a secondary school, another teacher said, "I've never paid much attention to this Jesus jazz." The viewpoint of the second teacher became at least equally apparent. Why did the two teachers make their comments—in answer to incidental questioning by their pupils, or as carefully plotted efforts to influence the attitudes of the pupils? According to a recently assembled panel of lawyers and school administrators, motivation in each situation may affect its legality. What may teachers properly say about religion? In what respects has religion, an already controversial classroom issue, become more so since the early summer of 1963?
Other questions now arise. What, for instance, shall be done with baccalaureate services? Can the religious aspects of Christmas, Hannukah, and Easter be conveyed without violating the "establishment of religion" clause? Must not the activities of organizations like Hi-BA and Young Life be wholly eliminated from public school property?
In general, the responses of public school officials to these and similar questions are calculated to keep the officials and their schools out of trouble. Some superintendents and principals are now "running scared" in the direction of complete secularization of the public schools. My observation leads me to believe that, barring the somewhat unlikely adoption of a constitutional amendment to offset the court's recent rulings, secularization of the schools will continue during coming years.
While administrators fret about the broad decisions they must make, classroom teachers continue to teach religion according to their individual persuasions. They do this by direct statement, by the teaching content and materials they choose, and by innuendo and implication. Teachers who are bent toward atheism or agnosticism teach these "religions." Hume, Voltaire, and Paine are in the curriculum with Augustine, Aquinas, and Luther. The slant a teacher gives any set of ideas is likely, by the very nature of teaching, to be his own. Because we evangelicals cannot expect that more than a small minority of future public school teachers will be committed Christians, we cannot hope that the Christian education of our children may safely be left to the public schools, regardless of subsequent rulings of the courts.
An Unprepared Church
Unfortunately, the Protestant church is singularly unprepared to build our children's faith. Its systems of parochial education reach only a small minority. Its one hour a week of Sunday school, which is sometimes supplemented with an additional hour of youth activity, while useful, is not enough. Something else needs to be done immediately to provide children with what they cannot receive in their secular schools: education in the true meaning of the Person, ongoing life, and eternal work of Christ.
Children of evangelicals often have the advantage of at least an unsystematic Christian education in their homes, but unchurched children especially need attention. With church, school, and home failing to give them spiritual support, they are usually rudderless. Their casual contacts with nominal Christianity may too easily be left to those ministers who say, "You don't have to believe the Bible. For you, heaven is the good feeling you have inside when you do good deeds; hell is the bad feeling you experience when you do bad ones. Just resolve to straighten yourself up and fly right." We evangelicals cannot afford to expose anyone's children to such off-beam doctrine. Nor can we afford to let instruction in ethics, manners, and morals substitute for instruction in the Gospel of Christ. The public school can still offer a universalist version of the former, but the latter is clearly within the province of the Christian Church.
A church leader has said, "If ever we needed to act, it's now. The little experience with religion which youngsters have had in the public schools has now faded, and the Church must step in to do the job it should have been doing all along." The Roman Catholic Church is already taking action. A dozen orders of nuns have lately been founded to teach Catholicism to children who attend public schools. The Confraternity of Christian Doctrine is revising textbooks and developing visual aids for use in this program. More than 75,000 laymen with special training in catechetical instruction are now teaching the confraternity's courses in "schools of religion," some of which have been newly constructed near public schools. In their novel schools of religion, Roman Catholics are teaching religion only, leaving to the public schools the more expensive education of Catholic children. Soon, the Catholic Church may abandon large numbers of parochial school units. Having apparently lost the fight for substantial federal aid to elementary and secondary schools, the church may now decide to expend more of the energies of its teaching brothers, sisters, and laymen in prosecuting its chief goal, propagation of the faith. Leaving secular education to the public schools would probably free the church to offer religious education of real quality.
For some time, churches have utilized the practice of released time for religious instruction, whereby public schools release their pupils for an hour or so a week of religious teaching in churches of the parents' choosing. We evangelicals should now seek extension of the released-time periods in our own communities, so that children may be taught in our churches during several additional hours each week. In most American communities, the public schools are now exceeding by one or two hours a day state legislative and administrative mandates concerning minimum daily sessions. Nearly everywhere in the United States, more than an hour a week of released time could be scheduled.
A somewhat broadened conception of released time is shared time, according to which parochial school children study part of each week in public schools and public school children elect courses in church-financed schools or institutes. The practice of sharing time can, in the future, enable large numbers of Protestant, Catholic, and Jewish parochial schools to avoid lavishing funds on expensive programs in the sciences, vocational education, and other specialized services. Thus the American taxpayer may some day be required to shoulder the costs of both basic and specialized secular education for all children, while church funds are revoted strictly to religious education. If shared-time programs become increasingly popular, we may expect to see additional parochial and religiously oriented private schools established throughout the land.
Church School Reinforcement
Inasmuch as most of us evangelicals do not have a Christian day school to which to send our children, we are forced to think of means by which the teaching programs of our churches can be augmented and strengthened. If we were given two to five additional hours each week for Christian education, what could we do?
Three types of action would be needed. The first would be to secure the best teachers available and then give them pre-service preparation in systematic Christian education. A few teachers could be recruited from among the committed Christians now serving in the public schools; others could be found among retired Christian teachers, and still others, among our most effective Sunday school teachers. Wherever teachers were acquired, their effectiveness would be judged by their knowledge of subject matter, their ways of presenting it, and the response of children to them. (If our children should find their Christian education incompetently conducted, they would compare it unfavorably with their public school experience, and continuance of released time would be endangered.) To ensure reasonable competence, the part-time teachers in our church schools would need pre-service preparation in subject matter and in the best ways of presenting it. A Christian education director or another teacher of teachers could provide this type of leadership.
Secondly, we would need to determine the curriculum and its subsequent development. At the start, the better commercially published graded materials could be used. Eventually, however, rethinking the curriculum would include careful examination of scope, sequence, balance, and continuity. Additional published materials and some new and original ones would then be drawn upon eclectically.
The third course of action would be to procure equipment and materials that would make good teaching maximally possible. Teaching aids of many kinds are available today. They need, of course, to be selected and used wisely.
With competent teachers, a well-planned curriculum, and helpful materials, a few additional hours a week could profitably be spent in Christ-centered education—but not, of course, without cost. Effective teachers are worthy of their hire, and purchase of teaching materials increases the expense. If American churches had the funds that educational foundations have wasted, the problem of financing Christian education would be solved. In the absence of outside support, each congregation must decide whether extended Christian education of its children is worthy of sacrifice. A congregation too small or too poor to develop its own program could join with other churches in sponsoring an area-wide program.
Educational experimentation that has gathered strength for major impact has often originated within individual communities. Plans for meeting the challenge of creeping secularism may well begin there, also. Certainly, evangelicals have little to expect from national assemblies of church statesmen and politicians. Whatever is done must be done mainly by small groups of us working between the public schools and our own churches. And the right time for action is surely now!
In 1960 Dr. Billy Graham, during the only face-to-face conversation I have been privileged to have with him, asked me how I viewed the public schools as a source of spiritual strength for American youth. In good conscience I had to reply pessimistically, because the public schools have functions far removed from the spiritual, as we Christians perceive spiritual development. America's major hope at the beginning of the present decade lay in the spiritual impact that church and home could make upon children. Surely, in the confusing aftermath of the Supreme Court's rulings in Engel vs. Vitale and Abington School District vs. Schempp, our hope continues to lie in the same institutions. We are menaced only by a paralysis of discouragement that keeps us from taking concrete action.
The Power Of The Home
The beginning of every honored institution on earth is at the family hearth. The roots of state and local government reach back into the home. The concepts of theoretical ethics and practical morals all have their derivation in the home. The resulting attitudes toward life and all its relationships come from the home.
To be more concrete, the first nursery was a home. The first school was a home. The first hospital was a home. The first manufacturing establishment was in a home. And the first religious society was organized in the unecclesiastical atmosphere of a home dedicated to God.
Nationally, the home is our first line of defense. Not in our armies and navies, our airplanes and submarines, our bombs and missiles, however necessary and vital these may be, but in homes pleasing to God is the first line of our national defense. The integrity and the durability, the morality and the sobriety of any nation are determined and directed, molded and modified by the influence of its homes. Here in our own land we as a nation can never rise above the spiritual level of our homes.
The presence or the absence of homes pleasing to God will go far to determine the future weal or woe of any people. Those who seek to elevate and dignify, to purify and sanctify the homes of our nation are doing more, as they have done more, and will do more for the welfare of our nation, for its permanence, and for its final glory, than all of our statesmen who have ever lived. Nationally, this is where we who believe in God can do more to make life count for good than in any other area.
The power of the ideal home is spiritual. Behind all and beyond all, beneath all and above all, the power of the home appears at its best in the realm of eternal values. When the mind of the little child is filled with the truth of God, when the heart of the little child is filled with the love of God, and when the life of the little child is directed toward doing the will of God, then within that heart and life have been created impressions, habits, and ideals that will never die.
"I tried to be an atheist," said a certain man not long ago, "but every time I reached the point where I was ready to renounce my faith, I seemed again to feel my mother's hand on my head, and to hear her prayer that I had heard a hundred times, 'God bless and keep my boy!' " From the prayers of that godly mother the grown son could never get away.
After Reuben A. Torrey had become a widely known evangelist he made the following statement: "I grew up in a godly home, but I was ungodly. I reached young manhood ungodly, unsaved, careless about the things of the soul. And then I went away from home, an unsaved man. But I went away with my mother's words ringing in my ears, 'Reuben, when the way back is dark, son, call upon God, call upon God!'
"I wandered far, farther than I had ever dreamed that I could wander. Then one night in a hotel room I planned to commit suicide. As I made all the preparations, there came flashing in my mind the words of my darling mother, 'Reuben, when the hour is dark, son, call upon God, call upon God!' Then in the depths of despair in my hotel room I knelt by my bed and called upon God. And instead of taking my own life I gave my life to the Lord Jesus."
No child will forever get away from the influence of a Christian mother or a Christian father. Never!—From a sermon by Perry F. Webb, pastor, First Baptist Church, San Antonio, Texas, in Special Day Sermons for Evangelicals, edited by Andrew W. Blackwood, Channel Press, Great Neck, New York.
Ronald C. Doll is professor of education at Hunter College of the City University of New York. He holds the B.A., M.A., and Ed.D. from Columbia University. His most recent books, both published in early 1964, are entitled "Individualizing Instruction" and "Curriculum Improvement: Decision-Making and Process."
Have something to add about this? See something we missed? Share your feedback here.
Our digital archives are a work in progress. Let us know if corrections need to be made.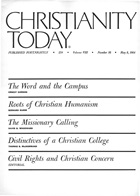 This article is from the May 8 1964 issue.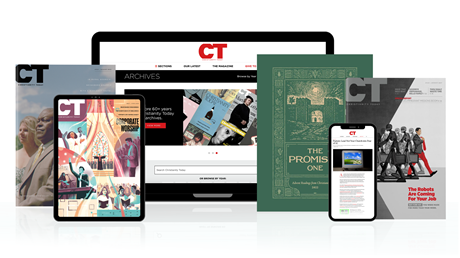 Subscribe to Christianity Today and get access to this article plus 65+ years of archives.
Home delivery of CT magazine
Complete access to articles on ChristianityToday.com
Over 120 years of magazine archives plus full access to all of CT's online archives
Subscribe Now
Prayer, the Bible, and the Schools
Prayer, the Bible, and the Schools