The Reformation prepared the world for a very troubled time. We in the latter part of the twentieth century seem to face similar turbulence, and a major new movement toward biblical precepts would be a Godsend. What can we do to help bring it about?
There are always lessons from the Church's past, not merely for the ecclesiastical elite but for parish clergymen, teachers, and eager laymen. One great example from the Reformation that has been somewhat overlooked is the extent to which the Reformers capitalized upon the new medium of printing. Luther and his allies might never have caught the attention and support of the masses had they not been able to distribute voluminous amounts of literature pleading their cause. By spreading their arguments in the vernacular far and wide, the Reformers got the jump on the establishment. They satisfied the thirst of newly literate millions while loyal churchmen dragged their feet.
Gutenberg invented movable type in the mid-fifteenth century, and "printing spread with extraordinary rapidity," according to the Encyclopaedia Brittanica, which is not given to overstatement. "By 1500 more than 1,700 presses in almost 300 towns had produced one or more books. It is estimated that almost 40,000 editions were published during the fifteenth century, comprising somewhere between 15,000,000 and 20,000,000 volumes … mainly liturgical, theological and legal works.…"
It is reasonable to assume that all this literature encouraged the masses to think for themselves and thus paved the way for the Reformation. Rousing sermons, such as the famous message by Girolamo Savonarola, "On the Renovation of the Church," delivered in Florence on January 13, 1495, were immediately printed in pamphlet form. Surely this sort of thing was influential in building the mood that made Luther's success possible.
Once the Reformation got under way, the number of Protestant publications became legion. By 1523 some 1,300 different editions of tracts by Luther alone had been published. The Weimar edition of Luther's writings consists of almost one hundred volumes. Such titans as Zwingli and Calvin also were astonishingly prolific, and the minor reformers followed their lead. Carlstadt published more than fifty tracts, and Schwenckfeld's writings fill nearly twenty volumes. Said the noted sixteenth-century English martyrologist John Foxe: "We have great cause to give thanks to the providence of almighty God, for the excellent arte of Printing, most happily of late found out and now commonly practiced everywhere, to the singular benefite of Christes Church."
Not quite "everywhere." One exception was Russia, which did not have a press until 1563. Could there be any relation between this delay and the fact that the Reformation never got across the Carpathian Mountains?
The power of mass communications to initiate church reform need not have been confined to the Reformation. But not in the four and a half centuries since then has there been a comparable use of this force. Indeed, the Church's proportionate use of the printed page and other media has been diminishing. It seems that the more opportunities Christians have, the fewer they avail themselves of. Why?
One obvious reason is an inadequate and sometimes improper understanding of today's media, especially the secular media. The Reformers had only pulpit and pamphlet through which to proclaim their truth, and they made maximal use of them. Today we have not only a diversity of publications and reproduction methods, but telecommunications, computers, scanners, recording apparatus, and film equipment at our disposal. Some of the fruits of modern technology have been very effectively appropriated for the spread of the Gospel (e.g., shortwave radio), but in general the Church has yet to get into the communications game. There is little grass-roots knowledge of how to use available media, and the result has been that "the children of this world are in their generation wiser than the children of light."
It is commonly known that Billy Graham owes much of his fame to favorable build-ups he has had in press, radio, and TV through the years. How did he manage to get these?
Much has been made of the "puff Graham" telegram reportedly sent by William Randolph Hearst to the editors of his newspapers twenty years ago this month while the evangelist was conducting his first big crusade in Los Angeles. But it also must be remembered that untold numbers of churchmen have through ignorance muffed equally great opportunities for mass-media exposure. History may remember Graham not only for effective preaching but also for good judgment, especially in his friendly contacts with reporters and editors. He is no headline hunter, and that is greatly in his favor. Another asset is his ability to deal in a graceful, truly Christian spirit with even the most hostile newsmen.
Newsmen dislike publicity hounds, but they respect and encourage discreet publicity efforts, even at the local-church level. With a professional approach, a lot more can be done—not so much for individuals and congregations as for the biblical cause in general. The late Harry Emerson Fosdick got a huge hearing for his version of liberalism simply by having his sermons duplicated and supplied regularly to editorial writers around the country.
A few Christian leaders who have sensed the great possibilities in the mass media are attempting a clumsy strategy. Some talk of "capturing" the media by infiltrating them with evangelicals as if domination were the key to proclamation. In a pluralistic society, the viability of this tack is open to increasing question. The only really workable method is to win hearings for the evangelical cause on its own merits. And this can be done, despite the prejudices of the "propaganda controllers." All the great movements of history were brought on by numerical minorities. The Reformers did not seize media; they simply took advantage of public demand. The situation is much different today, but in much of the free world the opportunities are as great or even greater.
One of the great evangelical priorities of our day should be an enlightened communications strategy. We should not look to impersonal media to discharge completely our responsibility to evangelize, but we surely ought to rely upon them as support vehicles. We need much more creativity, and an adventuresome spirit, like that of the Reformers. Sophisticated artistry in the best sense of that term need not be feared.
The Church and the world desperately need a new reform, a powerfully fresh intellectual challenge and stimulus. Evangelicals ought to try to provide it through relevant proclamation of the Word in the media now available. Nothing can stop a great idea, and no victory is more secure than one that is won by outthinking the opposition.
We have the resources. All we need is will and coordination.
Have something to add about this? See something we missed? Share your feedback here.
Our digital archives are a work in progress. Let us know if corrections need to be made.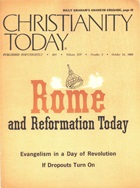 This article is from the October 24 1969 issue.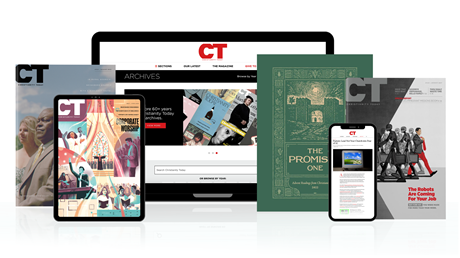 Subscribe to Christianity Today and get access to this article plus 65+ years of archives.
Home delivery of CT magazine
Complete access to articles on ChristianityToday.com
Over 120 years of magazine archives plus full access to all of CT's online archives
Subscribe Now
Mass Media and Church Reform
Mass Media and Church Reform