Not long ago in an English hamlet I happened upon a show window of antiques and for a few pounds bought an old silverplated urn. Atop the urn a parading drummer with a drumstick in each hand energetically whacks his instrument. Since the cover is removable, the urn may originally have been produced to serve on a variety of occasions, much as a travel agent today changes his cap to meet a diversity of tour parties.
There is something ominous, however, about the dispensability of my drummer; some morning I may awake to find a tyrant in his place.
At 193 years of age America is hardly an antique among the nations of the world, but it is nonetheless a nation in trouble. And if patriotism is not dead in the land, it is certainly ailing; what's more, the affliction may be more serious than many backbenchers think. Much idealistic phrasing about the American dream now expresses fond hope more than vision of the present. Newspapers, magazines, radio, and television all suggest that the United States is sagging in orbit and is already off course. Has some mortal disease smitten this youthful nation? Will its decline as a great power be as rapid as its rise?
During my year abroad I have read in the British press some rather cynical reporting o f American history and events. Only General Eisenhower's death seemed to provide an occasion for saying anything good about our presidents. The Apollo space program was deplored as a diversion of funds from the poor. Only Britain's own growing race problems at home and in Rhodesia moderated the comments on America's. Some news articles have said vicious things about Richard Nixon.
Such attitudes are understandable, however, when one considers Britain's swift decline in world prestige, its serious political and economic troubles, and the fact that the welfare state has turned out to be anything but a millennium for everybody.
Much harder to understand is the American who enjoys the privileges and benefits of life in the United States but takes and even creates public opportunity to demean his own country. Said Sammy Davis Jr. when customs men at London's Heathrow Airport relieved him of his gun and ammunition: "I hate the idea of having to carry a gun to protect myself in America." A few years ago when Russian ecumenical leaders first arrived in the United States, security agents detained them briefly aboard the plane. A leading American churchman openly deplored this as an ugly act, and vaingloriously announced that when he traveled to Moscow he was welcomed with open arms.
A nation without the enthusiasm of its people cannot long prosper. And the change of national spirit in the 1960's is something to turn one's dreams into nightmares. For the American temperament seems less and less informed by the great convictions that inspired, nurtured, and shaped this land of unparalleled opportunity for all.
The Viet Nam war has doubtless been a turning point, one whose high cost to national morale is as yet only dimly evident. Given the present mood, it is unlikely that America would go to war again in Asia under the circumstances that prompted our military engagement in Viet Nam. But then, what if—thirty days after our troops are withdrawn—Red China should move against Formosa? Or North Korea against South Korea? Criticism of American involvement in Viet Nam has mounted in England and in other lands to whose aid American soldiers came in World Wars I and II; yet the United States had even less to gain from Asian than from European involvement. Would the United States go as readily to defend England today as it did a generation ago?
I am not suggesting that the United States had no business in Viet Nam. I am assuming that, treaty-bound, we kept our word in defending a just cause. That was surely the view of most Americans at the time, and in it we were encouraged by our most trusted leaders both political and military.
Even if now and then the whiteness of the cause turned gray, I stayed with that verdict until late in President Johnson's administration. Then I felt increasingly that the political determination of military decisions might be bleeding justice to death by a tolerance of evil. More and more I became convinced that the administration was needlessly sacrificing American youth in a cause it had decided not to win. When the commander-in-chief makes all the important decisions, often unpredictably, he must sooner or later take to the field or take to the woods.
As a presidential candidate Mr. Humphrey inherited two Johnsonian liabilities: a just Asian war that must not be won, and the unchallenged Negro rioting unleashed in Washington. The administration seemed to be fiddling while Washington burned and to sing lullabies while America's young men fell in Viet Nam. On those scores I rejected an invitation to join a clergy-for-Humphrey movement. Mr. Nixon, I felt, would reunite justice with power or link a no-win strategy with presence rather than punch.
By the time of Nixon's election the American conscience had undergone significant change. More and more Americans felt we were going at the Viet Nam war in the wrong way, and those who believed that the cause itself was wrong exploited this conviction. It became increasingly difficult for young men conscientiously to give themselves to an indecisive cause, and without the support of conscience no public issue can win its way. The Johnson strategy not only fed the fires of dissent but also unwittingly encouraged those who insisted against the accepted patterns of response that everyone should "do his own thing."
The nation has not recovered from this development, and the implications for the future are awesome. Mr. Nixon came too late to overcome it, even if he had had the personal magnetism and persuasiveness to confront it. The only course left was to disengage American troops as swiftly as possible, while maintaining hope that other sanctions and pressures might depress North Viet Nam's voracious appetite.
This is but the beginning of woes for the American spirit, however. If there is no rebirth of conscience in a matrix of sensitivity to justice, the tide of protest and subjectivity now loose in the land may be ultimately contained only by a lofty general astride a horse.
In these circumstances I am convinced that America's finest young manhood—I speak of spiritual and moral astuteness—must march again in the open arena. If evangelicals who place their bodies on the line in Viet Nam, and Christians on campus who dare to stand for both the Gospel and the cause of justice, could join forces and energies in a call to conscience and devotion to the right, my drummer would not need to fear displacement by a tyrant, and America could experience a rebirth of patriotism and moral power.
Have something to add about this? See something we missed? Share your feedback here.
Our digital archives are a work in progress. Let us know if corrections need to be made.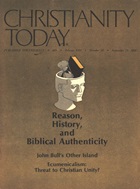 This article is from the September 12 1969 issue.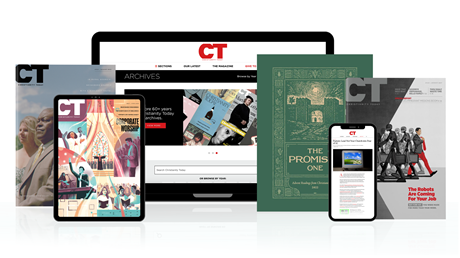 Subscribe to Christianity Today and get access to this article plus 65+ years of archives.
Home delivery of CT magazine
Complete access to articles on ChristianityToday.com
Over 120 years of magazine archives plus full access to all of CT's online archives
Subscribe Now
A Nation in Trouble
A Nation in Trouble