FROM THE DESK OF …
DEAR ELIJAH,
As chairman of the board of Jordan Divinity School, let me take this opportunity to express to you the appreciation of all of us on the board for your courageous, prophetic stand on current issues.
As Jordan's founding president you have exercised a dynamic leadership and have exerted a great influence on the young sons of the prophets which will undoubtedly continue to be felt in years to come.
It is your steadfast leadership that has enabled the school to weather all of those organizational difficulties that beset any new endeavor.
And now the school is entering into a new phase of its existence. The enthusiastic support of the 880s has given way to the ennui of the 870s. Current giving is at its lowest point in the past ten years, and the income from endowments is off by about 40 per cent. We have been forced to dip into our reserves for the first time in our history.
Several factors seem to be involved. To begin with we are feeling the backlash of Middle Israel to the continued political pronouncements and anti-administration statements of both yourself and graduates of the divinity school. Don't misunderstand me, I wouldn't for a moment suggest that anyone connected with the divinity school should have done anything other than express himself honestly. I am simply setting forth the facts as they appear to those of us on the executive committee—who are, after all, responsible for the continuation of the school.
In addition we are faced with a depressed economy, brought on in part by the continued difficulties with Syria. These political problems have had a debilitating influence on the nation.
We must also face the fact that our big givers are by and large a conservative lot. Elijah, I think we must ask ourselves the question: Have we gotten too far ahead of our constituency? After all, what good is prophetic leadership with no one to lead?
Perhaps it is time to pause a bit and let the rest of Israel catch up with us. It might be well if we were to be a little less prophetic for a time.
I know you will understand that I am not suggesting that anyone compromise his conscience in these matters. I would be as distressed as anyone to see these young men become captives of the establishment.
However, we must learn to understand and adjust to the times we live in. Perhaps this is the time for us to remember that "he who restrains his lips is prudent."
I leave this matter completely in your hands knowing that you will give full weight to the deep concern felt by the trustees over the continuation of quality theological education.
Yours for the greater glory of God,
SACRIFICE FOR STUDENT AFFLUENCE?
Having attended a prominent Christian liberal-arts college (and having, I feel, greatly benefited from it), I particularly enjoyed the May 21 issue with the articles concerning Christian education. Specifically, Frank E. Gaebelein's "Crisis in Christian Education" draws appropriate attention to the need to support such education; and I heartily agree with his point in the latter paragraphs: Christian stewardship, even to the extent of giving sacrificially, is a must if Christian education is to survive and/or grow.
My question is this: Why should the middle-class Christian give sacrificially (as the article implies, to the point of giving up some of his affluence) just so the Christian college student may live in affluence? Although I know from experience that this is by no means universally true, in some cases little or no practical, disciplined frugality has been applied in the planning of new facilities. Yes—buy books for the library; buy excellent scientific equipment; spend for all those things necessary for a solid Christian education. But must those men and women—being trained to face our secular world with sound, integrated Christian answers—live in dormitories that are laid out, furnished, and equipped more like plush motels than home? Is this necessary to the formation of their Christ-like characters? Quality is essential; but where lie our values?
Dallas, Texas
ENCOURAGING REFRESHMENT
Thank you for your very fine "Evangelical College Students: An Opinion Sampler" (May 21). It is indeed encouraging to see such fresh, penetrating, and balanced thinking when so many students are hugging the left lane of nihilism and so many of the silent majority have made a sharp right turn into stodgy traditionalism.
Your magazine is like taking a two-hour refresher course in Christian thought every couple of weeks.
Memorial Presbyterian Church
West Palm Beach, Fla.
BLIND TO BEAUTY
Carl F. H. Henry's excellent article on "The Rationale for the Christian College" (May 21) lists truth, justice, grace, and righteousness as the essential concerns of Christian education today. I wonder why beauty is omitted from the list. Its omission reflects not only a blind spot in present-day Christianity but a general malady in our pragmatic and scientifically oriented society. Our culture's inability to regard beauty as a value has produced a world which is increasingly unfit for human life. I submit that education which neglects to educate and enliven our artistic faculty is not a complete Christian education.
Asst. Prof. of English
Wheaton College
Wheaton, Ill.
NO DUPLICATIONS NEEDED
We appreciate the report of the twenty-ninth Annual Convention of the National Association of Evangelicals, "The New Evangelical Surge" (May 21). However, the concluding paragraphs commenting on Dr. Billy Graham's reference to "a new international evangelical fellowship" were understood by your reporter to mean that Dr. Graham was calling for something to replace the NAE. Actually this was not the case, as a transcript of the speech indicates.
Dr. Graham was talking about an international organization (not a national one) that would pull evangelicals together in a worldwide non-structured fellowship, regardless of other affiliations. Of course, there cannot be a fellowship without some structure to call it together. Such a loosely structured fellowship already exists in the World Evangelical Fellowship. It is composed of national alliances or fellowships of evangelicals. The oldest ecumenical evangelical alliances, such as the Evangelical Alliance of England (1846), France, Germany, and others are part of the WEF.
Dr. Graham's concern is that the WEF only has members from some eighteen countries so it is quite inadequate because it does not account for the one hundred countries not represented. However, the WEF is at least a start.
General Director
Office of Public Affairs
National Association of Evangelicals
Washington, D. C.
THE MISUNDERSTOOD N.A.E.
Your correspondent's interpretation ("The NAE: New Marching Orders," May 7) of what NAE's response might be to Dr. Graham's address at the closing session of its convention disclosed an apparent lack of understanding of the association's historic stand on fellowship. He alleged that it would be a major problem for those in the National Association of Evangelicals to establish contact with evangelicals in churches affiliated with the National and World Councils of Churches. This suggests that he is ignorant of the fact that throughout the twenty-nine years of its history NAE has included within its membership individuals and churches that are thoroughly evangelical and thus able to subscribe to its seven-point Statement of Faith, and yet are part of denominations that hold membership in the National and World Councils of Churches.…
It should be pointed out, also, that the proposals to which your correspondent referred were presented at the closing session of the convention. There was no possible opportunity for the association to consider these. Hence, any assessment of the reaction of NAE to the proposals is wholly speculative and premature.
President
National Association of Evangelicals
Wheaton, Ill.
IT TAKES TWO
Mary Bouma still misses the point in "Liberated Mothers" (May 7) by continuing to assume that women are the homemakers. The point of the liberation movement—which, properly conceived, includes men as well as women—is that it not only takes two to make a baby, but two to make a home. No matter how much creativity and skill goes into cooking, decorating, and gardening, some women are going to prefer writing or teaching or administration or selling; and some men—left to their own inclinations, and with cultural approval—would love to be working around the house more.
Both are needed in and responsible for the nurture of their children. There is no necessary reason why the need for intensive interaction with an adult (as shown by current research by Margaret Mead and others) should always be supplied by the mother, after nursing days are over. The father is another good choice.
Chicago, Ill.
The cover of the May 7 issue was clever but insulting to liberated mothers and to all women.
While I understand and appreciate Mary Bouma's efforts to present "a conception of homemaking much broader than the usual one," I find her conception quite narrow. She envisions the man as the money-earner and the woman as the homemaker. I find this strict division of roles to be quite harmful both to the man and to the woman.…
Mrs. Bouma consistently states that the man should go to work and the woman should stay at home, except in cases of economic necessity. Some couples may choose this pattern as being most in line with their personalities and preferences. Others may choose the opposite pattern. However, the pattern which is healthiest for the man and woman and their children is one in which the family is integrated. The father works and yet orients his life around the home; perhaps he takes a job with a lower salary and less prestige in order to be with his family more hours per week or during certain parts of the day.
The mother likewise works and orients her life around her family. Both people are deeply involved in the physical and spiritual care of their children. Both have the stimulation and fulfillment of a useful role in the larger community. In Mrs. Bouma's pattern the emotional capacity of the man is restricted; he is too busy and too tired to interact meaningfully with his children. In her pattern, the mental capacity of the woman is restricted; she is advised to sacrifice this for her family and for the Lord. In a healthy, happy home, each need of each family member should be fulfilled.…
Finally, and most grievously, Mrs. Bouma calls Christian mothers to selfdenial and sacrifice. No woman should sacrifice her self to be a homemaker or money-earner or anything else. She should choose a pattern of activities that fulfills her self, the self given her by God to be used in his service. Her true nature may call her to homemaking, to a career, or to a combination of the two. But in no event should she suppress her self and think thus to gain God's approval. Jesus Christ calls each human being to the fullest use and development of himself.
Berkeley, Calif.
'JESUS' VIGOR
I was extremely blessed by [reading in "Wave of Witness," May 7, of] this renewed approach by the youth of our nation. You and others may call them Jesus freaks, but it may take this simple "hallelujah chorus group," to bring the high and mighty in this present system to understanding that we as born-again Christians must "go ye …" to be witnesses to the uttermost nations and people, even at home. Thank God for young people that will cry aloud the name of Jesus.… It is good to hear that fresh vigor still abounds in the United States.
Springfield, Ohio
Thanks so much for the May 7 issue. Boy, what a thrill to get a panoramic view of what Jesus is doing! People keep asking me, "What is the Jesus Movement?" And I always say, "It's Jesus moving!"
Los Angeles, Calif.
Have something to add about this? See something we missed? Share your feedback here.
Our digital archives are a work in progress. Let us know if corrections need to be made.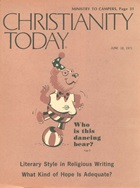 This article is from the June 18 1971 issue.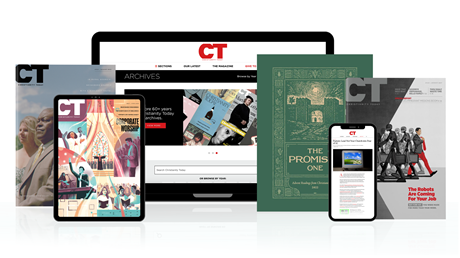 Subscribe to Christianity Today and get access to this article plus 65+ years of archives.
Home delivery of CT magazine
Complete access to articles on ChristianityToday.com
Over 120 years of magazine archives plus full access to all of CT's online archives
Subscribe Now
Eutychus and His Kin: June 18, 1971
Eutychus and His Kin: June 18, 1971