The ramp down which she had made her splashy entrances was gone, but evangelist Aimee Semple McPherson would have been pleased anyway had she been present. Overflow crowds were on hand to celebrate the golden anniversary last month of the 230,000-member International Church of the Foursquare Gospel (ICFG), which she founded. And Angelus Temple, the fifty-year-old 4,000-seat mother church she built (it's just off the Hollywood Freeway in Los Angeles), was refurbished for the occasion at a price well in excess of the original construction costs. Outside, the city had grown from a population of 576,000 when she first preached there to 9.9 million.
The singing may have been more subdued and there may have been fewer shouted amens than in the good old days, but then it was "Sister Aimee" herself who advocated Pentecostalism "without fanaticism." Dozens who had been at the 1923 opening of the temple traded memories at the anniversary gathering. Among them: William Hinderliter, 107, "the oldest Foursquare."
She would have gotten excited over the reports. They show the ICFG is growing more rapidly overseas than in North America, where there are but 762 churches. The ICFG work is carried on in twenty-nine other countries by 142 missionaries and 2,700 national ministers working in 1,300 churches and 1,300 "meeting places." Of 130,000 total conversions last year, 100,000 were recorded abroad. (Of these, only 20,000 went on to become members.) There are four Bible schools in North America, but forty-one overseas. Total income last year topped $1.2 million; $823,000 was put into the ICFG's foreign work.
The Foursquare is reputedly the fastest-growing church in the Philippines. Four of the largest Protestant congregations in Colombia are Foursquare. An eighteen-month-old church in Taejon, Korea, draws more than a thousand young people to afternoon meetings. And the ICFG is in the forefront of the burgeoning Pentecostal movement in South America. (There are 80,000 Foursquare members in Brazil, with 326 churches and 300 other congregations. Growth is rapid. Thousands flocked to the first Foursquare evangelistic meetings in Porto Allegre in 1970, and 700 were baptized. Today fourteen churches trace their origin to those meetings. Leaders caution, however, that spiritualism and the occult is growing much more rapidly than Christianity.)
Inagori Baglana, 24, of Papua New Guinea was one of the many national workers who traveled thousands of miles to attend the ICFG anniversary convention. In an interview, he spoke of the difficulty of outreach in his land: there are 2.5 million people speaking 350 languages and 750 dialects. (The ICFG was the first missionary group to minister to the 200,000 Stone Age head-hunting people in the Dunatina Valley.) A revival began in 1963 and has continued ever since, said Baglana, accounting for more than 8,000 Foursquare converts in the last ten years. There are now sixty-three churches and 111 meeting places with about 9,000 members, served by 107 national pastors and two Bible schools, he said.
It all proves that the movement was built around Christ from the outset, "and not around mother," commented Rolf K. McPherson, son of Aimee who succeeded her as ICFG president upon her death in 1944.
Sister Aimee was born in 1890 on a farm near Ingersoll, Ontario. At the age of seventeen she received Christ under the preaching of Irish Pentecostal evangelist Robert Semple, whom she married shortly afterward. They went to China in 1910 as missionaries, but Semple died of malaria three months after their arrival, and Sister Aimee returned to America with their infant daughter and took up missionary work. Later, she married businessman Harold Stewart McPherson, but they split up as she became involved in itinerant evangelism. She criss-crossed the U. S., finally settling on Los Angeles—and the temple—as headquarters.
Her meetings in large cities across the nation were usually interdenominationally sponsored and attracted vast crowds (curiously, photos show few young people in attendance). Outbreaks of tongues sometimes occurred in the various churches, sparking controversies and splits. Many of her staunchest backers were Baptists. She was ordained by the First Baptist Church of San Jose, California, which later split over the issue of Pentecostalism.
To perpetuate the work, she established L.I.F.E. (Lighthouse of International Foursquare Evangelism) Bible College in the temple in 1923 (today's enrollment: 600).
The name "Foursquare" comes from a message she preached in Oakland, California, in 1922. It was about Ezekiel's vision of the four cherubim. Sister Aimee said they suggested the four-fold ministry of Christ as saviour, baptizer, healer, and king.
The blue-eyed blonde evangelist's life was often stormy. In 1931 she married a David Hutton; two years later he divorced her. In a newly published autobiography by Word Books, she says she later insisted that Foursquare bylaws prohibit remarriage while the former mate is still alive, "but in 1931 I felt differently." There were power struggles and personality clashes among those managing Foursquare affairs; in one, Sister Aimee and her mother parted ways. The evangelist was even kidnapped once and held in Mexico but she managed to escape. The Los Angeles district attorney and the press, however, seemed bent on proving it was all a lie to cover up her involvement in a romantic scandal. She was later vindicated.
The ICFG is a liberated church, thanks to Sister Aimee, who wondered as a girl why women weren't allowed to preach. She not only broke that tradition but went on to become the first woman to preach on radio. Today, about 40 per cent of the ICFG's ministers are women (though they pastor only 8 per cent of the churches). Aimee had stamina; she personally baptized more than 100,000, often conducting twenty services a week.
As for belief, the ICFG declaration of faith generally follows traditional Pentecostal, fundamentalist, and Arminian lines. Foursquares also hold out fiercely for a pre-tribulation view of the rapture, a stand reaffirmed this year.
One of the liveliest segments of the celebration was Biblo '73, an event that attracted 4,000 young people to the temple. For its finale, featuring evangelist David Wilkerson and entertainer Pat Boone (a member of the Foursquare church in nearby Van Nuys), Biblo shifted to a sports arena, where 10,000 assembled. About 1,000 responded to the invitation. Officials describe Biblo as the greatest youth event in ICFG history.
That would have pleased Sister Aimee, too. After all, she was a teenager when she committed herself to Christ, and look what happened.
CHURCHLESS KABUL?
The only Christian church in Afghanistan, a $320,000 structure built three years ago in the capital city of Kabul, was seized by the government this month and threatened with destruction. The American pastor, Dr. J. Christy Wilson, a United Presbyterian, was ordered out of the country. Authorities who had given permission for construction now contend that the church board did not have clear title to the property. But some close to the scene feel that the government is acting under pressure from militant Muslims.
Have something to add about this? See something we missed? Share your feedback here.
Our digital archives are a work in progress. Let us know if corrections need to be made.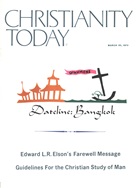 This article is from the March 30 1973 issue.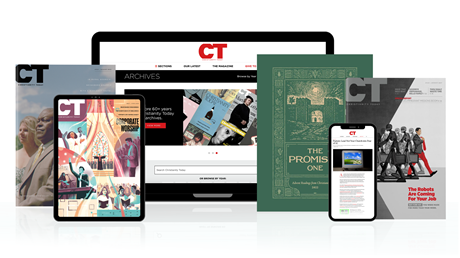 Subscribe to Christianity Today and get access to this article plus 65+ years of archives.
Home delivery of CT magazine
Complete access to articles on ChristianityToday.com
Over 120 years of magazine archives plus full access to all of CT's online archives
Subscribe Now
Foursquare Anniversary: In Love with Aimee
Foursquare Anniversary: In Love with Aimee