Christian education is distinctly different from secular educational processes in that it puts knowledge and learning into the context of faith and piety, i.e., into relationship with knowledge about God and ultimate truth and with the attitudes we should adopt in the light of such knowledge. At its heart is a world and life view with God at its center.
Education divorced from faith and piety is not merely truncated but distorted. If a Christian's formal education is received exclusively under secular auspices, he must necessarily complement and correct it by spiritual insights secured outside the halls of academia—in the churches or within Christian fellowship groups operating on secular campuses. Such a clarification of secular knowledge is essential, but it is rarely possible to achieve a real integration of faith and learning on the basis of a purely secular intellectual diet supplemented by occasional Christian correctives and additions. The task of integration is the specific calling of Christian colleges, which they not only perform for their students but also make available through them to the general Christian public.
Christian history teaches us that God has called and used believers equipped with both piety and learning to build his Church. Paul is the outstanding New Testament example of the combination of faith and scholarship. Turn the pages of history and you find figure after figure emulating him in this double endeavor: Augustine, Luther, Calvin, Samuel Rutherford, John and Charles Wesley, Jonathan Edwards, and Adoniram Judson, to name only a few. Of course there have also been many effective servants of God who did not have academic training: John Bunyan, William Carey, D. L. Moody, and Billy Sunday, for example. (Carey founded Serampore College, the alma mater of Christian theological study in India.) But it is evident that the role of men who could combine great learning with great faith has been of crucial significance to the history of God's people.
In our own day, higher education of all kinds has come under suspicion. Educational institutions are having problems with their image and coincidentally with their finances. Lest we do an injustice to Christian institutions, we should remember that in the United States it was not at Christian colleges that riots, bombings, and burnings took place. Nor did the left-wing student radicals and anarchists come from schools with a dictinctively Christian orientation. When socially and politically radical students have been confronted—often by Christian college students—with the claims of Christ and have received him as Saviour, their whole outlook and life style have undergone fundamental changes. Would this have been possible without the efforts of Christian educators to provide an integration of faith and knowledge capable of replacing the widespread commitment to a secular prophet?
There are hopeful indications that the best years for Christian colleges lie not in the past but in the future. The formation of the ten-member Christian College Consortium shows that administration and faculty members are aware of rapid change in our society and determined to function effectively in the midst of it. On many campuses, spiritual awakenings have brought new power and conviction to young lives. There is a deepening concern on the part of Christian college students and faculty to relate the Gospel to society and its problems. Wheaton College has conducted summer seminars on the integration of faith and learning, where teachers from Wheaton and other Christian institutions have explored ways to promote such integration on their campuses.
The critical test of Christian higher education is the performance of the graduates. There is ample evidence to support the view that Christian institutions have made an invaluable contribution. Of course, there are risks in any human enterprise, and there are students who fall by the wayside in Christian institutions just as there are students won to Christ in the midst of a militantly secularistic environment. On the whole, however, Christian institutions have maintained academic standards, have sent multitudes of students on to graduate schools, and over and above this have helped them develop Christian character and have prepared them for a positive witness to Christ in the world. One piece of evidence for the Christian colleges' value to their graduates is the large number of second- and third-generation Christians who attend the parental and grandparental alma mater.
Higher education is expensive, and costs will continue to rise. Believers who recognize the invaluable contribution made by Christian colleges to the spiritual and intellectual vitality of the Church should confront this task with determination and dedicate a portion of their giving to one or more such colleges. To neglect to do this at the present moment in time could allow our institutions to wither just when they are needed most. The cost in spiritual and human terms would be immense.
Have something to add about this? See something we missed? Share your feedback here.
Our digital archives are a work in progress. Let us know if corrections need to be made.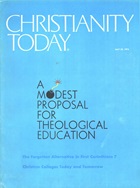 This article is from the May 25 1973 issue.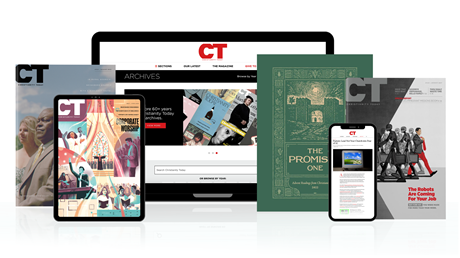 Annual & Monthly subscriptions available.
Print & Digital Issues of CT magazine
Complete access to every article on ChristianityToday.com
Unlimited access to 65+ years of CT's online archives
Member-only special issues
Subscribe
Christian Colleges Today and Tomorrow
Christian Colleges Today and Tomorrow