Between them, the three major black—or Negro (depending upon one's age or cultural inclination)—Baptist conventions lay claim to nearly half of America's black population.As with many church groups, however, average Sunday-morning attendance—which may more nearly show actual numerical strength—is considerably lower than published membership figures. Reflecting splits from their common ancestry, all three held their annual meetings the same week last month but in different locations. The 6.5-million-member National Baptist Convention, U. S. A., Incorporated, attracted 20,000 delegates to Los Angeles, NBCUSA's largest convention gathering ever. About 8,000 persons, including 2,500 messengers (delegates), were on hand in Chicago for the annual sessions of the 2.5-million-member National Baptist Convention of America. And 3,500 messengers gathered in Jackson, Mississippi, for the 550,000-member Progressive National Baptist Convention assembly—the first national convention of a black organization ever held in the Mississippi capital.
The common ancestry dates from 1880, when veteran Southern Baptist missionary W. W. Colley called leading black Baptists together and formed a foreign missions convention. Two other organizations merged with the convention in 1895 in Atlanta (there were state-wide associations of black Baptist churches as early as 1866) to form the NBCA. A dispute over control of the publication board led to a split in 1916, with the majority faction adopting the NBCUSA title and the minority retaining the NBCA name. At the NBCUSA meeting in Denver in 1961, a vocal faction tried to make the denomination assume a more liberal social-action stance, and backers of Brooklyn pastor Gardner Taylor claimed their man had defeated conservative Joseph H. Jackson of Chicago for the NBCUSA presidency. In the near riot that ensued, a number of delegates were injured, one fatally, and the PNBC was born. Things have been relatively quiet in the denominations since that time, and at last month's conventions there was obvious interest in getting on with the task, especially in the realms of evangelism, theology, and foreign missions.
NBCA president James C. Sams of Jacksonville, Florida, lamented that "we hear more about Watergate than we do about Jesus," then exhorted: "Go back and clean up your own homes, towns, and churches. Watergate is a small part of God's judgment which we all must face."
Jackson, meanwhile, was reelected without opposition to his twenty-first successive year as NBCUSA president. He likewise alluded to Watergate in underscoring a call to spiritual renewal: "[It's] God's way of telling us to put moral content into our lives."
A conservative in politics and theology, Jackson slapped at the practice followed by some "Negroes" (he eschews use of the word "black") of holding citizenship in both the United States and an African nation. One cannot be a loyal and trusted citizen of two countries, he asserted. In the process of illustrating his point he also knocked churches that are dually aligned (some NBCUSA and PNBC churches, for example, are affiliated with the predominantly white American Baptist Convention). "They want two sets of privileges without bearing two sets of corresponding responsibilities," he chided.
Three young ministers, commissioned three years ago to draft a statement of faith and theology—the NBCUSA's first such document—presented a thirty-eight-page interim report. Chairman Henry C. Gregory III, a Harvard-educated West Virginia pastor, said NBCUSA ministers need to have their own faith revived and then to project stronger faith to their congregations.
The NBCUSA earmarked $50,000 to supply food and clothing to Arab and African herdsmen suffering in drought-stricken west Africa (see September 14 issue, page 42). Money and goods will be sent to the land-locked area, home of six million persons, when a way is found to circumvent logistical and political blockades, reported William J. Harvey III, foreign-missions board secretary, who himself has seen the misery.
A report noted that the convention's 5,000-acre farm in Tennessee had produced profits of $60,000 in recent years in cotton, soybeans, and pork. These are used to help support member churches, colleges, and the ministers' retirement fund.
Executive director Roy Wilkins of the National Association for the Advancement of Colored People paid tribute to the black church as a political power and urged the NBCUSA to help double the current figure of 2,600 elected black officials in the United States. In a welcoming address, Los Angeles mayor Tom Bradley—an African Methodist Episcopal layman—credited the black church with a big boost in his victory over incumbent Sam Yorty.
At Jackson, PNBC president L. Venchael Booth received from Governor William Waller the Outstanding Mississippian Award for leadership in religious affairs. Booth, pastor of Cincinnati's Zion Baptist Church, is a native of Mississippi.
Southern Baptist president Owen Cooper, a Mississippi industrialist of Yazoo City, in visits to the three conventions said he envisions expanding cooperation between the black churches and his denomination. At a luncheon he hosted for PNBC leaders in Jackson he urged that they consider sending missionaries to areas now closed to Southern Baptists. "We can no longer go into Nigeria, but I believe you can," he said.
The PNBC already has three missionaries in Nigeria. But they represent the total foreign missionary force of the PNBC. And the statistics are just as bleak among other black denominations. The NBCUSA, with 30,000 churches, has one missionary in Malawi, five in Liberia. Officials for the NBCA declined to state their total. The independent Carver Foreign Mission Board in Atlanta has half a dozen missionaries in Liberia. Afro-American Missionary Crusade in Philadelphia has eight in Liberia. Lott Carey Baptist Foreign Mission Convention in Washington, D. C., named after a Virginia slave who purchased his freedom and in 1821 became the first American missionary to Africa, lists three missionaries in Haiti and two in Liberia. In all, there are fewer than 100 blacks—including those affiliated with predominantly white groups—among America's 25,000-plus foreign missionaries, according to a survey to be published soon.
Yet there are bright aspects. The black bodies have sponsored over the years a number of overseas students in American schools; some become national church workers upon their return, their support underwritten at least partially by their American benefactors. And most of the black denominations help fund national-church projects in Africa or the Caribbean.
PROOF-TEXTING AT THE U.N.
During a meeting of the United Nations Security Council last month, Cuban ambassador Ricardo Alarcon Quesada and U. S. ambassador John Scali got into an argument, complete with Bible proof-texting, over who was responsible for the downfall of Marxist president Salvador Allende of Chile. Quesada accused the United States of masterminding the plot. Scali scoffed, saying the CIA will next be blamed for having secretly written the Bible.
Later Quesada said he wanted everybody to know that he was still a nonbeliever but that he reads the Bible and respects believers. The Bible could have never been written by the CIA, he pronounced wryly, because it is a document opposed to the hyprocrisy and evil deeds of the CIA. Scali's remark, Quesada went on, had prodded him into rereading a few chapters. The denials of American involvement in the Chilean coup, he said, reminded him of Revelation 21:8, which states that liars will be consigned to hell.
Scali reached for James 3:7, 8 as his response, pointing out the unruly, poisonous nature of the tongue. Quesada's "newest outpouring of bile" gives fresh meaning to this passage in "that great book," needled Scali, that has suddenly become such an inspiring source of quotations for the Cuban ambassador.
But why the shortage of career missionaries? The reasons revolve around social history, the economic situation in the black community, failure of members to support adequately their churches, failure of churches to fund sufficiently their national agencies, lack of missionary education and promotion among church members, neglect in recruiting and training young people for full-time service, the fierce independence of many local churches—even within denominations—that in turn hinders cooperative endeavors.
In an interview, PNBC's Booth said he is "very concerned" about Cooper's challenge. Already, PNBC leaders are preparing a cooperative-program proposal to submit to the Southern Baptists.
Increasingly, missions is a subject under serious study in black church circles.
Importing The Gospel
Changing some traditional roles, an American mission to Africa is taking steps to bring Africans as missionaries to black urban areas of the United States. The New York-based Africa Inland Mission is experimenting with the idea in response to a variety of needs and trends, both in Africa and in urban America. "Urban America's needs are as great as or greater than those of the underdeveloped countries of the world," says Tom Hopler, 37, a former missionary to Africa who is directing the urban ministry for AIM.
The 75-year-old independent evangelical mission traditionally has sent white Americans out as missionaries (it has 700 workers in six east and central African countries). But as churches in Africa have developed their own leadership and strength, African Christian leaders have objected to what they feel is cultural domination by Western missionaries. And missionaries have been less welcome since the demise of colonialism in some of the African nations. Therefore many missions have been undergoing adjustment, sometimes just providing technical assistance while turning over leadership and control to Africans. Meanwhile, African churches have been developing their own missionary programs, limited mostly to other African countries.
In line with the changing scene, AIM is also trying to recruit American blacks as missionaries to Africa. This too will take adjustment; most mission agencies are geared to white social, cultural, institutional, and educational patterns, note observers. The door will no doubt be open longer to black than to white American missionaries, and with the dearth of black missionaries serving overseas (see preceding story), it is imperative that mission agencies step up recruitment of blacks, say the experts.
AIM's own search for new directions has led to a U. S. inner-city ministry, one that recognizes the distrust urban blacks often have toward whites. "Many black Americans believe that Christianity is a white man's religion," explains Bill Chavis, 29, a black law student who has worked in an AIM experimental urban project at Calvary Gospel Church in Newark. "Black Africans can show Christianity's universality and show that blacks have played a role in the growth of Christianity."
AIM is proceeding slowly in the project of bringing Africans over to the United States, seeking first to lay the groundwork for an urban ministry with churches in Newark and other cities. The first AIM missionary from Africa, Simon Kahunya, 35, of Kenya, is encouraging other African Christians to come to the United States as missionaries. A student at Gordon-Conwell Seminary in Massachusetts, he worked last year in the black neighborhoods around the Newark church, finding he could overcome barriers of mistrust that whites might encounter, and finding "that American blacks are seeking the African identity—culturally, economically, religiously."
AIM is also working with several other African students on plans for urban ministries in Washington, D. C., and Philadelphia.
Hopler says the Africans generally will be financed by educational grants, because African churches cannot afford to pay full salaries for missionaries to the United States.
Bishop Wellington Mulwa, who presides over the 1,600 congregations of the AIM-sponsored Africa Inland Church in Kenya, recently came to America to talk to blacks in Newark and other cities about the project. He says his church may be sending Africans here within a year after he gets back and confers with his own church leaders. Mulwa believes the bitterness of many blacks in America will be healed only if they embrace Christ. Nothing is to be gained by "taking arms or being militant," he says, affirming that hope lies only in the Christian message. Africans are uniquely qualified to bring this message to black Americans because they have endured similar experiences, he says. "We Africans went through the same suffering from the colonists. We have taken a position of forgiving, forgetting the past, and forging ahead."
RUSS PULLIAM
In Black And White
For months the twelve-member Fellowship of the Cross black ministerial group in Washington, D. C., was concerned about the lack of communication across racial lines in the Christian community. The pastors and evangelists in the group were equally concerned about evangelization of young blacks. They decided to take the first step in doing something about both at the same time, securing local white evangelist Paul Rader to lead an "experimental" week-long crusade on the campus of the city's predominantly black 11,000-student Howard University. The group chose Rader "because we had so much in common—a deep concern for this city," said Fellowship leader Rufus Settles, pastor of the Refuge Church of God.
Attendance averaged 250 nightly; the meetings were not well publicized on campus, but interest ran high among those who attended. Questions, sometimes hostile ones, were fired at Rader and a panel of black believers at hour-long rap sessions that preceded the preaching. Rader said he was impressed by the way his friends fielded the questions and objections of Black Muslims, Black Panthers, and followers of Guru Maharaj Ji. A dramatic highlight: the testimony of a convert formerly involved with both Rap Brown and the Black Muslims. There were a number of decisions for Christ during the week, as many as twenty at one meeting, said Settles.
There were beneficial racial overtones too. "We wanted better relationships; we wanted to show that there are no black or white Christians, just God's people," Settles affirmed.
All things considered, the experiment was a success. It was a first—for Rader, the Fellowship, and Howard—but, asserted Settles, it won't be "a last."
Cocu: Generating Unity
Despite decisions and appearances seemingly to the contrary, the Consultation on Church Union (COCU) still insists that union of the participating churches is its top priority. At its meeting in Memphis, Tennessee, earlier this year, COCU admitted what many had known for some time: members of participating denominations (with the addition of the out-and-in-again United Presbyterians there are nine) were not keen on a giant united church. As a result, preparations for union were slowed down and the focus shifted slightly to local-level cooperation through "generating communities" (see April 27 issue, page 40).
Last month, in an effort to thwart reports that COCU had given up on union completely, COCU's executive committee at a meeting in Princeton, New Jersey, reiterated its stand that unification was the prime intent of COCU.
The committee—composed of two representatives from each denomination—also laid out suggestions for local churches interested in COCU participation. Such churches, said the committee, could share sacraments, work together on area-wide mission projects, or even participate as full partners in a generating community in which they would worship together, share facilities, and be a mini version of what COCU has in mind.
BR-R-R
Soviet authorities in a few cases have invited members of unregistered churches (most are Pentecostal separatists) to come in from the cold—literally. According to recently returned travelers, officials in some towns requested the unregistered believers (who often meet in forests) to hold their Sunday afternoon services in registered-church buildings that are otherwise vacant at that time. In one city, however, the unregistered saints were evicted after the registered (government-recognized) pastor complained that he had lost many in his morning congregation to the afternoon service.
Another report by the committee: a guideline for common marriage rites between Catholics and Protestants has been worked out by a joint Catholic-COCU team. Drafting of a common ritual is already under way.
Deprogrammers Derailed
Self-styled "deprogrammer" Ted Patrick (see August 31 issue, page 40) is in trouble again, this time in Denver. Seven Greek Orthodox parents who had engaged him to help deprogram five daughters pleaded no contest to charges of unlawful imprisonment and conspiracy. They were given suspended sentences and ordered to have no communication with the young women unless the youth initiate it. Patrick pleaded not guilty; a trial was set for December 11.
Only two of the girls were actually detained by the deprogrammers: Dena Thomas Jones, 21, and Kathy Markis, 23. They were held for a week in Colorado and at Patrick's home in San Diego. "There was nothing to deprogram," they said, blaming the mess on deteriorating relationships with their parents, who in turn charge that their offspring are under Satan's control.
Meanwhile, Patrick says he must start charging $1,500 per client if he is to continue his line of work.
Good News For New Readers
The 167-year-old American Bible Society unveiled its most ambitious effort to date last month: producing 725 million Scripture portions for distribution to newly literate people around the world.
The publications are scientifically designed for new readers in 200 languages. They are special translations illustrated and printed to have high impact. Officials speak of them as "literacy selections."
"Good News for New Readers," the society's name for the program, is expected to take twelve years and cost approximately $62.8 million. The idea behind it is that the greatest lack in literacy programs today is the shortage of transitional reading material for the newly literate.
"Our literacy selections," says Dr. Eugene A. Nida, the society's head of Biblework translations, "lie somewhere between the level of the primer, which is focused primarily on language form and exemplified by drill materials, and the common-language or popular-language versions. They are designed to serve as bridge materials."
According to Nida, millions of people who have been taught basic reading skills do not own a single piece of literature. Because of this, many are lapsing back into illiteracy.
Under Nida's guidance a team of specialists has been working on the literacy selections for a number of years. It is a highly complex process, requiring not simply easy vocabulary but syntax that communicates well, and typography, illustrations, and format that take cultural variations into account.
Even the "content" is weighed. Says Nida: "To provide materials that correspond to the reading capacity of the average new literate, it is necessary to make certain slight modifications in the content of biblical passages" (see editorial, page 45).
Nida, one of the world's foremost authorities on Bible translation, is an American Baptist clergyman. He was born in Oklahoma City fifty-eight years ago, studied at UCLA and USC, and holds a doctorate in linguistics from the University of Michigan.
DAVID KUCHARSKY
Have something to add about this? See something we missed? Share your feedback here.
Our digital archives are a work in progress. Let us know if corrections need to be made.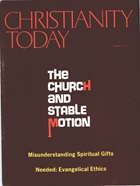 This article is from the October 12 1973 issue.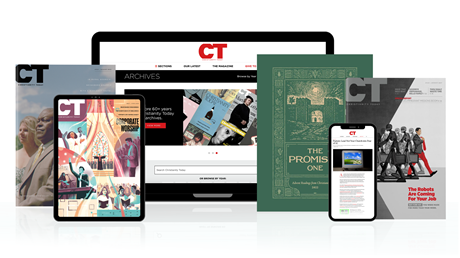 Subscribe to Christianity Today and get access to this article plus 65+ years of archives.
Home delivery of CT magazine
Complete access to articles on ChristianityToday.com
Over 120 years of magazine archives plus full access to all of CT's online archives
Subscribe Now
Black Baptists: The Missing Missionaries
Black Baptists: The Missing Missionaries