Horror Center Stage
Albrecht Dürer might have become the artist of the Reformation "had not death intervened not too long after his crisis of the spirit," according to historian Roland Bainton.
Dürer's ten woodcuts based on the Book of Revelation, which were part of a recent exhibit of Apocalypse art at the University of Maryland, amply illustrate what the Reformation movement might have gained had he lived longer.
Like many other biblical illustrators of his day, Dürer used older illustrations as sources. Under his hand these traditional motifs were transformed from illustrations into works of art.
The term woodcut misleads when applied to Dürer's work, bringing to mind as it often does a heavy, stencil-like impression. These prints with their subtle, delicate, yet masculine line, as detailed as a pen drawing, are visually satisfying in every way. One's eye delights in details of jewelry, feathers, dragon scales; the anatomical construction; the careful modeling that gives form and depth; and faces so carefully treated that each character (including the dragons) exhibits its own personality.
In addition, Dürer's work is fluid and action-filled, avoiding the static look of many of the woodcuts of his day.
These Apocalypse prints were produced early in the artist's career, before his spiritual crisis. Rather than demonstrate an interest in Revelation as the word of God, they probably "underline the popularity of this enigmatic text among late-fifteenth-century readers and its appeal to the inventive artists" (Exhibit Notes).
Dürer, forty-six and an important artist when Luther posted his theses on the Wittenberg door, apparently was converted through the Reformer's writings. He expressed the desire to engrave Luther's portrait "as a lasting memorial of the Christian man who has helped me out of a great anxiety."
Dürer's later works are more warmly evangelical. (Reproductions of the Apocalypse series together with some of his later works are included in The Complete Woodcuts of Albrecht Dürer, edited by Willi Kurth, Dover Publications, $2.75.)
Dürer's beasts from Revelation, repulsive as they are, are not really horrifying. It remained for English artist William Blake to provide truly horrible monsters.
Blake, eccentric artist, poet, and critic of rationalism and dogmatic Christianity alike, produced a series of twelve drawings on the Apocalypse and commented modestly, "There is not one touch in those Drawings & Pictures but what came from my Head & my Heart in Unison … I am Proud of being their Author.…"
Both of Blake's watercolors chosen for this exhibit feature the beasts of Revelation 12 and 13. In one, the seven-headed dragon, untraditionally drawn with the body of a man, glows ominously against a darkened sky. He stands astride an expanse of water from which the seven-headed beast rises between his legs.
The dragon, featuring both male and female heads, has a thick, brutish, generously muscled torso with bat-like webbed fins at his knees. He so dominates the scene that one wonders whether God is dead in this painting.
Twelve shadowy lithographs by French artist Odilon Redon occupied a rather large part of the exhibit.
Redon has said of his work, "My originality consists in making incredible beings live according to credible laws." With that feeling it was inevitable that he should turn to Revelation with its incredible beings as a source. His dark prints are more tenuous and less robust than the work of either Blake or Dürer and suggest that the world of the Apocalypse is a dreamy, poorly lit land of shadows.
The Apostle John has the triumphant Lamb of God center stage in his book. Unfortunately, artists have usually been more preoccupied with the books' horrors. The Lamb of God covered with eyes seems to come across as another freakish curiosity. Even in Dürer's prints, God the father is someone you'd hate to have to face on the bench in traffic court, to say nothing of the great white throne.
The artists represented are better at depicting horror and judgment than glory and forgiveness. Perhaps that's an inherent limitation of art. Or perhaps it reflects the fact that we more easily believe the bad than the good.
JOHN V. LAWING, JR.
'Superstar' Brings Us Together—In Protest
Jesus Christ Superstar, though a theological disaster, has become an ecumenical triumph. Protestants, Catholics, Jews for Jesus, and Jews for Judaism have all joined in denouncing the Universal Pictures production as anti-Semitic. Moishe Rosen and his Jews for Jesus have picketed the film in California, carrying placards that invite viewers to "read the Bible and see for yourself" and not to "swallow this 'super-lie.' " Handouts charge that the film is unfair both to Jews and to biblical Christianity in perpetuating "the anti-Semitic canard that the Jews are 'Christ killers.' " "Superstar forgets that Jesus is not a fallen star.… He is Risen!"
While Rosen pickets for Jesus in California, Rabbi Marc Tanenbaum upholds Judaism in New York. Switching from Key 73 as his prime example of anti-Semitism, Tanenbaum in news releases and in a letter to the Christian Century declares that Superstar is a passion play, a genre that by its very nature tends to be anti-Semitic. (Malcolm Boyd agrees.) Tanenbaum states that "Passion plays—from Oberammergau … to Jesus Christ Superstar … ought to be abandoned voluntarily until some morally sensitive creative artist finds it possible to write one that allows the professed Christian message of love for fellow man and reconciliation to prevail as a dominant motif, rather than hatred and vilification."
Late last month the controversy showed few signs of abating. The Religious Advisory Council of the New York State Division of Human Rights released a statement denouncing Superstar as a "provocation of racial, ethnic, and religious tension." Baptist, Greek Orthodox, Catholic, and Jewish clergy signed the position paper.
Christian Century editor James M. Wall seems to be one of the few to approve the film, which was directed by Norman Jewison (not Jewish), who also directed Fiddler on the Roof. Wall says, "I found the film to be compelling, moving, and visually stunning. It is superb cinema, stimulating theology, and in no way anti-Semitic." Wall differs from prevailing opinion among secular film critics not only in his views of Superstar as a film but also in his attitude toward its theology. Gary Arnold of the Washington Post says that pious people tend to confuse "any representation of Christ's life with the Gospels themselves." And Time critic Paul Zimmerman concludes his review by saying, "How did the tour leader write up that afternoon's outing? 'We danced and sang and Jesus was crucified and a good time was had by all.' Lord, forgive them. They knew not what they were doing."
While the film does possess a certain degree of pathos, it is directed toward Judas, not Jesus. Jewison, following O'Horgan's lead (see December 3, 1971, issue, page 43), makes Judas the hero, the innocent dupe of a ghastly Providence. Judas objects to Jesus' morals in allowing Mary Magdalene to kiss and caress him. ("I don't object to her profession," sings Judas, played by the new black actor Carl Anderson. "It just doesn't fit in well with what you preach.") He betrays Jesus out of fear and a misguided sense of patriotism and then hangs himself out of "innocent" remorse.
Jesus, played by Ted Neeley, looks and acts incompetent, insecure, and petulant. In the surrealistic healing scene Jesus screeches in rock falsetto, "Don't push me. Don't shove me. There's too little of me." He is hardly the son of God or man in this film.
During the agony in Gethsemane the film almost approaches biblical truth. The music moves and the viewer feels the fear Jesus as man must have known. But Jesus' lack of understanding—"Why do you want me to die?—weakens the impact.
Using the play-within-the-play technique, director Jewison manages to end the film with wonder. As the cast reboards the bus that brought them to the desert at the film's outset, each member looks back to the solitary, empty cross silhouetted against a dusky sky. Who is Jesus?
In many scenes with a Christian director and producer the film would have made a very different impact. One viewer as he left the theater said, "No matter what you believe, Jesus makes a good story." What we need, however, is a Christian filmmaker to produce the true story.
CHERYL FORBES
Have something to add about this? See something we missed? Share your feedback here.
Our digital archives are a work in progress. Let us know if corrections need to be made.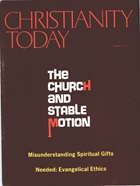 This article is from the October 12 1973 issue.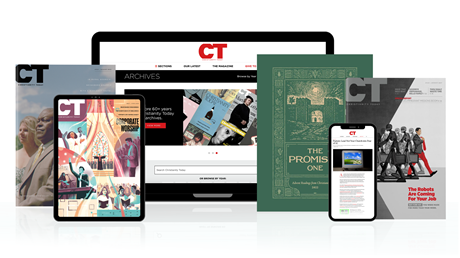 Subscribe to Christianity Today and get access to this article plus 65+ years of archives.
Home delivery of CT magazine
Complete access to articles on ChristianityToday.com
Over 120 years of magazine archives plus full access to all of CT's online archives
Subscribe Now
The Refiner's Fire: Graphics and Film
The Refiner's Fire: Graphics and Film