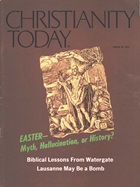 This article is from the March 15 1974 issue. Subscribers can read all of CT's digital archives.
"Bolivia is ungovernable," reported a correspondent for Time magazine shortly after the revolution that thrust Colonel Hugo Banzer, a tough, U. S.-trained anti-Communist, to power in August, 1971. Last month Banzer, 47, hosted the nation's first Presidential Prayer Breakfast in La Paz, with well-known Argentine-born evangelist Luis Palau as keynote speaker. Declared Palau: "Bolivia—or any nation—is ungovernable without God."
Palau was specially invited by President Banzer to address the gathering of 125 cabinet members, military chiefs, and other prominent leaders of Bolivian industry, commerce, and government. In a fifteen-minute evangelistic message the evangelist defined the world's most acute political emergency as a "crisis of the Spirit." He stressed the need for being "on God's side" in every moral conflict, and he urged his listeners, "Never give up in the battle for righteous government."
President Nixon sent a telegram commending Banzer for his "faith in God." Banzer's own remarks focused on his personal prayer experiences. He related that as a boy of 13 he had prayed that "God might permit me to help my people." Thirty years later, he said, he renewed that prayer—just before assuming the presidency. He reiterated his desire to "be in contact with God through prayer," and he called on each citizen and friend present to uphold him and the country in intercession. (Banzer, described as a devout Catholic, reportedly responded last year to an evangelistic invitation in a meeting conducted by Julio César Ruibal, a young lay Catholic Pentecostal evangelist.)
The breakfast was planned and coordinated by Wycliffe missionary Dave Farah, a long-time friend of Banzer. Last year the president appointed Farah to direct a national ...
1
Our digital archives are a work in progress. Let us know if corrections need to be made.
Bolivia: Prayer in a Time of Trouble
Bolivia: Prayer in a Time of Trouble