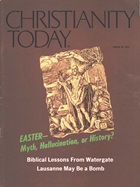 This article is from the March 15 1974 issue. Subscribers can read all of CT's digital archives.
Ze Question Ist …
Some years ago the late Paul Tillich was fond of saying, in his impressive Teutonic English, "Ze question dot efery chilt has asked itself zince reaching der age of zix years ist, How did I come to be part of ze zum totality of being?" This is the root, no doubt, of Tillich's own life-long concern with ontology. I always thought it a bit farfetched until the other morning when my four-year-old daughter asked before breakfast, "Daddy, how did we get to be real?"
My first reaction was, "Already?" And I was preparing to launch into some kind of explanation of biological reproduction. But fortunately my wife was equal to the occasion. Her philosophy is: Never answer a difficult question—ask another. So she asked, "What would we be if we weren't real?"
The answer was prompt: "Puppets."
You see, the second question sorted out the first. My daughter's concern was ontological, not biological. (It's always good to know the question before you give the answer.) She wanted to know about the very nature of being, not about how she came to be biologically.
And her question has a good answer, ontological and theological at the same time: We are real and not puppets because God made us to be able to respond to his love, to love him and serve him.
We take curiosity about biology, especially sex, to be basic and primary, natural questions, so to speak. Ontological questions, those relating to being and the nature of reality, we think of as unnatural, sophisticated, and abstract—questions demanding a high order of intellectuality to pose or answer.
But, in fact, they too are fundamental—and even before the age of six.
The Bible presents us early on with the statement that God made man in his own image. Man is first of all a creature ...
1
Our digital archives are a work in progress. Let us know if corrections need to be made.
Eutychus and His Kin: March 15, 1974
Eutychus and His Kin: March 15, 1974