No one will ever match the generosity of God. In giving his only son to a sinful world, he set a standard that will never be met. People continue to try, though. In their short-sighted way, they keep attempting to give something that is "bigger and better." One of the Texas specialty houses this season is suggesting a bathtub filled with diamonds, and no doubt someone will pay the price for the super present.
In the crop of 1975 Christmas books is St. Nicholas: Life and Legend by Martin Ebon (Harper & Row). The legends surrounding Santa Claus's precursor are many, and the author admits some difficulty separating fact from fancy. However, one of the best-attested tales coming from over seventeen centuries suggests that old St. Nick (then young Nicholas) might have pointed us toward this misemphasis on the monetary value of gifts.
The story goes that a widowed nobleman in his town had three eligible daughters but was unable to find them husbands because he was short of dowry money. Nicholas threw a bag of gold through the window of the nobleman's home for each of the girls. He tried to do it anonymously, according to legend, but he was discovered. Three gold balls are usually shown somewhere in the paintings of Nicholas. These came to be his symbol (and that of "redeeming" pawnbrokers of later times).
If Nicholas did indeed seek to give without credit to himself, he set a worthy example. However, what we seem to have adopted is not the example of anonymity but the idea that gifts mean material things. And we have extended it to mean that the bigger the bag of gold involved, the better the gift.
God's present to the world was a person. He incarnated his love. Christians observing the celebration of the nativity nineteen and three-quarter centuries later need to take a fresh look at God's example of giving. The element of personal involvement is crucial.
Christmas 1975 may be happier for many people because of the offerings of three Christians whose achievements we salute as representative of the kind of giving that counts. Working against great odds and in circumstances where it would have been easy to give up, each of these persons invested the talents God gave him, finally producing a valuable contribution.
These givers we applaud:
• Dr. Olaf Skinsnes, former medical missionary to Hong Kong and director of the American Leprosy Missions Leprosy Atelier at the University of Hawaii. He and fellow scientists have just succeeded in growing the leprosy bacillus in a test tube. The germ was identified first in 1873, but it was not until 102 years later that researchers were able to grow it under laboratory conditions. Discovering the major nutrient necessary for its test-tube growth was a breakthrough that promises new methods for treating and preventing a disease feared since Old Testament times. These scientists—and the people who backed them—gave of themselves for others.
• Director James Collier of the World Wide Pictures hit, The Hiding Place. This movie about Corrie ten Boom and her family in World War II is an outstanding production that shows the power of Christian faith in the most difficult situations. The cast and crew-together with the thousands of people who backed their project—have produced not only an evangelization tool but an engaging alternative to general cinema fare.
• Peter Thompson, a public-relations executive in England and an officer of the Festival of Light organization. He complained to the British Advertising Standards Authority about the use of suggestive pictures and parodies of Christ's sayings in advertisements of "Jesus Jeans." The authority upheld his complaint on grounds that the material in question brought the advertising industry into disrepute and was against the interests of public decency. Thompson and his supporters have given us a good example to follow of standing up for Christ in the marketplace.
These examples are representative of the kind of giving that really counts at every season. Christians everywhere should be encouraged to take stock of their talents, whether great or small, and to dedicate them to the One who gives "every good gift and every perfect gift."
Who Is And Isn'T?
Anyone who occasionally needs a few facts about people on the American religious scene will welcome the appearance of the first edition of Who's Who in Religion, prepared by the reputable Marquis organization, which publishes Who's Who in America and numerous other specialized directories. The new volume should be in all academic, public, and media libraries. Its editors are to be thanked for undertaking a task that surely was difficult, given the enormously complex religious scene.
Before faulting them for the absence of persons who should obviously have been included, the reader should realize that many potential biographees ignored the invitation to furnish information and that others declined to respond because of modesty, theology, or other scruples. In a few such instances Marquis prepared an entry anyway. (Regrettably, in doing so they perpetuated one of the most common misspellings in journalism. Take note: Carl McIntire has no y in his name.)
Some of the omissions are interesting. The late Paul Little is included, but his superiors—Kenneth Kantzer of Trinity Seminary and John Alexander of Inter-Varsity—are not. (But the other John Alexander, editor of The Other Side, is in; does that make him "establishment"?) Billy Graham is in, but Leighton Ford is not. Nor is Norman Vincent Peale. The Bob Joneses are out, but then so is Harold John Ockenga. Doubtless someone looking for prominent names of ecumenical, Catholic, or Jewish affiliation could also find omissions.
But no such reference work, especially in its first edition, can be expected to be all-inclusive. Chances are you'll find the name you're looking for at least a third of the time, which is a pretty good batting average. If you happen to be looking up someone on the CHRISTIANITY TODAY staff, your chances are a lot better: the publisher and five of our seven editors are included. (The two who are not had declined the invitation.) Could that make us less than starkly objective in our evaluation of this reference work? Of course not!
The Last Word
Isn't it a bit odd that people on virtually the whole earth will pause to give gifts to one another on December 25? And isn't it odder still that the day for doing it marks the birthday of Jesus? Why should the birth of this one man occasion a holiday celebrated by people of every language and nation and tribe? And why is it that for many who celebrate it Christmas is Christless?
From the biblical data we know that Christmas tells us about the greatest gift of all and the deepest mystery of the Christian faith. God sent his Son: what a gift! God became flesh: what a mystery! This Jesus sent by the Father is called the Word. He is the first Word, for he was one with the Father in eternity. He is the living Word, for through him comes life everlasting. He is the Word made flesh, who dwelt among us. But how can human beings hear of this Word?
At this Christmas season we need to celebrate not only the Word made flesh but also the inscripturated Word, the Word of God written, the Scriptures of the Old and New Testaments. This issue of CHRISTIANITY TODAY is devoted to both Words—the Word made flesh and the Word inscripturated. At this Christmas season there is a new and pressing need for God's people to pay special attention to the Word written, which reveals to us the Word incarnate. We need to remind ourselves that it is only through this written Word that we come to know the living Word. This Word has for its purpose revealing Jesus to us. And this Word must be a true word from God that can be trusted if it is truly to reveal Jesus.
There is, however, a difference between the written and the incarnate Words that we should not overlook. Both are essential. But one is the sun, the other the moon that reflects the sun's glory. And this leads us to the last word, which is really the third word.
The Jesus who came is the Jesus who is coming! That is the third word of hope and comfort at this Christmas season. And he comes to have the last word. When this happens, a great change that will take place, a change that suggests the dynamic relationship between the living and the written Words. When Jesus comes we will no longer need the written Word. We will have the living Word, who comprises in his person all that is to be found in the written Word and all that remains to be found out that we do not now know.
When Jesus comes he will be the last word, and that is all we will need. So let us celebrate the Incarnation, but let us celebrate in advance the second coming of the first Word, who will be the last Word and the final amen to all our labors.
Jane Austen: Revelation And Ridicule
An English professor once remarked that when the events of the day and the Washington Post editorials became too oppressive, he recommended a strong cup of English tea and a Jane Austen novel or two. Although Jane Austen, who was born two hundred years ago on December 16 in a Hampshire rectory, ignored the political upheavals occurring on the Continent—the Napoleonic wars and the French Revolution—she captured through her clear vision of a narrow sphere of society those sins that ultimately cause wars and revolutions. Reading any of her six novels—Pride and Prejudice, Emma, Mansfield Park, Sense and Sensibility, Northanger Abbey, and Persuasion—is not an escapist exercise but an amusing, biting look into our own lives. And she accomplishes this in a prose style deserving of the adjective "limpid." Her writing seems effortless, her diction inevitable. Her language is clean and precise, realistic without a hint of vulgarity.
Few of us could read the opening paragraphs of Persuasion, Austen's last novel, without recognizing that Walter Elliot's pride is our pride. The catty backbiting of Miss Bingley in Pride and Prejudice and the I-know-best attitude of Emma in the novel of that name are both common faults. Jane Austen's estimate of Christian forgiveness is all too realistic: "You ought certainly to forgive them as a Christian, but never to admit them in your sight, or allow their names to be mentioned in your hearing."
Other novelists may show us the same sins as Jane Austen, but few combine revelation with ridicule, compelling us to laugh at ourselves. Certainly that is a good antidote to thinking ourselves better than we are. Aspiring Christian writers, whether novelists or journalists, will find in reading her a fine craftswoman and teacher in the art of writing clearly, succinctly, and well.
For those who have missed the pleasure of reading one of the greatest English novelists, or for those who have not opened Mansfield Park or Sense and Sensibility in some time, the two-hundredth anniversary of her birth is a good excuse to do so. Or plan a Jane Austen party. Get a group of friends together to read aloud, laugh with, and learn from the first first-rate woman novelist. After all, this is the International Year of the Woman, as well as the Jane Austen bicentennial.
A Manuscript Worth Watching
When they reached freedom in Thailand the missionaries who had been captives of the Vietnamese Communists until the end of October said little of the hardships they had suffered.
Throughout their captivity, John and Carolyn Miller had been able to hold on to their manuscript of the New Testament in the Bru language. For fourteen years they had worked with this tribal group in Viet Nam, attempting to provide God's Word in their own tongue. The New Testament manuscript they carried into prison (complete except for the first two Gospels, which were lost at the time of their arrest) was the final checking copy. While earlier drafts were on file outside Viet Nam, this copy was invaluable because it had corrections and additions that the other copies did not have. Every line had been examined by Bru language advisors. It was almost ready for the printer.
Then, just before their release, the manuscript was taken from them. Mrs. Miller later reported that they had tried to persuade their captors not to keep the manuscript, appealing to the generally accepted practice of allowing scholars to keep the results of their research. The Communists were unconvinced.
Although this sheaf of papers represented a large investment of the lives of this Wycliffe Bible Translators couple, they did not despair when it was seized. Miller told an interviewer after they returned to the United States, "We have to let God be God and order our priorities and our lives according to his will.… There was nothing we could do about it but feel this is God's Word, it's his work, and the Scriptures say that his Word will accomplish what he sets out to accomplish."
Christians everywhere should take a lesson from this chapter in the history of efforts to evangelize Southeast Asia. They should realize anew that while there is time, they should sow God's Word faithfully. He will bring it to full flower in his good time. Meanwhile, it is worthwhile to keep the spotlight of public opinion on this manuscript, especially in this day of detente, when the world powers are supposed to be committed to the exchange of ideas between peoples.
Christmas Is For The Old
Christmas is for children, it is said, and it's true. Our conception of Christmas can hardly be separated from the pleasant thoughts of childish eyes gleaming in the light from the tree, sparkling with the anticipation of longed-for toys; childish ears never tiring of often repeated Christmas stories and songs; childish voices reciting verses at church and school Christmas programs.
But Christmas is just as much for adults. The central figure in the biblical narrative is a child. But his parents, the shepherds, and the Magi were adults, probably young and middle-aged. And when Jesus is brought to the temple soon after his birth in accordance with the law, the Bible directs our attention to two old people (Luke 2:22–38).
Both Anna and Simeon testified to the coming redeemer. Anna, who either was eighty-four years old or had been a widow that long, did not use her age—or her sex—as an excuse to keep from speaking of Christ "to all who were looking for the redemption of Jerusalem." Let the Christmas season be a special time for remembering the long faithful Simeons and Annas in our midst.
Have something to add about this? See something we missed? Share your feedback here.
Our digital archives are a work in progress. Let us know if corrections need to be made.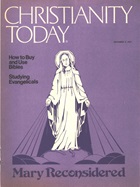 This article is from the December 5 1975 issue.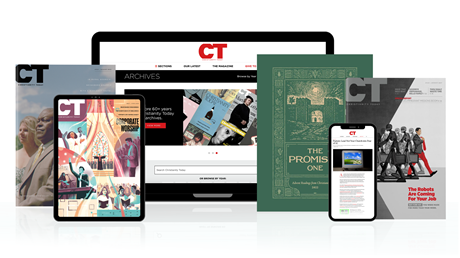 Subscribe to Christianity Today and get access to this article plus 65+ years of archives.
Home delivery of CT magazine
Complete access to articles on ChristianityToday.com
Over 120 years of magazine archives plus full access to all of CT's online archives
Subscribe Now
The Personal Gift: Better than Gold
The Personal Gift: Better than Gold