The Sweat War Escalates
I consider myself somewhat of a jock. I try to play a little racquetball, a couple of sets of tennis, and a few games of basketball whenever I can. I run some. I swim some. I've tried aerobics, the "bull-worker," and when I was in grade school I even invested in a mail-order bodybuilding course. It didn't work.
I also watch televised sports. I sat glued to the tube during the Olympics. I enjoyed them immensely. But after reading my morning paper, I've decided I've had enough. The Olympics have got to change and they've got to change now. Or I may boycott them in 1980 (I bet the Russians would be stung by that!).
What lit my fire today was a quote from Arnie Robinson, the long jumper from the United States who won the gold medal. After he had given his wife much deserved credit for putting up with him throughout four years of training, he said: "Unless the government steps in and helps out athletes, by 1980 we're really gonna get killed. You think we're doing badly here, we won't win half as many medals in Moscow. We're way behind. I think our government is wealthy enough to give the top five or six athletes in different events, maybe the first ten, $10,000 a year to live on. We need that and we need training sites and coaches. Our coaches are far below those in other countries.
The Olympics have become the Sweat War (as opposed to cold and hot wars). What was originally designed to be an event in which athletes from around the world gathered to compete in an atmosphere of brotherhood and good will has now become a giant political/propaganda campaign. And Arnie Robinson thinks he has the answer for the United States—Escalate!
But I wonder if Arnie, in the midst of his long jumping, had time to count the number of events in the Olympics. I did. I went back to my July 19 Sports Illustrated (I subscribe and save them too—can my jockness be doubted now?) and counted 196 separate events, some of which involved teams. Does Arnie want us to pay 10 people x 196 events x $10,000 plus provide coaches, salaries, training facilities, and so on? That's $ 19,600,000-plus.
Perhaps Robinson wasn't planning to subsidize those athletes in "1000 meter kayak fours" or "small-bore rifle three positions." But I don't think we should discriminate, do you, Arnie?
Besides … who cares which country wins what? I don't feel humiliated when the Hungarians win water polo. I don't think we should nationalize that game! Who cares if the East Germans want to spend millions of dollars and people-hours producing champions? Who cares if the American girls don't want to lift weights to prepare themselves properly for swimming victories because they're afraid they'll lose their femininity? If they'd rather preserve femininity than gold medals, I couldn't care less.
Let's put the games in perspective.
Let's return them to the athletes and the fans and forget the politicians. Banish overt nationalism. Do away with the flagraising and anthems after each medal. Support the athletes with some government aid so they can compete in the Olympics and other international games, but let's not subsidize athletics a la Robinson. If we do, hard-working long jumpers won't have their wives to thank. And I'm all for wife appreciation.
EUTYCHUS VII
Ever A Challenge
Just a word here to express my thanks for the entire issue of June 18, particularly the needed and well-expressed, "Must We Devastate to Deliver," by William H. Willimon. There are few pastors, I believe, that have not had people come to them in real frustration because they simply could not find in themselves the self-abasement, and the (to them) phoniness of claiming to be nothings in order to become and be "true Christians." And there are also those whose lifestyle and approach to their fellows have been far above any reasonable reproach [and who] find the often fantastic stories of conversions from utter degradation and vileness so far removed from their own experience that they question their own faith.… "Social Concerns in Christian Missions" by Richard V. Pierard was excellent, though I do hope the word in the opening sentence is "carriers," instead of "barriers," for if not, I think I have lost my ability to read this English.… CHRISTIANITY TODAY is ever a challenge, and occasionally you seem to outdo yourself in speaking to me—so this note to urge you to keep up the good work, a lot of us here in our various fields depend on it!
GEORGE C. WESTEFELDT
Zion Congregational Church
Lind, Wash.
•The word in question should have been "bearers."—ED.
To Cancel And Remove
This is it! When I saw the [advertisements] in your magazine with regard to Mr. Carter, I decided that I have had enough of your magazine. I am evangelical but I am positively not supporting Carter in his "sheep in wolves' clothing" campaign for the White House. And I refuse to have your magazine place such publicity before me. Therefore, I wish to be removed from your mailing list, your publicity list, your advertisement list, and please, forthwith, cancel all remaining issues of CHRISTIANITY TODAY coming to my address
RAYMOND T. MORELAND
The United Methodist Church
Mt. Carmel-New Market, Md.
As a subscriber to your conservative (?) magazine for many years, I am wondering about the two Carter ads in the July 16 issue. It surely sounds to me that you are endorsing Jimmy Carter for president. These ads are the first political ads that I remember seeing in your magazine, but there may have been others.
I think these ads—which must have been written before the acceptance speech—very highly overrate Jimmy Carter. Especially the one which advertises "The Miracle of Jimmy Carter." The spiritual odyssey of Jimmy Carter? Maybe spiritual "oddity" would be more fitting. Isn't it odd that a man with such a spiritual reputation never once mentioned God, or Christ, or prayer, or spoke of his need of God's guidance, in his acceptance speech?…
I think you should be more careful in your political advertising—in fact, I wonder if you should accept such ads? These may not be an endorsement, but they do indicate your approval. I am a Republican, but I am prepared to vote as the Lord leads me regardless of party.
(MRS.) PHYLLIS C. REISIG
Spring Valley, Calif.
•When an insurance company runs an ad in Time Magazine, it does not mean that the magazine endorses that company over others. Nor did our accepting the advertisements of the evangelical group "Citizens for Carter" and of the Logos book about Carter mean that we are promoting Carter. We would also accept advertising of evangelicals for, or a book about, the Republican candidates.—ED.
Special Privilege?
Having just read the June 18 issue of CHRISTIANITY TODAY, I am appalled at the … control Dr. Carl F. H. Henry has been given. In the letters section he was permitted to give his rebuttal … to two letters from different seminary professors. Seemingly, he is privileged to "have the last word."
In his review of Senator Mark Hatfield's book he [preaches] mini-sermons, [offers] his own exegesis in compact form, and [concludes] by telling us what "the Christian knows." This … does not seem in keeping … with the high quality which CHRISTIANITY TODAY has attempted to attain.
AL LUSTIE
First Baptist Church
Ellensburg, Wash.
Hunger Reaction
Congratulations on your July 16 issue with its outstanding emphasis on the thoroughly biblical concerns of poverty and hunger. It should do much to heighten evangelical awareness of these worldwide problems and lead to personal action regarding them.
FRANK E. GAEBELEIN
Arlington, Va.
In contrast to the usual scholarly style of CHRISTIANITY TODAY, the issue on hunger was a disappointment.… As an agricultural economist, I must … ask … how would the suggested changes be transcribed into more food in the hands of poor nations. In "A Case Against Waste and Other Excesses" how would eating less meat and less marbled beef result in more food for poor nations? A lower meat demand would likely result only in less meat produced and with lower meat and grain prices. Again, the linkage to poor nations is obscure. The article states, "If the immense quantity of grain saved were distributed to hungry people around the world it could prevent starvation world wide." This may be true, at least in the short run, but how do you get the distribution? Eating less meat in itself won't do it. Additionally, it could be argued that rich nations waste resources in more foolish ways than through their eating habits—such as in big cars, liquor, etc.
"Mischief by Statute" describes international trade patterns, resource use, and eating patterns as "social evils." Designating these economic manifestations of economic development as "social evils" may make things simpler but no light is shed by so doing. Would the food balances in poor nations be better by changing international trade patterns? No, not without revolutionary sacrifices from rich to poor nations and that is something else. Would less resource use (also less resource development) by rich nations benefit hungry nations or similarly a change in eating patterns? No, not in themselves and in all of these the capacity to really help could be reduced by doing so.
The biblical challenges regarding the feeding of the poor in relation to preaching the gospel could well stand a scrutinizing examination. The manner in which it might be done as a Christian response is another question. Is the State Department an agency of … Christianity?
In any event, if long-run aid solutions are found, in whatever form they take, direct sacrifices of a large nature would need to be made by rich nations. This would involve more than not eating well-marbled meat.
GLENN A. HELMERS
Lincoln, Nebr.
Hypocrisy? Or simply inconsistency? The apparent concern for the hungry as expressed on the front cover—an excellent illustration—stands in marked contrast with the advertisement about "being a successful Christian businessman" on the back cover. Sitting on a fence in high winds is perilous, not to mention obnoxious. Stand on the side of the poor, or you will fall.
GORDON HOUSER
Newton, Kans.
You have done a significant service for the churches with your special issue on hunger and poverty. I hope you'll do an occasional follow-up article so that you will keep us all reminded that the problem will be with us for a long time.
W. STANLEY MOONEYHAM
President
World Vision International
Monrovia, Calif.
Have something to add about this? See something we missed? Share your feedback here.
Our digital archives are a work in progress. Let us know if corrections need to be made.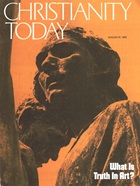 This article is from the August 27 1976 issue.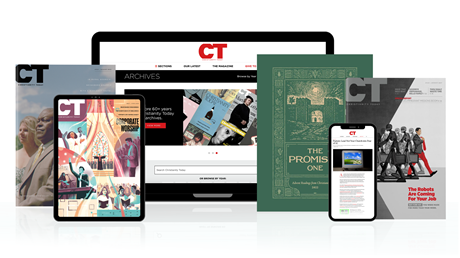 Annual & Monthly subscriptions available.
Print & Digital Issues of CT magazine
Complete access to every article on ChristianityToday.com
Unlimited access to 65+ years of CT's online archives
Member-only special issues
Subscribe
Eutychus and His Kin: August 27, 1976
Eutychus and His Kin: August 27, 1976