On an early June day in 1803 the future president, James Monroe, in London to negotiate a trade treaty, wrote such a charming letter to William Wilberforce, the celebrated leader of the campaign to abolish the slave trade, that Wilberforce nearly jumped into his carriage at once in order to make Monroe's acquaintance. The two men met shortly afterwards and became lifelong friends.
Wilberforce never visited the United States, but he remains a figure of great importance to American history, since without his twenty-year campaign in Parliament against the British trade it is doubtful whether the American slave trade would have been simultaneously abolished by Congress in 1807. Moreover, Wilberforce belongs to the whole world, not merely to the country of his birth, and is specially significant for the present time as a preeminent example of a Christian statesman, a proof that a faithful Christian may indeed achieve much good in the political arena.
Wilberforce was a delightful character, whom to know is to love, as I discovered when researching among the magnificent collection of his letters in the manuscript department of Duke University Library at Durham, North Carolina, and in more than one hundred deposits in eighty locations, public and private, in Britain and America. He was tiny, and looked rather like Pickwick, except for a remarkably ugly nose. He had a wonderful smile and he laughed a lot; he had a voice that, whether you were listening to him in Parliament or in conversation in a country house or a London drawing room, made you long to hear him more.
Although he had wasted his years of formal education, he educated himself later and had a well-stored brain. He had great mental energy, though he inclined to dissipate it in attempting too many things at once. His strong sense of purpose prompted a slave trader to complain that "it grows more vigorous from blows." Yet, above all, his friends would remember "that peculiar sunshine which he threw over a company by the influence of a mind perpetually turned to love and praise."
In his boyhood, after the early death of his father, a rich merchant in Yorkshire, he had lived with an evangelical uncle and aunt and had been much influenced by John Newton, the hymnwriter and preacher who once had been a slave trader. Wilberforce's mother took fright at this evangelical influence, removed him, and scrubbed his soul until Newton could say sadly of the young member of Parliament and bosom friend of Pitt the Prime Minister that nothing Christian was left in Wilberforce except for an unusually high moral tone.
Then, in 1785, Wilberforce underwent a prolonged, agonizing, but thorough conversion (perhaps, theologically, it was a rededication) to the Christ of his boyhood, through the influence of a brilliant mathematician, Isaac Milner, and their reading the Bible together, which became Wilberforce's best loved book, "written to plain unlettered men in a plain popular way.… My judgement rests altogether on the Word of God," he would say.
His conversion released a flood of compassion as he looked around at the hundreds of causes that tugged at a perceptive young Christian's heartstrings in the England of the late eighteenth century. He had already begun to be a social reformer when his zeal focused on that most terrible of man's inhumanities to man, the Atlantic slave trade. This, for hundreds of years, had torn men, women, and children from their homes in Africa and forced the survivors of the voyage into brutal slavery in the sugar cane and cotton fields of the New World.
Wilberforce had become concerned first for the condition of the slaves. Then he realized with horror the criminal damage inflicted upon Africa. Only from that did his mind move to the trade itself. It was the fearful mortality of the "Middle Passage," the long voyage of the slave ships, that finally convinced him: "As soon as I had arrived thus far in my investigation of the Slave Trade," he would tell the House, "I confess to you so enormous, so dreadful, so irremediable did its wickedness appear that my own mind was completely made up for Abolition. Let the consequences be what they would, I determined I would never rest until I had effected Abolition.… When we think of eternity, and of the future consequences of all human conduct, what is there in this life which should make any man contradict the principles of his own conscience, the principles of justice, the laws of religion and of God?"
At first in 1786 he forecast quick success, for there was already a strong current of disgust with the trade, both in Britain and in the United States, though no one dared wish the economic ruin that was expected to follow Abolition. Wilberforce believed also that slavery itself would die a natural death once the source of slaves had dried up. But disappointments and parliamentary defeats put him back, year after year. His health broke and forever after he was kept alive by opium, which the medical profession of those days regarded as a "pure drug" carrying no moral obloquy, though the cure itself wreaked some havoc on Wilberforce's physique and affected especially his eyesight.
The slave trade lobby used every art and subterfuge, including the threat that if an abolition bill was passed by the Westminster Parliament, the British sugar islands in the Caribbean would declare themselves independent and apply to join the United States. Threats, fears, and personal abuse could not dissuade Wilberforce. He told one friend that although in other matters a politician might be free to push or to hold back as tactics dictated, yet "in the present instance where the actual commission of guilt is in question, a man who fears God is not at liberty." If he thought immediate abolition would "cause an insurrection in our islands, I should not for an instant remit my most strenuous endeavours." His sons, when quoting the letter in their official biography, expunged this revolutionary sentiment.
Throughout the twenty-year campaign for Abolition, Wilberforce showed himself a masterly politician. Indeed, it is as a statesman, empowered and directed by faith in Christ, that he stands or falls and not, as his sons tried to make out in their dreary five volume biography, as a religious person who happened to be in politics (and as their religious views no longer coincided with their father's when they wrote, they sought to fashion him into something other than he had been, and the real, delightful, many-sided Wilberforce disappeared for nearly 140 years).
Wilberforce proved to an age of political corruption that Christian principles may be followed without compromise; indeed, he was mainly responsible for the great change that gradually spread across public life, turning, as it were, the eighteenth century with its venality and jobbery into the nineteenth century with its probity. Wilberforce fought bribery and nepotism. He set such high standards, and his great achievement of Abolition brought him after 1807 such unique prestige, that his influence eventually pervaded and directed the broad stream of public affairs, though he never held office.
He is a proof that a Christian statesman of whatever nation can change the times in which he lives, though he cannot do so alone. It is a matter of history that for two generations at least after Wilberforce the British character was molded by attitudes that were essentially his; that a Christian social conscience attacked the abuses that had grown up in the more pagan age that had coincided with the early industrial revolution and that a Christian compassion relieved its victims.
Wilberforce was a social reformer who touched all manner of causes at home and abroad, from prisons, hospitals, the morals of the rich and the wages and relief of the poor, to the recruitment of the clergy, the distribution of the Bible, and compensation to Africa.
He always emphasized that social progress needs a Christian base. And it was for this that he was hated by the Radicals, the loudest-voiced social reformers of his day. They even spread the libel that however much he loved black slaves abroad, he cared nothing for the white "wage slaves" of England, a libel of which he was painfully aware and which the twentieth century accepted as fact: the truth may now be known. Wilberforce, for his part, rated the Radicals positively dangerous because they excluded Christ: they conceive, he wrote, "that they may safely avow the most unqualified hostility to religion as in itself a delusion, and as being at war with the morality and happiness of mankind."
In this context Wilberforce has a message for the present generation in the free world, where there is a tendency among social reformers to dismiss the Christian faith as if it were irrelevant or a tiresome side issue, or, as, among the Radicals of his day, a delusion. For Wilberforce's description of the Radicals may be unerringly applied to the leaders of the Soviet Union today; and the state of human rights in Russia is proof of what happens when atheism seizes control. His principle is vindicated: Christ must be at the heart of social progress.
Furthermore, Wilberforce believed that the destiny of a nation lies safest with men of strong Christian principle; that when a public man submits to Christ it is his most important political as well as personal decision. Thus, with all Wilberforce's reforming zeal and ceaseless philanthrophy went a deep desire to bring his fellow politicians—and all men—to Christ. Wilberforce was not merely a man of principle but an evangelist, by word and by pen. "Pray for me, my dear friend as I do for you," he once wrote to Pitt's brother-in-law, the member of Parliament for Cornwall who died on the eve of his appointment as governor-general of India, a man little better than an infidel (by his own admission) before Wilberforce led him to Christ. "Pray for me.… we can render one another no more effectual service."
As the life story of the great abolitionist unfolds, a whole gallery of Christian men in public service may be found who traced their conversion to him as far as human agency was concerned; and it was one of his greatest disappointments that William Pitt refused Christ, though Wilberforce hoped and prayed and labored until the very end, for he knew there was no substitute for Christ, by his Spirit, as the lynchpin, the guide, the driving force of private and public life, the live builder of a nation.
To this end he worked also to strengthen the churches. He was a century ahead of his time in that he served gladly alongside sincere Christians who did not fully share his own theological views, instead of vilifying them in the manner of contemporary doctrinal disputes: it was only a short time since Toplady, author of Rock of Ages, had poured verbal vitriol over John Wesley. But Wilberforce held that "Niceities and Subtilties are the ruin of Religion." "There are no Names or distinctions in Heaven," he would say, and he labored to unite rather than to divide, to encourage rather than to discriminate against those who did not go all his way in the doctrine of churchmanship, provided they loved the Lord Jesus.
In later years Wilberforce became physically very infirm. He wore a steel girdle and his head fell forward on his chest except when raised by conscious effort: he would have been grotesque except for that wonderful smile. Infirmity did not dampen his spirit or his good humor, or dim the vision of his campaigning. He used all his parliamentary and diplomatic art after Abolition became law in 1807 to ensure that it was enforced. Once, he and his colleagues learned that illicit English and American slave ships were running up the stars and stripes when challenged by a British cruiser and the British ensign when stopped by an American. He wrote at once to Monroe, then a private citizen; with almost absurd humility (for Wilberforce was now world famous) he begged him to make his name known to President Jefferson, enclosing a long letter for the White House. This led in time to an Anglo-American convention whereby warships of either nation might arrest the slave ships of the other.
At this time slavery itself continued in its cruelty, whereas Wilberforce had supposed that after Abolition the slaves, now irreplaceable, would gradually be transmuted into a free peasantry. His miscalculation distressed him until he actually believed that but for the blood of Christ he would be damned for his failure to free the slaves.
He launched a war for Emancipation, knowing that probably he would not be able to finish it, and bringing in Thomas Fowell Buxton to take on the leadership if necessary. He did so in 1825 when Wilberforce, by now the most celebrated man in England after the Duke of Wellington, retired from Parliament following a serious illness.
He lived eight years more. By a pleasing providence he heard three days before his death that the Emancipation of Slaves bill had been passed by the House of Commons, ensuring its swift enactment. The slave trade had long been reduced to a trickle of illicit voyages except for the Spanish and Portuguese traffic, which Wilberforce had tried and failed to kill; slavery itself had now been killed throughout the British Empire—all because a little man had stayed faithful to Christ.
John Pollock is the author of more than a dozen books. His latest volume is Wilberforce, published by St. Martin's Press.
Have something to add about this? See something we missed? Share your feedback here.
Our digital archives are a work in progress. Let us know if corrections need to be made.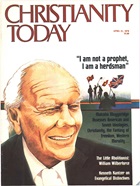 This article is from the April 21 1978 issue.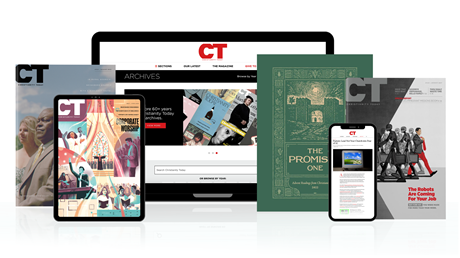 Subscribe to Christianity Today and get access to this article plus 65+ years of archives.
Home delivery of CT magazine
Complete access to articles on ChristianityToday.com
Over 120 years of magazine archives plus full access to all of CT's online archives
Subscribe Now
The Little Abolitionist, William Wilberforce
The Little Abolitionist, William Wilberforce