China and Kenya present contrasting challenges to churches and missions strategists. China is closed and Kenya is open; in China, Christians are underground for the most part, while in Kenya, they are not only highly visible but even active in government.
China, of course, stands as an awesome challenge to the church. After World War II it appeared that the churches were on the verge of launching a major missionary offensive, but then the Communists took over and missionaries were expelled. Since then, much thought has been given to "lessons" from China. It remains to be seen how well U.S. Christians and missions agencies have learned from the past. There is a great divergence of opinion, even among Chinese Christians themselves, about how to respond to the Communists' apparent relaxing of strictures against Christian worship and evangelism.
Because things have gone so well in Kenya, not only for the churches but also for the country as a whole (its political and economic stability are rare in postcolonial Africa), supporters of missions have not thought clearly enough about church-mission problems there. One would think that after nearly a century of missionary work problems of transfer of power and real estate would not be so difficult to solve, but they are. Lest we be too critical of missionaries and Kenyan believers, remember that the American church scene is littered with the wreckage of power struggles over authority and real estate.
What is needed with regard to both China and Kenya and other countries as well is not only zeal to attain appropriate goals of evangelism and national church authority, but also wisdom and patience. What is not needed is American know-it-all activism. China will not be budged by clever Christian schemes, nor will the church in Kenya come to full maturity by facile applications of new management techniques. Unique historical and cultural factors must be studied before quick fixes are proposed. Chinese and Kenyans themselves must be given full partnership in decision making. At the same time, U.S. Christians must apply hard-headed thinking to missions in the contemporary context. The day of traditional missionary outreach is not over by any means, but fast-changing world events require careful evaluation of missions strategies.
For those children born in the 1970s, life may be difficult as they move into the 1980s. Though the International Year of the Child has passed, our need to confront the issues that bear upon children continues. Some of these issues are as follows:
Unborn children. The lives of millions of children have been ended before birth since the Supreme Court legalized abortion in 1973. At least a million abortions take place annually. Yet evangelicals either have failed to come to grips with the problem or have disagreed on how to combat it through the U.S. legal system.
Young children. As inflation eats into our paychecks and our often-affluent lifestyles, more and more families find they need two incomes to pay their bills. Single-parent families are becoming more common, even among evangelicals. These two phenomena will lead more parents to entrust their children to day-care facilities in the next decade. How should evangelicals respond? Should they resist the two-income syndrome, or work to upgrade the quality of day care—or both?
Child abuse and neglect continues to be one of the most difficult problems to identify and deal with in our society. Some have estimated that one million children suffer abuse each year, and that 50,000 children have died from abuse during the past decade. If there is a trend in child abuse, it is toward greater incidence of incest and sexual abuse. According to one estimate, possibly one in three female children is sexually molested. Parents Anonymous, a self-help group for parents who have abused their children, now has 900 local chapters throughout the country.
Television influences young children in ways that we are only beginning to discover. The average child spends six or seven hours in front of the set each day. Many families decry the negative effects of the public schools on their children, yet allow their children to spend each afternoon and evening watching TV. Federal agencies have set forth proposals that restrict TV advertising aimed at children and that require broadcasters to carry minimum amounts of educational programming. Christian parents need to define clearly their attitude toward TV, especially as it relates to their children.
In the public schools, secular humanism still reigns as the dominating force. More and more parents, especially Christian parents, are considering sending their children to private Christian schools instead. (Joe Bayly offers a persuasive case for this alternative on page 25.) Other parents, for various reasons, prefer to keep their children in public schools. In either case, responsible Christian citizens will endeavor to provide salt and light for public education by running for school board posts or landing teaching positions.
The prospect of greater government regulation of religion poses problems for Christians involved in both public and private schools. Christian teachers in public schools may fear sharing their alternatives to secular world views: administrators of Christian schools may fear losing their tax-exempt status unless they meet a growing list of government standards.
Teen-agers. Perhaps no group in our society is forced to grow up as quickly as the teen-age group. Problems that primarily used to affect older age groups now have gotten hold of teen-agers. Sexual activity among teens is increasing. One study estimated that 20 percent of teen-agers have sexual intercourse before they reach 15. The church in the 1980s will need to nail down a biblical sexual ethic and teach it openly to its children.
Drug availability and use is now common even among junior high students. Perhaps of greater concern is the rising use and abuse of alcohol by teen-agers. Early in 1979 the Department of Health, Education, and Welfare said that the number of teen-age "problem drinkers" is 3.5 million and growing. Another study showed that 90 percent of today's teen-agers have tried alcohol, compared with an average of 53 percent in the 1940s and 1950s. According to one specialist, the two biggest reasons for this rise are parents who drink, and television.
In the past year several states have raised the drinking age in order to curb teen-age alcohol abuse. Christians should consider these and other legislative means of facing the problem, reemphasize the biblical teaching on moderation, and weigh seriously the possible side effects of drinking alcohol themselves, even moderately.
These are important, timely, and complex issues. The facts clearly show that churches, parents, and youth counselors have enormous responsibilities ahead. Creative thinking, disciplined planning, and realistic listening are needed. We cannot fall into the pattern of so many politically mandated solutions that offer only money and bureaucracy. The spiritual, social, physical, and emotional demands of youth today go beyond the prescription of new committees, conferences, and curriculum materials. Total involvement and cooperation of church, home, and professional agencies are required.
The telephone company makes money because people are friendly and like to talk to each other. Company ads make you feel guilty if you don't call up your grandmother or your old high school classmate once in a while. But, the company has encountered some unexpected resistance: a considerable number of people who simply do not call long distance. Of course, some of them don't have any friends, classmates, and relatives to talk to in other towns and states: but in addition, company researchers have found an even greater number of people who just don't want to talk to grandma, army buddies, and even their own children—at least not on the telephone. The company calls these people "detached communicators."
Says the advertising agency that produces those warm, sentimental long-distance commercials you see on television: "We can beam commercials all year long at these people, and tell them about our terrific rates, and get them humming our theme song, but we can't get them to care about their friends enough to call them."
"Detached communicators" seems a fitting label in this case, because it so aptly depicts one of the most predominant social trends of our time. If the phone company has trouble reaching these people, what about the churches? Certainly many of these same people see no need for what the church calls "body life" or fellowship. The New Testament offers a quality of human relationships that is totally foreign to "detached communicators." People who enjoy the support and encouragement of brothers and sisters in Christ must somehow build bridges of confidence and trust to people who don't care even enough to make a phone call.
Have something to add about this? See something we missed? Share your feedback here.
Our digital archives are a work in progress. Let us know if corrections need to be made.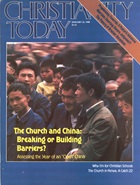 This article is from the January 25 1980 issue.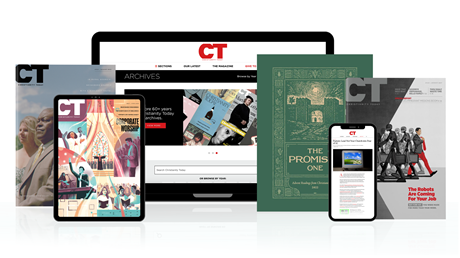 Subscribe to Christianity Today and get access to this article plus 65+ years of archives.
Home delivery of CT magazine
Complete access to articles on ChristianityToday.com
Over 120 years of magazine archives plus full access to all of CT's online archives
Subscribe Now
China and Kenya: The Same Problem Coming or Going
China and Kenya: The Same Problem Coming or Going