The perversion of cable television
The los angeles times told of an ironic situation when actor Paul Newman ordered his family TV turned off because his children were watching his own performance in the movie Slap Shot. He didn't want them to hear such bad language.
But bad language is kindergarten stuff compared to the so-called adult movies now available on cable television. In New York City, there is a variety sex show on cable that features rape scenes and lesbianism, along with sex shop commercials and ads for pornographic books and a male escort service.
What is happening on cable TV requires Christian vigilance and concern. Lest anyone think the problem is limited to New York and Los Angeles, the Wall Street Journal featured a front-page story about citizens in the Bible-belt town of Monroe, Louisiana, who are paving $2.95 a month to watch soft-core pornography on their own TV sets.
A major topic at the recent national convention of cable TV operators was whether they should get into X-rated movies; R-rated films are standard fare, the only question being that of "proper" times to broadcast them. Two of the leading promoters of programs featuring nudity, profanity, and violence already have 150,000 subscribers.
Of course, cable television offers many potential benefits. Subscribers enjoy making choices from up to 60 channels, rather than from the limitation of the three major networks. But the market is highly competitive for programming, which is where the most serious problems arise. Concern is certainly not misplaced, if one looks at the booming market for "adult" titles of videocassette films.
It is possible for Christians to make a difference in what is aired on cable. For example, expressions of disapproval from the citizens of Barrington, Illinois, led city fathers there to write in a ban on porno films before they granted a cable TV franchise. The city council of Fort Worth, Texas, banned X-rated movies from cable and required that the company provide subscribers with a free TV set locking device so children could not watch certain channels.
Morality in Media has drafted a sample ordinance for municipalities. The best way is to proscribe pornography on cable before franchises are made available.
In addition to speaking up at city ordinance hearings, Christians can work to improve the programming on cable TV. Cable systems with public access channels often make their studio equipment available for less than $50 an hour, and give time on a first-come, first-served basis. More and more churches are taking advantage of this opportunity.
When cable operators try to promote sex- and violence-oriented programming as respectable, Christians must oppose and offer alternatives, lest public officials assume the public's tastes will tolerate such broadcast fare. If changes for the better can be made in network programming, the same thing can happen on cable. But it won't happen if local citizens fail to act at the time the franchises are awarded.
Dubious taste displayed by Christian organizations in promoting their activities is nothing new. But when it fastens on to the natural concern of believers for the People's Republic of China, it can become lethal. It poses a far more severe threat to the very ministries being promoted than can be justified by any amount of resulting revenue.
Last year representatives of 14 responsible agencies adopted a sensitive set of guidelines for material published about China. They concluded with the pledge to "help one another to keep the perspective on the task and not on the promotional value of the publicity relating to the People's Republic."
Unfortunately, some high-profile organizations were not participants and appear to have adopted the opposite perspective. Examples:
• An agency whose name is popularly associated with the word "smuggler" has now deliberately transferred that image to China, where importing Bibles is not illegal.
• A worldwide evangelistic enterprise advertises that most privately owned Bibles in mainland China were confiscated nearly 50 years ago. An eager copy writer ignored history: the Communist regime did not prevail in China until 1951 (30 years ago). Bibles were not confiscated for the most part until the Cultural Revolution, which began in 1967 (14 years ago) and had ceased by 1979. The ad—on the inside cover of the organization's magazine—implies that believers can only obtain "contraband" Bibles or transcribe broadcast Scripture verses onto their hands. All this comes three months after the Three-Self Patriotic Movement has sold out its first edition of 50,000 New Testaments and 83,000 complete Bibles.
• A literature distribution agency announces an "Invasion China" project, inviting its contributors to "join the army of China invaders." Fortunately, this pinnacle of insensitivity also carries a glimmer of hope. The agency's president—when challenged—apologized for the approach it had taken, and reported that it had ended its contract with the mass-media consulting firm behind the pitch.
Western Christians must understand that groups indulging in such grandstanding greatly increase difficulties for groups seeking quietly to meet needs of Chinese believers. When the Chinese authorities learn of such public claims, the hands are strengthened of those who oppose allowing believers there to receive any materials from evangelicals in the West. They will have "evidence" that Chinese Christians who receive such materials are cooperating with those launching an imperialist cultural invasion of China.
Wise stewards will withhold their contributions from the sensationalists and channel them to the effective groups that know when to keep quiet. The church in China will be healthier for it.
He was russian. He was the child of a surgeon, a gifted intellect, an up-and-corner of Czarist society. He was a young socialist.
His first novel, Poor Folk, was a best seller, lauded by critics and the public alike. He was only 25 when it was published.
Fame and quick success went straight to his head, and he began to drink, to party, and to criticize carelessly the Czarist government.
Quickly arrested and jailed in Saint Petersburg for antigovernment activity, he was sentenced to be shot. One cold December morning he and a group of other political dissidents were dressed in white execution gowns and led before a firing squad. Their arms bound behind them, blindfolded, they awaited the fatal bullets that would rip through their bodies. At the last minute, the czar pardoned them, and he reduced their sentence to a decade of confinement in Siberia. At that traumatic moment he had an epileptic seizure, the first of many that would plague his life.
He was Fyodor Dostoevsky, Russian novelist par excellence.
In Siberia, the New Testament was the only book allowed him, and as though repenting for having embraced the socialist atheistic position, he read it at every opportunity. He rediscovered Christ and found spiritual sustenance in the Gospels. Only Christ could raise the sinner, comfort the fallen, and promise the humble of heart new life on earth. This faith brought him a serenity and assuaged the bitterness of prison life. Not long after his release he wrote to a woman who had befriended him during this period. He said:
"To believe that there is nothing more beautiful, more profound, more sympathetic, more reasonable, more manly and more perfect than Christ, and not only is there nothing but I tell myself with jealous love, there can be nothing. Besides, if anyone proved to me that Christ was outside the truth and it really was so that the truth was outside Christ, then I would prefer to remain with Christ than with the truth."
His incarceration ended, Dostoevsky returned more tamely to Soviet social life. He wrote in rapid succession The House of the Dead, his prison memoirs, followed by Crime and Punishment, The Idiot, The Possessed, and The Brothers Karamazov. All are solid classics still in print.
But Dostoevsky never seemed to grow as a Christian. He was careless with regular worship. Bible study was not a solid discipline with him. No mature Christian took him under his wing and taught him how to live the Christian life. He began to drink too much. A wife he took died a slow death of consumption. He had an affair. He became a compulsive gambler and lost so much money he was all but bankrupt. His book publishers granted him author advances that were quickly spent. He fled Russia to live all across Europe, and he was always just one step ahead of his creditors. His writing became gloomy; hopelessness pervaded his plots. Studying a succession of his pictures, one sees that his countenance changed from eager, bright refinement to a hollow, haunted, driven look. Only in his death mask is there a look of peace.
Dostoevsky died a broken, penniless waste in Saint Petersburg in 1881, one hundred years ago this year. He was a fellow sufferer of ours in this fallen world, a gifted writer, and a Christian convert. But he was never discipled in Christ. As wise King Solomon has said in Proverbs 5:23, "He dies for lack of discipline, and because of his great folly he is lost."
To read Dostoevsky today, to study his life, is to be impressed with what he was. But it is further to be haunted—haunted by what might have been.
Fitting new converts into the organized Christian church is something with which few pastors seem to have had extensive experience. By convert I don't mean simply someone who has experienced a rebirth of the Spirit; I mean someone who has had absolutely no prior exposure to evangelical Christians or biblical Christianity in any meaningful way.
Few who live within a Christian social grouping (the "evangelical ghetto"), and who have done so most of their lives, realize how different and intimidating the congregational life of most evangelical churches can be. I converted to Christianity recently (I'm 29) and found walking into a church much more difficult than reading and accepting as truth the Gospel of John.
Unfortunately, such new converts have few experiences to share with Christians brought up in the faith; by contrast, they have many experiences to share with their old cronies and ex-sexual partners. New converts out of "Western paganism" have a different attitude toward sin; it is based on a much more casual familiarity with it. Sin is neither shocking nor all that bad to one who knows no other way. And new converts have a keen sense of the difference between a social event and a sacrament. Or between a nice time of fellowship and a Christian event. Or between a rousing sing-along and praise to God. Or between a good meeting and the worship of God.
TOM WOLPERT
Phoenixville, Pennsylvania
Have something to add about this? See something we missed? Share your feedback here.
Our digital archives are a work in progress. Let us know if corrections need to be made.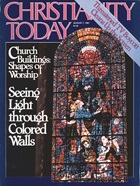 This article is from the August 7 1981 issue.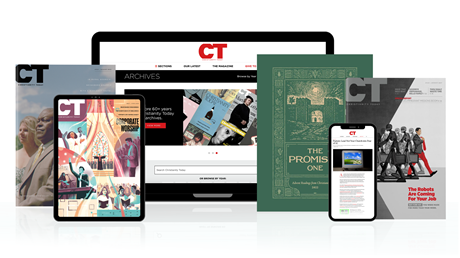 Subscribe to Christianity Today and get access to this article plus 65+ years of archives.
Home delivery of CT magazine
Complete access to articles on ChristianityToday.com
Over 120 years of magazine archives plus full access to all of CT's online archives
Subscribe Now
When TV Goes Underground
When TV Goes Underground