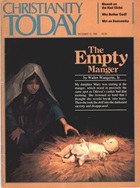 This article is from the December 13 1985 issue. Subscribers can read all of CT's digital archives.
A panel says the sociologist's controversial book is flawed, but not heretical.
A panel of evangelical leaders has determined that Tony Campolo cannot rightly be called a heretic. However, the panel urged the Eastern College sociology professor to clarify in writing certain statements made in his book, A Reasonable Faith (Word). The panel said the book is "methodologically naïve and verbally incautious."
Campolo, one of the most traveled speakers on the evangelical circuit, became the center of a controversy earlier this year when he was canceled on theological grounds from speaking at Youth Congress '85 (CT, Sept. 20, 1985, p. 30). The decision was made by Bill Bright, president of Campus Crusade for Christ, one of the sponsoring organizations of the youth conference.
Recently in Chicago, Campolo and Bright appeared before a four-member panel consisting of theologian J. I. Packer, who served as chairman; Gordon MacDonald, president of Inter-Varsity Christian Fellowship; Earl Radmacher, president of Western Conservative Baptist Seminary; and James Boice, pastor of Tenth Presbyterian Church in Philadelphia.
Packer said the panel's purpose was limited, explaining that it had been summoned as part of a process to reconcile Campolo with his critics. The Christian Legal Society (CLS) is coordinating this process. Said Packer, "Our goal was to produce a resource document to help the parties in this case to achieve reconciliation."
At the one-day meeting in Chicago, the panel questioned Campolo for a total of six hours, calling on him to explain parts of A Reasonable Faith, which Bright had cited as the basis for his cancellation of Campolo. CLS executive director Sam Ericsson said the meeting "was one of the most intense sessions ...
1
Our digital archives are a work in progress. Let us know if corrections need to be made.
Evangelical Leaders Judge Tony Campolo's Theology
Evangelical Leaders Judge Tony Campolo's Theology