Oswald Chambers was a passionately prayerful evangelist as well as a pastor and educator. In the many books issued after his death, we find remarkably contemporary as well as ageless wisdom. The following excerpts are from Workmen of God.
If you are a worker for Jesus Christ, he will open your eyes wide to the fact that sin and misery and anguish are not imaginary, they are real. Anguish is as real as joy; fired, jangled, and tortured nerves are as real as nerves in order.… Listen to this, they are Luther's own words:
"I am utterly weary of life. I pray the Lord will come forthwith and carry me hence. Let Him come above all with His last judgment, I will stretch out my neck, the thunder will burst forth and I shall be at rest." And having a necklace of white agates in his hand at the time, he added: "O God, grant that it may come without delay. I would readily eat up this necklace today for the judgment to come tomorrow." [A woman dining with Luther one day] said to him, "Doctor, I wish you may live 40 years to come." "Madame," replied he, "rather than live 40 years more, I would give up my chance of Paradise."
That was Luther speaking at the end of his life. What produced the misery? He saw the havoc the Reformation had wrought, he did not see the good; he was too near it.
There was the same thing in Goethe's writings; in 1824 he writes:
"I will say nothing against the course of my existence, but at the bottom it has been nothing but pain and burden, and I can affirm that, during the whole of my 75 years, I have not had four weeks of genuine well-being. It has been perpetual rolling of a rock that must be raised up again."
Robert Louis Stevenson said that three hours out of every five he was insane with misery. John Stuart Mill said that life was not worth living after you were a boy.
This is not fiction, these are human facts.… Jesus Christ opens our eyes to these facts.… I want to lay that one principle down very strongly. If you think you know how to present Jesus Christ to [a suffering] soul, you will never be able to do it. But if you will learn how to rely on the Holy Ghost, believing that Jesus Christ can do it, then I make bold to state that he will do it. If you get your little compartment of texts, and search them out and say, "I know how to deal with this soul," you will never be able to deal with it; but if you realize your absolute helplessness and say, "My God, I cannot touch this life, I do not know where to begin, but I believe that Thou canst do it," then you can do something.
It is wonderful to see Jesus Christ slip his coolness and his balm through fired and jangled nerves, turn out demons, alter the whole outlook, and lift the life into a totally new relationship. Have you ever seen him do that? I have seen him do it twice in my lifetime, and I will never forget it. While you watch and while you realize the marvelous work of God going on in those gloomy, tortured lives, it is as if you were bathed in the sunlight of the Presence of God in a way you never are until you are face to face with one of these cases that make you realize your own utter helplessness and the power of Jesus Christ.
It was Jesus Christ coming in contact with Thomas that altered his gloom; the disciples' testimony could not do it. "Thomas, we have seen the Lord," and out of the agony of his sick soul, Thomas says, "I cannot, I dare not, believe! Except I shall see in his hands the print of the nails, and put my finger into the print of the nails, and put my hand into his side, I will not believe." The testimony of the disciples was not the slightest bit of use, but when Jesus Christ came in contact with him, all was different. "Then saith he to Thomas, reach hither thy finger, and see my hands; and reach hither thy hand, and put it into my side; and be not faithless, but believing. Thomas answered and said unto him, my Lord and my God."
And Mary Magdalene—what did Jesus Christ do for her? He turned the demons out of her. "Mary that was called Magdalene, from whom seven devils had gone out" (Luke 8:2).
God grant us the grace so to rely on the Holy Ghost, so to know our ignorance, so to get out of the way with our knowledge, that we will let the Holy Ghost bring the Majestic Christ face to face with the diseased, sick folk we meet. The majority of workers are in the road with their convictions of how God is going to work; there is no real, living, stirring, vital reliance on the Holy Ghost which places straight before the stricken soul the mighty Lord Jesus. God grant we may so introduce through the agony of our intercession—that is the point, through the agony of vicarious intercession—the Living, Mighty Christ!
Have something to add about this? See something we missed? Share your feedback here.
Our digital archives are a work in progress. Let us know if corrections need to be made.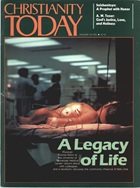 This article is from the January 18 1985 issue.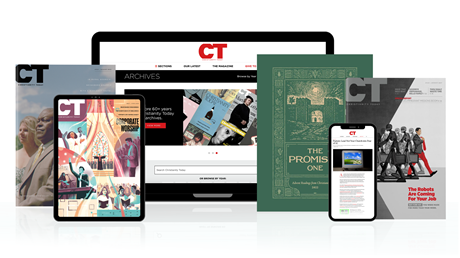 Subscribe to Christianity Today and get access to this article plus 65+ years of archives.
Home delivery of CT magazine
Complete access to articles on ChristianityToday.com
Over 120 years of magazine archives plus full access to all of CT's online archives
Subscribe Now
The Christ of Jangled Nerves
The Christ of Jangled Nerves