For the first time in nearly 40 years, Christians outside of China are being openly encouraged to send funds, material, and personnel to contribute to the modernization and social welfare of China.
China's newly formed Amity Foundation is preparing to receive and distribute money and personnel from churches and church-related organizations overseas. The new openness surfaced in December when Bishop Ding Guangxun, president of the China Christian Council, welcomed gifts and personnel from Christians outside China. He stipulated, however, that overseas gifts could not impinge on Chinese national sovereignty, noting that they should not be seen as a "return to the past missionary era."
Following Ding's statement, the China Christian Council formed the Amity Foundation to promote health, education, and social service projects in China. Although some money for the foundation is expected to come from Chinese Christians, one of the foundation's primary responsibilities is to receive funds and personnel from abroad.
In March, it was announced that the Amity Foundation and the United Bible Societies had reached an understanding that could lead to the establishment of a modern printing facility in China under the foundation's ownership and control. The plant would give priority to the printing of Bibles, New Testaments, and Christian literature. However, it also would be used for printing other materials to be determined by the foundation. Funds for the multimillion dollar project would be arranged by the United Bible Societies in consultation with the foundation.
The Amity Foundation also has arranged to receive 10 to 20 teachers sponsored by church-related institutions in Germany and North America. Three North American teachers will be sponsored by the China Education Exchange, an inter-Mennonite organization that has sponsored exchanges of teachers, agriculturalists, nurses, and doctors working primarily with institutions in China or provincial governments.
Additional teachers from North America will be sponsored by the National Council of Churches. "Some teachers will be ordained pastors," said Philip Wickeri, the Amity Foundation's overseas coordinator. "At least two will be a Maryknoll father and a nun."
Wickeri, who is on loan to the Amity Foundation from the Presbyterian Church (U.S.A.), said all of the teachers will work in the Nanjing area. The foundation will encourage them to be involved in the local Chinese Christian community, he said. The teachers will be supported by block grants given to the Amity Foundation by the sponsoring organizations in the West. The foundation also hopes to receive money from overseas Christians for the direct support of selected Chinese social service institutions.
All 17 members of the foundation's board of directors are Chinese citizens. Fourteen are Christian leaders, and the others are members of Chinese social service organizations. The board, headed by Bishop Ding, is organized independently of the China Christian Council and the Three-Self Patriotic Movement (TSPM), China's officially recognized church.
Two cardinal principles of the TSPM are self-support and noninterference from groups outside China. Wickeri said the foundation's encouragement of overseas assistance does not violate those principles.
"The foundation is a social welfare organization," he said. "It is not a church organization, and contributions will not go toward the work of evangelism and church building."
China's open invitation asking overseas Christians to contribute to the country's modernization is new. But Christian organizations have been sending teachers, medical personnel, and other professionals to China for more than five years. Wickeri said the Amity Foundation is unique because it is the only group set up by Chinese Christians to coordinate outside funds and personnel.
One observer said China's economic climate may have affected the decision to form the new foundation. "The Amity Foundation is established under the influence of the government's urban economic reform, which encourages private groups to go into business or develop joint business ventures," said Jonathan Chao, director of the Chinese Church Research Center in Hong Kong. By encouraging foreign groups to contribute money for social welfare, he said, much-needed foreign currency is entering China.
Bishop Ding has said that the China Christian Council should be informed of all efforts of overseas Christians to relate to non-Christian enterprises. That requirement "may indicate a desire to have greater control over such activities," cautioned David Adeney, China Program coordinator for Overseas Missionary Fellowship. Adeney rejoiced, however, in the increased opportunities for Christians to "reveal the presence of Christ through serving the people of China."
Another China authority, Ralph Covell, academic dean at Denver Conservative Baptist Seminary, rejected the idea that the Amity Foundation or the China Christian Council would control Christian-generated funds and personnel entering China. Instead, he said the foundation provides "an opportunity to relate to the church in China in a non-paternalistic fashion.
"I think it will create a feeling within China that Christian people around the world are interested in helping China," Covell added, saying such favorable recognition would benefit all Chinese Christians.
WORLD SCENE
Israeli Concern Over Mormons
Several members of the Israeli Knesset have called for an investigation into the construction of a Jerusalem branch of the Mormon-owned Brigham Young University (BYU). One Knesset member raised concerns about Mormon missionary activity. In response, Jerusalem Mayor Teddy Kollek said that during the Mormons' 18 years in Israel they have not been found to engage in proselytizing efforts. However, several persons who lobbied in the Knesset against the BYU extension disputed that view.
Church Attendance Down In Scotland
More than 83 percent of Scots aged 15 and older no longer attend church, according to a census conducted by the National Bible Society of Scotland and the Missions Advanced Research and Communications Center-Europe. Most Protestant denominations and the Roman Catholic Church experienced declines from 1980 to 1984. The Scottish Episcopal Church was the only major denomination that showed an increase, with attendance up 9 percent.
Catholicism No Longer Italy'S State Religion
The Italian government and the Vatican have ratified a treaty that ends Roman Catholicism's status as Italy's state religion. Under the agreement, the government will stop subsidizing Catholic clergy in 1990, and stricter rules governing tax exemptions for religious institutions will be enforced. Mandatory Catholic instruction in Italian public schools will be discontinued, although such courses will be available on an optional basis.
Christians Increase In Israel
Immigration has helped boost Israel's Christian population by 30 percent during the last ten years, according to recently released census figures. More than 94,000 Christians live in Israel, with some 11,700 living in Jerusalem.
NORTH AMERICAN SCENE
State Bans Gay Foster Parents
The state of Massachusetts has announced a new policy that will prohibit homosexuals from serving as foster parents. The announcement follows a Boston Globe report about the placement of two children with a homosexual couple. In the future, the state will try to place children only in "traditional family settings," said Philip W. Johnston, head of the Massachusetts Department of Human Services. Gov. Michael Dukakis said the decision was not based on sexual preference but on "what's in the best interest of the children."
Bishop Won'T Cooperate With New Mission Society
Illinois United Methodist Bishop Woodie White has refused to appoint a minister to serve as a missionary with the unofficial Mission Society for United Methodists. The society is a missionary sending agency created as an alternative to the official United Methodist Board of Global Ministries. White said that appointing Max Borah to serve with the mission society would violate the "spirit and intent" of an action taken last year by the United Methodist general conference. The general conference affirmed the Board of Global Ministries as the denomination's "sole sending agency" for missionaries.
Bray Convicted In Abortion Clinic Bombings
Lutheran lay minister Michael D. Bray has been convicted of conspiring to bomb 10 abortion clinics in Maryland, Delaware, Virginia, and Washington, D.C. Bray, who faces up to 20 years in prison, was charged along with Thomas Spinks and Kenneth Shields. Spinks pleaded guilty to conspiracy and malicious destruction charges. Shields was to be tried last month.
Canadian Lutherans Reorganize
Canadian Lutherans affiliated with the Lutheran Church-Missouri Synod have voted to establish an autonomous national organization. The Lutheran Church-Canada will have about 90,000 members. In a separate action, the Canadian division of the Lutheran Church in America and the Evangelical Lutheran Church of Canada merged to form the Evangelical Lutheran Church in Canada. The new denomination has about 210,000 members.
Mormon Founder Linked To Folk Magic
Joseph Smith, founder of the Church of Jesus Christ of Latter-day Saints (Mormon), discussed his use of folk magic in a letter he presumably wrote in 1825. In the letter, released recently by the Mormon church, Smith discussed digging for treasure that was guarded by "some clever spirit." Mormon officials said the letter does not undermine their faith in Mormonism's divine origins.
Child Poverty On The Rise
A new study has found an increase in poverty among children in the United States. Conducted by the Congressional Research Service and the Congressional Budget Office, the study found that 13.8 million children came from poor families in 1983, the highest child poverty rate since the mid-1960s. The study found that 46.7 percent of black children and 38.2 percent of Hispanic children lived below the poverty level. Fifty-one percent of poor children lived in families headed by women.
Graham Preaches To 100 Million
Evangelist Billy Graham has become the first person to preach face-to-face to more than 100 million people. From the late 1940s through 1984, attendance at Graham's crusades totaled 104,390,133, said George M. Wilson, executive vice-president of the Billy Graham Evangelistic Association. The figure is based on official counts by police or stadium officials at Graham's evangelistic crusades.
Protesters Support Scientologists
An estimated 4,000 Scientologists were joined by representatives of 20 different religious faiths in a series of demonstrations opposing a $39 million settlement against the controversial Church of Scientology. The protesters said the settlement poses a threat to religious freedom, but supporters of the settlement said the issue was fraud. The $39 million was awarded to Julie Christofferson, who said she was defrauded by the Church of Scientology when she did not receive the self-improvement she was promised.
Our digital archives are a work in progress. Let us know if corrections need to be made.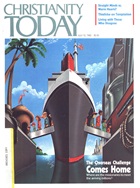 This article is from the July 12 1985 issue.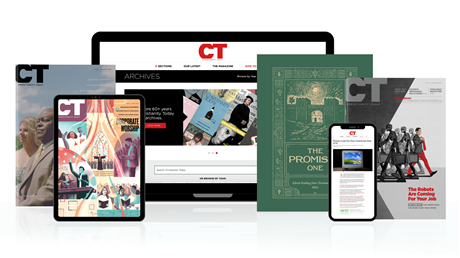 Find hope and historical insight. For a limited time, explore 60+ years of CT archives for free!
Daily devotions from Timothy Dalrymple during this pandemic.
Hundreds of theology and spiritual formation classics from Philip Yancey, Elisabeth Elliot, John Stott, and more.
Home delivery of new issues in print with access to all past issues online.
Join now and get print issues access to archive PDFs.
New Foundation in China Invites Western Christians to Assist in Social Services
New Foundation in China Invites Western Christians ...