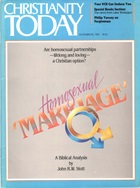 This article is from the November 22 1985 issue. Subscribers can read all of CT's digital archives.
Dr. Olin Hallesby, a seminary professor in Oslo until his death in 1961, was one of Norway's leading Christians, active with Inter-Varsity and other evangelical causes. The following is drawn from his classic, Prayer, which has sold very widely and is still in print (Augsburg).
When we seek only the glorification of the name of God in prayer, then we are in complete harmony with the Spirit of prayer. Our hearts are at rest. And we can wait for the Lord. We have learned to leave it to him to decide what will best serve to glorify his name—either an immediate or a delayed answer to our prayer.
Permit me to cite an example to show how bold, even importunate, prayer can become when the one who is praying desires nothing but the glorification of the name of God.
In 1540 Luther's good friend Frederick Myconius became deathly sick. He himself expected to die within a short time. One night he wrote with trembling hand a fond farewell to Luther, whom he loved very much.
When Luther received the letter, he immediately sent back the following reply: "I command thee in the name of God to live because I still have need of thee in the work of reforming the church.… The Lord will never let me hear that thou art dead, but will permit thee to survive me. For this I am praying, this is my will, and may my will be done, because I seek only to glorify the name of God."
Myconius had already lost the faculty of speech when Luther's letter came—yet in a short time he was well again. And, true enough, survived Luther by two months!
Nothing makes us so bold in prayer as when we can look into the eye of God and say to him, "Thou knowest that I am not praying for personal advantage, nor to avoid hardship, nor that my own will in any way should be done, ...
1
Our digital archives are a work in progress. Let us know if corrections need to be made.
The Holy Art of Prayer