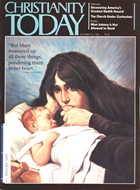 This article is from the December 12 1986 issue. Subscribers can read all of CT's digital archives.
In the November 7 issue, CHRISTIANITY TODAY examined the beliefs and behavior of the Catholic church in America. This Christmas, CT takes a deeper look at Mary, a biblical character often obscured in the crossfire of a four-century debate between Protestants and Catholics.
Two statements encapsulate the uncertainty possessing many Protestant Christians about the true, biblical role and importance of the Virgin Mary. Pope John XXIII, perhaps surprisingly, said the Virgin Mary "is not pleased when she is put above her son." And the staunch Reformed theologian Herman Bavinck once wrote of Mary, "She has been given an honor that has not been given to any other creature. She far surpassed men and angels in the undeserved grace bestowed on her."
Protestants largely do not think about Mary. But once a year she shows up, a shadowy figure on Christmas cards. Then the questions are jarred into mind: What does biblical, evangelical theology make of her? What is the proper balance of reserve and respect for Mary? Who, really, was this woman, and what relevance does she bear today for our faith?
An Idolatrous Piety
In Protestant eyes, the Catholic church fosters a Marian piety that can only be called idolatrous—despite disclaimers such as that made by Pope John XXIII. Consider the following explicit declarations:
Pope Pius IX (pope from 1846 to 1878): "God has committed to Mary the treasury of all good things, in order that everyone may know that through her are obtained every hope, every grace, and all salvation. For this is his will, that we obtain everything through Mary."
Pope Leo XIII, writing near the turn of the century: "As no man goes to the father but by the son, so no one goes to Christ except through his mother."
1
A Most Misunderstood Woman
A Most Misunderstood Woman