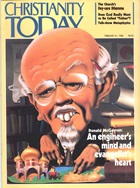 This article is from the February 21 1986 issue. Subscribers can read all of CT's digital archives.
Dropping Our Kierkegaard
It's no longer a secret—evangelical fans of philosopher Søren Kierkegaard are coming out of the closet. (And just in time. It was getting pretty crowded in there.)
A mere five years ago most conservatives wouldn't admit to reading the radical from Copenhagen. But all that has changed. Video contracts for philosophy professors are being drawn up, curriculum is being developed—even sales of Danish pastry are on the increase.
Why now? The answer involves a variety of historical factors, the greatest being that Kierkegaard is dead. Of course, popular criticisms persist, as in the recent work Dropping Your Kierkegaard.
I suppose most who are now reading the Dane are attracted to his contention that the Christian faith is more than just an affirmation of correct doctrine. It's a whole manner of being, a way of existing.
Some contemporary Christians identify with Kierkegaard's critique of life's absurdity apart from Christianity. They follow him by taking that step of courage and commitment to faith. Still others are drawn to Kierkegaard by the rakish tilt of his hat.
Indicators suggest this interest in the spirit of Kierkegaard is no passing fad, but that his writings will continue to gain popularity and influence. Admittedly, though, it will be an upward battle. Among folk steeped in possibility thinking, it is not easy whipping up enthusiasm for titles such as Concept of Dread, Fear and Trembling, and Sickness unto Death.
EUTYCHUS
A Read-Aloud Story
Thanks for the collision of pain and peace in Wangerin's "Empty Manger" [Dec. 13]. He pens a modern, classic Christmas tale deserved to be read aloud beside the holiday hearth.
JONATHAN PEPPER
Roxbury, Mass.
Acceptable "Plagiarizing"
I appreciated your thoughtful and ...
1
Eutychus and His Kin: February 21, 1986
Eutychus and His Kin: February 21, 1986