The Firm Bond—Linking Meaning and Mission in Business and Religion, by Robert Lawrence Kuhn and George T. Geis (Praeger, 1984, 207 pp.; $21.95, cloth). Reviewed by Joseph M. Hopkins, professor emeritus of religion, Westminster College, New Wilmington, Pennsylvania, and author of The Armstrong Empire (Eerdmans).
Two ex-members of the late Herbert W. Armstrong's Worldwide Church of God (WCG) have written an important book about commitment. Robert Kuhn, former administrative assistant to Garner Ted Armstrong, left the controversial sect in 1979, several months after the younger Armstrong's ouster by his father. George Geis was summarily dismissed from the faculty of wcG-related Ambassador College, from the ministry, and from the church in January 1985, after the hierarchy learned he co-wrote this book (CT, Feb. 15, 1985, p. 44).
The Armstrong connection aside, The Firm Bond is a significant study for leaders in business and academia as well as in organized religion.
The authors hold impressive credentials. Kuhn's include degrees from Johns Hopkins (Phi Beta Kappa), UCLA (Ph.D. in neurophysiology), and MIT (Sloan Fellow). He has published widely, edits Texas Business magazine, and teaches at both New York University and the University of Texas at Austin. Geis, a summa cum laude graduate of Purdue with a Ph.D. in educational psychology from the University of Southern California, is research coordinator for UCLA's Institute of Industrial Relations.
Commitment
By "the firm bond" the authors mean commitment—"the link between personal meaning and organizational mission. Mission is the heart of group existence just as meaning is the soul of member devotion. Each is driving energy and directing force—groups seek to achieve objectives, members strive to fulfill purposes. Personal meaning and company mission are the two poles of our axis, and around them the book revolves."
The authors contend that "understanding the fidelity of church members" can "improve the loyalty of factory workers." Asked how employee commitment can help companies, Kuhn replied, "Efficiency, creativity, and productivity work together. Motivation is the key.… Personal fulfillment and company success are targets, with religion our guide and business our goal." When "the firm bond" is weakened, church members and company employees cease to perform at high efficiency levels, and corporate achievement declines.
Numerous real-life case studies illustrate this thesis throughout the book. Most of the "religious" examples are drawn from Armstrong-type authoritarian churches. The stories tell of individuals who affiliate with a particular body, become increasingly committed, then (in some instances) become disillusioned and alienated when "commitment breakers" intervene to weaken or sever "the firm bond."
An Amazing Understatement
The Creation of Wealth: A Christian's Case for Capitalism, by Brian Griffiths (InterVarsity, 1984, 160 pp.; $5.95, paper). Reviewed by James L. Sauer, director of library, Eastern College, St. Davids, Pennsylvania.
Is capitalism Christian? In his recent book by that title, evangelical polemicist Franky Schaeffer brought together a collection of authors to address Christian economics. To no one's surprise, they answered with a resounding yes.
Griffiths, a British economist, business school dean, and former director of the Bank of England, asks a similar question in his book. His answer is also affirmative, albeit qualified. Like neoconservative writer Irving Kristol, Griffiths finds himself a procapitalist cheerleader who can only manage two cheers. He defends capitalism with elegance and reason, but he cannot help looking askance at some of his ideological teammates.
The argument of the book can be easily summarized:
First, the socialist command economy is an abysmal failure; while the free-enterprise market economy works well at producing wealth. Proof is everywhere to be seen.
Second, capitalism contains an inherent temptation toward gross materialism, affluent pride, and an indifference to injustice. But this same capitalism provides the ladder out of poverty and gives the greatest alms to relieve poverty.
Third, Christianity places strictures on economic sins—fraud, stealing, unfair business practices—but not against the economic enterprise of "private property, profit and inequality of income and wealth resulting from freedom of choice exercised within the bounds of justice."
Finally, the Renaissance, Enlightenment, and contemporary libertarian defense of capitalism are mechanistic, and deny the personal nature of the created universe. Christianity must avoid these secular defenses and forge a biblical apologetic for free enterprise. Griffiths argues for Christian economic separatism.
My mechanic's world view
Griffiths's fear that secular ideologies will taint our Christian moral capitalism seems overstated. The laws of supply and demand are not different for Christians and non-Christians. Profits are needed by socialist or Randian capitalist to overcome the law of scarcity. I do not need to know whether my car mechanic agrees with Voltaire; all I need to know is if he can fix my brakes. The genius of capitalism as an economic system, like democratic constitutionalism in the political sphere, is that it can operate to everyone's satisfaction regardless of the beliefs they hold.
Griffiths's "conclusion is not that capitalism is Christian. Neither is it that the market economy is the only economic system compatible with Christianity. It is simply that wealth creation within a market economy bounded by a concern for justice is compatible with Christian faith." These are reasonable words, articulately spoken; but considering the alternative dictatorial command economy, the moral and rational arguments presented within this book for the justice of capitalism, and the fecundity of the free enterprise system—it is an amazing understatement.
Just how do people come to identify emotionally with institutions, submit to their authority, and devote themselves to furthering their goals? And what factors cause commitment to deteriorate? The authors analyze both positive and negative aspects with compelling logic and clarity. But there is a significant omission: Christian conversion, when the new-born child of God is compelled by the Holy Spirit to devote his or her life to God and others, more than any other factor, generates "firm bond" commitment. Ideally, Christ's "constraining love" (2 Cor. 5:14) is then channeled into every activity.
Nevertheless, The Firm Bond provides an excellent manual for institutional self-study. It convincingly demonstrates that the same personal and organizational factors operate in both businesses and churches. The authors' analysis will be helpful not only to business leaders but also to church executives, pastors, and boards.
Have something to add about this? See something we missed? Share your feedback here.
Our digital archives are a work in progress. Let us know if corrections need to be made.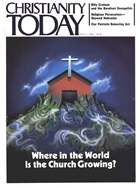 This article is from the July 11 1986 issue.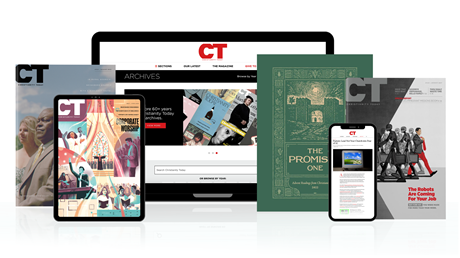 Subscribe to Christianity Today and get access to this article plus 65+ years of archives.
Home delivery of CT magazine
Complete access to articles on ChristianityToday.com
Over 120 years of magazine archives plus full access to all of CT's online archives
Subscribe Now
Personal Meaning and Company Mission
Personal Meaning and Company Mission