Ever since I read Richard Baxter's sprawling, rhapsodic classic, The Saints' Everlasting Rest, 40 years ago, I have thought that today's Christians ought to be much more heavenly minded than we are. Baxter showed me how the hope of heaven should spur us to resolute effort in our discipleship ("run in such a way as to get the prize," 1 Cor. 9:24) and also bring us joy, since heaven is our real home. When persons suffering loss of memory cannot recall where their earthly home is, we pity them; but Christians who forget that heaven is their true home, and never think positively about heaven at all, are much more to be pitied. Yet this, it seems, is how most of us proceed most of the time.
Are we surprised when we find that televangelists and others lack motivation for holy living, and that moral standards and sensitivities among Bible-believers are fast eroding? The situation calls for grief, but not surprise: Our failure to focus our minds on our heavenly home explains it all. Of the prospect of being one day with Jesus, and like Jesus, John wrote: "Everyone who has this hope in him purifies himself, even as he is pure" (1 John 3:3). The hope of a holy heaven, to be enjoyed in company with our holy Savior, is a potent motive to holiness now. Small wonder, however, if persons whose hearts are not full of this hope fail here.
After Baxter had shared with me—across the 300-year gap that separated us—his own infectious excitement about heaven, I wondered if I was the only person alive who felt this way. Today, however, I can name four others at least who, in my lifetime, have shown that they too feel this excitement.
When I passed from reading C. S. Lewis as an apologist, at which he was good, to reading him as a teacher of spirituality, at which he was better, I found that he was most brilliant and moving when he drew on the resources of his sanctified imagination to portray heaven's glory (something he often did), and that could hardly have been so had heaven not grabbed his heart.
A Step Further, by quadriplegic Joni Eareckson Tada, pioneer of ministry to the disabled, with its final mouthdrawing of her wheelchair empty and labeled "For Sale," poignantly marks her out as a child of this happy hope.
Peter Kreeft's two books, Heaven: The Heart's Deepest Longing and Everything You Ever Wanted to Know about Heaven but Never Dreamed of Asking (who said brevity is the soul of wit?), reveal him also as a member of my club. And John Gilmore's recent Probing Heaven: Key Questions on the Hereafter (466 pp.!) shows him to be another.
But why are there so few Christians these days who can honestly affirm that they have anchored their hearts in heaven and are continually excited about it? Worldliness, alas, is the cause. Secular materialism, preoccupied with the present, and Marxist mockery of "pie-in-the-sky-when-you-die," combine to make Christians feel embarrassed about their hope of glory, as if having it is somehow bad manners; so they do not talk about it, and soon they stop thinking about it. Rarely in today's Christianity does excitement about heaven break through. When did you last hear a sermon on the subject?
Yet, speaking pastorally now, aging Christians like me need to hear a lot about heaven; for knowing what you have to look forward to, and actually looking forward to it, keeps you alive inside, whatever the state of your body, so that you may fairly be described as so many years young rather than old. Junior Christians, too, need to hear about heaven, lest the world, in J. B. Phillips's phrase, "squeeze [them] into its own mould," as it has done to so many churchpeople of my generation, who see this world as home and leaving it as the supreme tragedy.
If the prospect of being with Jesus Christ, closer than ever before—all frustration, weakness, and pain having been left behind—does not thrill us constantly, our Christianity is dreadfully substandard. If we really loved our Lord, would not this guaranteed hope be a source of eager delight? And is not loving the Lord the heart of real Christianity? Think about it!
See you in heaven, I hope.
Have something to add about this? See something we missed? Share your feedback here.
Our digital archives are a work in progress. Let us know if corrections need to be made.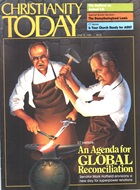 This article is from the June 18 1990 issue.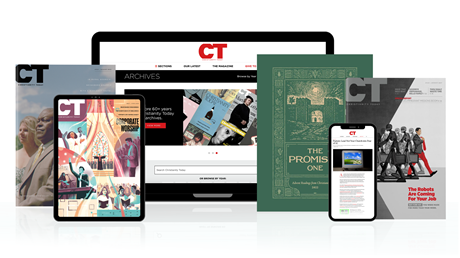 Annual & Monthly subscriptions available.
Print & Digital Issues of CT magazine
Complete access to every article on ChristianityToday.com
Unlimited access to 65+ years of CT's online archives
Member-only special issues
Subscribe
Why I Like My Pie in the Sky
Why I Like My Pie in the Sky