While the debate on abortion rages on among politicians and activists, the issues strike especially close to home for a silent minority: adoptive (and would-be adoptive) parents and adopted children. For them, the issue can be painfully personal. Their lives would be drastically different had not a birth mother chosen life for her child.
I can write about this subject from a personal standpoint as few others can. When we brought home our first adopted baby some 20 years ago, I proudly placed a bumper sticker on our car that read, "Adoption, Not Abortion." We did not adopt because we wanted to make a statement about abortion, nor did we adopt transracially to make a statement about integration. My husband and I simply wanted to expand our family, believing that God wanted us to have more children, although I was physically incapable of bearing more.
When we applied to adopt a child we refused to specify race, though we knew that would mean (given the small number of white babies available) the placement of a black or mixed-race child in our white home. The skin color of our adopted children mattered little, except as a detail unique to each of our children, akin to things like their height or weight. Nevertheless, our adoption of two biracial children did make a statement of sorts about our values: We certainly were against abortion, and we believed in the equality of all human beings.
As I watched our children grow, I thought with gratitude of the mothers who gave them life. I prayed for these young women and wished they could share in the happy times our family experienced: the first step, the first words, the school play, and all the other things that parents enjoy.
Now I have more reason to think about my children's birth mothers. One of my adopted chidren is a teenager who has herself become a mother out of wedlock. In some ways, of course, our daughter's announcement of her pregnancy was every parent's nightmare come true. She—and we—would live through a time of great distress. We would experience the full range of emotions: shock, pain, and even embarrassment.
But my reaction to her announcement—and decision to carry the baby—was gratitude to God that my daughter had not had an abortion, that she would not have to bear that burden on her conscience for the rest of her life. My second reaction was to love and help her in every way possible. There could be no thought of punishing her; she had enough to bear without our adding to her problems. So we sought medical help, and we found a Christian agency that specialized in helping unwed mothers. And our daughter, who had always been a bit of a rebel against the restrictions that came with growing up in a Christian home, found herself wanting for her own child exactly the kind of home that we had given her.
Emotionally, placing her baby for adoption was not an easy choice for our daughter. Rationally it was very easy; she firmly believed that her child needed two parents and a stable home life. As she told an older friend who was considering adopting a baby, "I was much better off being raised by my parents than I would have been if I was raised by my 17-year-old birth mother." And the counseling agency, which also places babies in adoptive homes, began the counseling that would help her decide whether she should keep or place the child. Sometimes she was counseled one-on-one, other times she was counseled in a group of girls, which included some who were pregnant, some who had placed babies for adoption, and some who were now raising their children as single mothers.
When our daughter finally decided on adoption, the agency offered her files of information (but no names) of prospective adoptive parents. As she looked through the files, she learned what her own priorities were, preferring couples who spoke of their strong Christian faith, and looking for a stable home where education was important.
As the birth neared, and after her little girl was born, my daughter's choice became more real—and painful. The birth itself was longer and harder than most, a pain I shared with her as her labor coach. It took a full week for her to fully decide what was best for herself and for her baby. During that week, the counselor offered support for her whatever her decision might be, and her father and I assured her that, though we could not financially support the baby, we would continue to support her and help her go to college. The birth father (a married man) and her friends all urged her to keep the baby, though the birth father did agree to accept whatever decision she made. (Our state requires his signature for adoption.)
At last, with love and sorrow mixed, our daughter took her baby to the agency and placed her in the arms of a new mother and father. This was full circle for us. Someone else was now raising my granddaughter as I once raised another woman's grandchild.
I still have a hard time counting when someone asks how many grandchildren I have; in my heart I hold the baby we had for such a short time and pray for her along with the rest.
There is a point to this story. Prolife and prochoice advocates have been a little shrill in their discussion of abortion. "Murder!" shout the ones, and "Rape!" shout the others. But where in all this is there love, both for mother and for baby?
Antiabortion counselors should become more familiar with the facts about adoption and more open to discussing the possibility with the young women with whom they work. Two million Americans inquire annually about the possibility of adopting a child, but only about 50,000 adoptions take place each year, according to the Adoption Fact Book (1989). Many more loving homes are available than there are babies to fill them. An unwed mother who might be frightened by the prospect of a lifetime commitment to the child she is carrying should know that a caring family is available, and that she can even choose that family for herself. She should know that it is an unselfish act to give life to her baby and also to give her child the stable home life it needs.
Churches should make adoption a regular topic of discussion so that it becomes an accepted part of family life. It can be incorporated into the life of the church with a service similar to the marriage service, in which the family makes promises regarding their life together. Promises before a judge are a part of legal adoption, but that is like a civil marriage; parents need to know that the church is actively supporting them, that, as Paul says, all of us in the church are adopted by God in Christ.
And Christians should encourage legislation to make adoption easier. The JustLife Education Fund in Philadelphia offers legislators model bills, including one to provide subsidies for the adoption of children with special problems that might require more medical care than the adoptive parents can afford. Tax credits for adoption and parental leave from work for adoption as for birth are some other legislative options. And there is need for equity regarding paternal consent; if the father cannot prevent an abortion, neither should he be able to prevent adoption.
The Supreme Court Webster decision was a step in the right direction of protecting "potential human life." Now Christians need to walk further on that path by helping the flesh-and-blood embodiments of that life to grow and flourish in the best possible home environment, whether that be with the birth mother or with an adoptive family.
Have something to add about this? See something we missed? Share your feedback here.
Our digital archives are a work in progress. Let us know if corrections need to be made.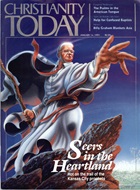 This article is from the January 14 1991 issue.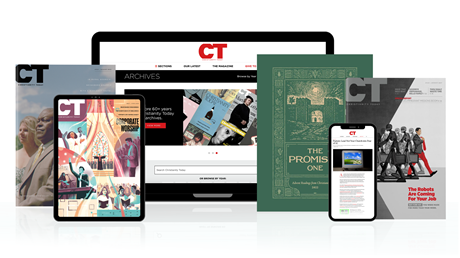 Subscribe to Christianity Today and get access to this article plus 65+ years of archives.
Home delivery of CT magazine
Complete access to articles on ChristianityToday.com
Over 120 years of magazine archives plus full access to all of CT's online archives
Subscribe Now
Who's Raising My Granddaughter?
Who's Raising My Granddaughter?